Stray Kids Photo Cards
Stray Kids has released a variety of merchandise for their showcases and concerts. One of them which is much appreciated by the fans are a Stray Kids photo cards. They are practically always present inside the packages of their albums. The group has released some sets on different occasions, including their Unveil showcases. Single pieces were also included as part of other items. All of the goods were officially released by JYP Entertainment.
Unveil Op. 01 : I Am Not Photo Card Set
The first set of photo cards came as part of the collection prepared for the Unveil Op. 01 : I Am Not event which was held at the Jang Chung Arena in Seoul on March 25, 2018. Among other items like an acrylic light stick, a slogan and a photobook we could find a set consisting of 10 Stray Kids photo cards. Each sheet measures 54 x 85 mm which is a little bit smaller than a standard size. 9 sheets feature each member of the band while the last one has a photo of a whole group. All have the logo of Stray Kids at the back and a handwritten name of a particular member. The good was printed in South Korea. It comes in a black paper package.
Unveil Op. 02 & 03 Polaroid Photo Card Set & Lucky Envelope
During the second showcase titled Unveil Op. 02 : I Am Who the fans had a chance to get another set - this time of polaroid photo cards which look like a pictures taken with an instant camera. In the package you will find 10 different sheets randomly chosen out of 60. A small folded double-sided poster is included featuring the photos of all 60 cards. If you want to collect all of them it will take quite some time and effort. In a single pack you can get 10 of them including single member, unit and group cards. It comes in a beautiful and stylish silver tin case with the words "I Am Who". The size of the product is 95 x 70 mm.
Additionally a special piece of merchandise was available at the event called a Lucky Envelope. As the name suggests you will get an envelope in yellow color with some goods inside: 1 postcard, 3 round stickers and - what's the most relevant right now - 2 photo cards. They are randomly chosen from 19 sheets (2 sheets per one member plus 1 group sheet). You can still get the whole set online from the third party sellers but the price is not so affordable.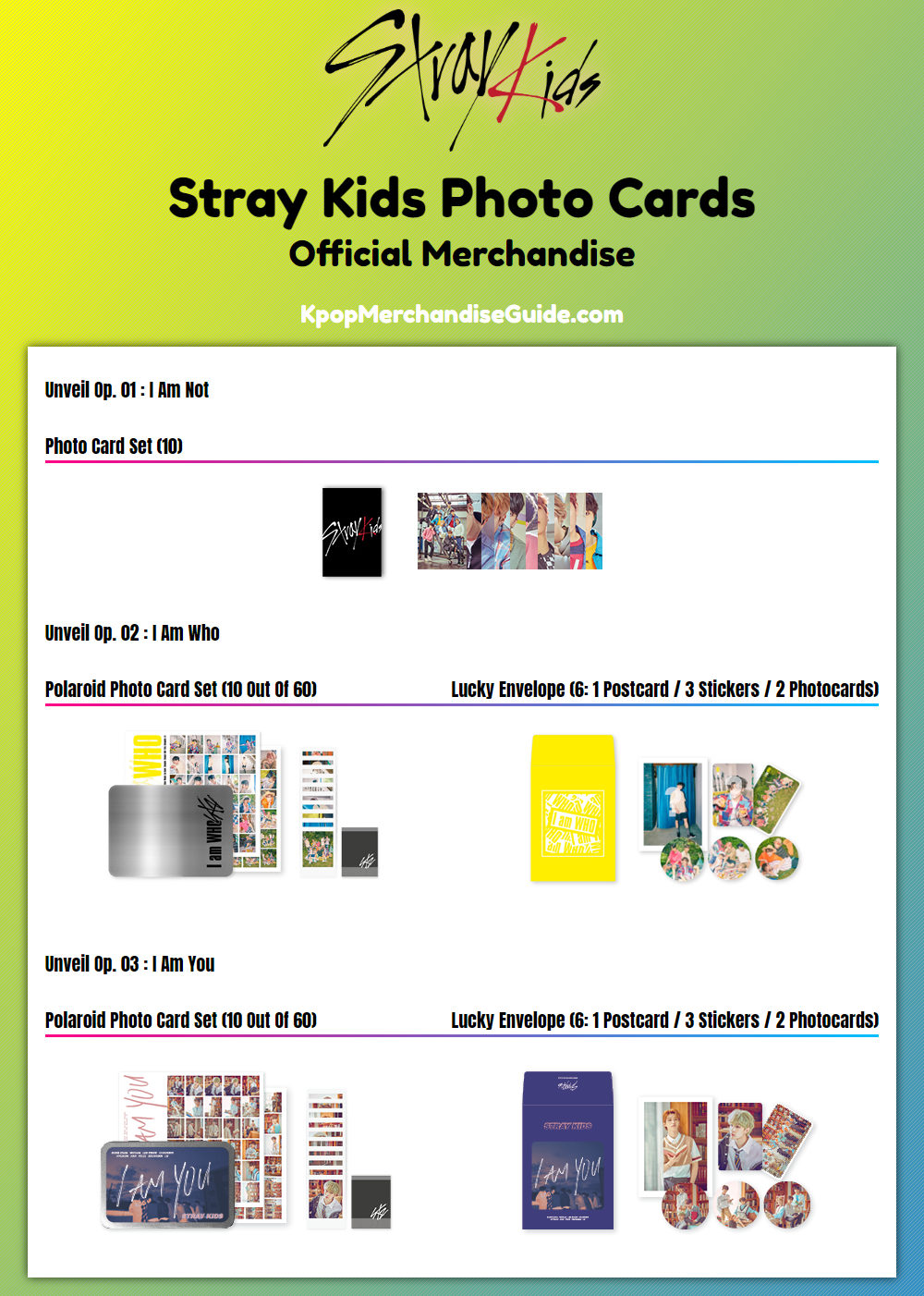 Another set of polaroids showed up at the Unveil Op. 03 : I Am You event. It follows the same design although the graphics on the tin case cover is different - it features a photo from the promotional photo shoot of the current event. Inside the package you will still find 10 Stray Kids photo cards sized 95 x 70 mm and a mini poster. The tin case itself is opened differently - you can't completely remove the lid. The polaroids was also a part of the Unveil : Review collection that was available online for those who couldn't attend the showcase.
The selection for I Am You showcase also includes a similar Lucky Envelope as it was in case of the previous event. In the package sized 110 x 150 mm you will still find 3 stickers, 1 postcard and two cards.