Seventeen Hoodie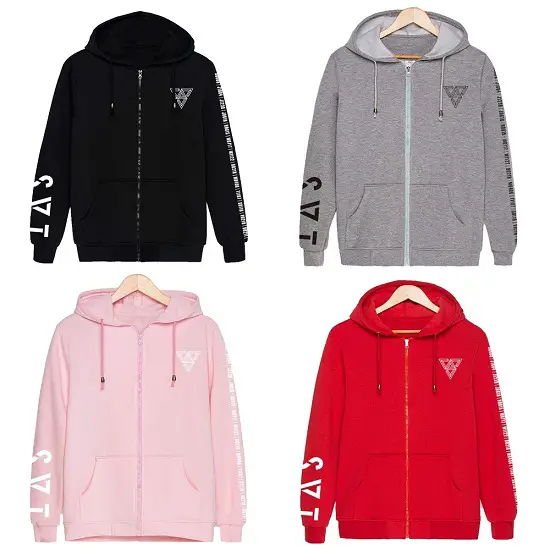 Seventeen hoodie is a perfect piece of fashion that every fan of the KPop group from Pledis Entertainment should have. This is an unofficial merchandise but is made of a soft and high quality fabric. The hoodie is available in five different colors so you can get the option that will match you perfectly. You can choose it in either black, grey, pink or red color. It comes in many different sizes including 2XS, XS, S, M, L, XL, 2XL and 3XL. Please be aware that these are the Asian sizes and you should probably order this Seventeen hoodie in one size bigger than you usually wear. Nevertheless the item is very comfortable and looks very nice. It has Seventeen logo on front, the word SVT on the right sleeve and some letters and numbers on the left sleeve. These represent the initials of the names of all members including Dino, Joshua, Wonwoo, Jeonghan, DK, Hoshi, Seungkwan, Woozi, The8, S.Coups, Jun, Mingyu and Vernon, and their birthdays by month and day. The hoodie will be perfect for any season of the year, Winter, Summer, Spring or Autumn, and for anyone regardless if you are a woman or a man. It will come in handy especially during a colder day.
The Seventeen hoodie is available in these sizes among others: S (length: 65 cm, shoulder: 41 cm, bust: 50 cm, sleeve: 57 cm), M (length: 67 cm, shoulder: 42.5 cm, bust: 52 cm, sleeve: 58.5 cm), L (length: 69 cm, shoulder: 44 cm, bust: 54 cm, sleeve: 60 cm), XL (length: 71 cm, shoulder: 45.5 cm, bust: 56 cm, sleeve: 61 cm), 2XL (length: 73 cm, shoulder: 47 cm, bust: 58 cm, sleeve: 64 cm), 3XL (length: 75 cm, shoulder: 48.5 cm, bust: 60 cm, sleeve: 65.5 cm).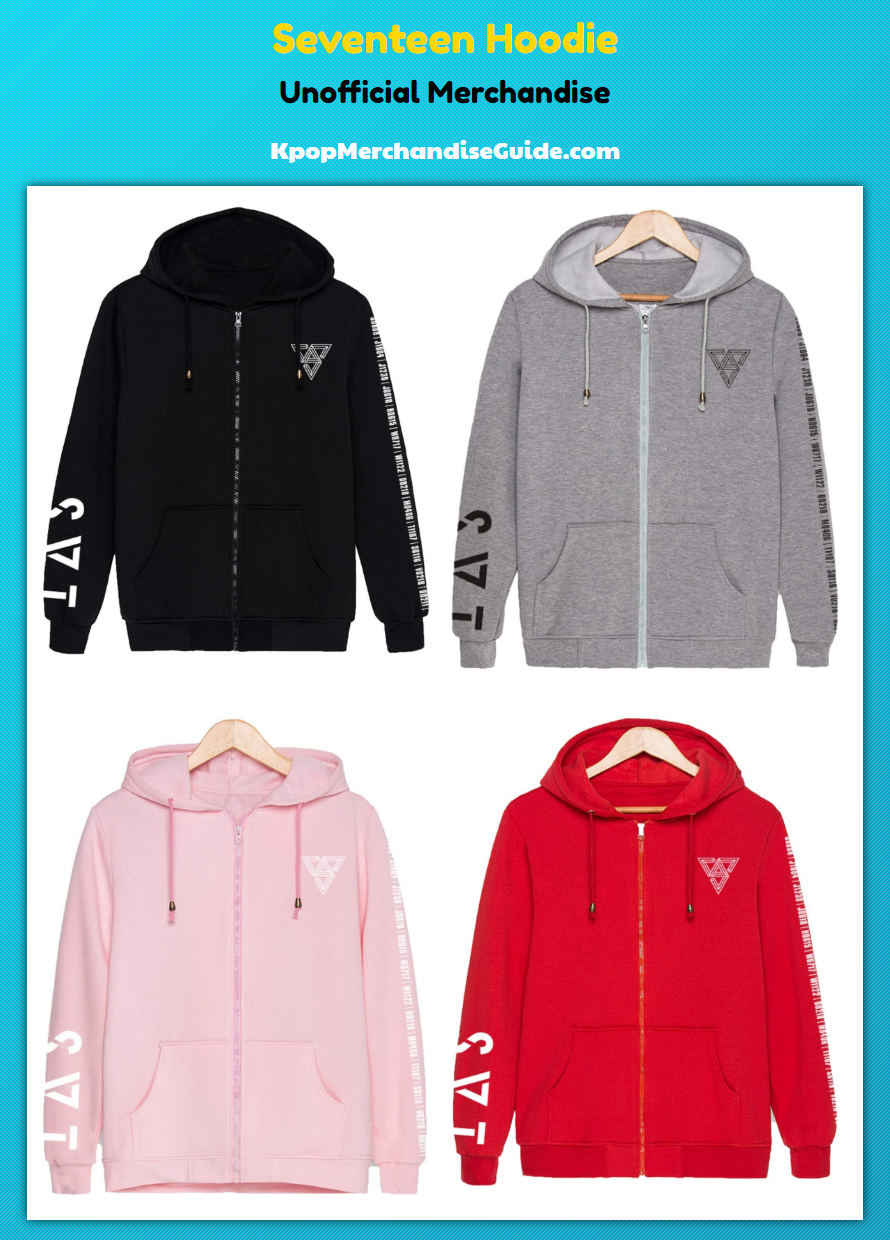 This is the unofficial piece of apparel. If you're looking for the official Seventeen hoodie you can try to find one of two released by the group so far. The first one is a green hoodie available as part of the collection prepared for the second fan meeting with the official fandom Carat titled Seventeen In Carat Land that took place at the Jamsil Indoor Stadium over two days on February 2-3, 2018. The item has a small logo of the group on front and a phrase "Specialized Videotape Technology Inc." on the back. It was manufactured by Copan Global company and was available among other items in the collection including the first version of the official light stick of Seventeen, Carat Bong, 13 clear files, 3 sets of bromide posters, a light stick keyring, a white snowball pen, two versions of trading photocard sets, a set of 13 stickers, a black pouch and a limited edition towel. The second official Seventeen hoodie was prepared for the third fan meeting that happened over three days between March 8 and March 10, 2019. Almost 21,000 fans came to see their favourite group that performed at the Jamsil Arena in Seoul. This time the hoodie was available in two colors - black and blue - and in two different sizes, M and L (the previous one was only available in one free size). It has the year 2019 with the words "Oh oh oh oh Oh oh oh oh Holiday" on front. The item was manufactured in South Korea by Copan Global. The other collectibles that you could find at the event were a slogan towel, a blue hard case and a 2000 mAh power bank for the Carat Bong, 13 image pickets and the covers for them, 500 pcs jigsaw puzzle, a set of randomly chosen trading cards, a photo garland, a white or black bucket hat, a set of 13 photos, 13 wappen brooches, big towel commemorating the fan meeting, a cashbee card, a set of 19 stickers, a black cross bag and a blue pouch.
If you like this Seventeen hoodie you should definitely consider ordering one for you or maybe for another KPop fan you have in mind. You can get it from Ebay or Amazon for only $17.99-$20.55. This is a fair price for a nice piece of fashion like this.
Available From Ebay ▼
Check It Out
Or Amazon ▼
Check It Out