Seventeen 64 Sheet Sticker Set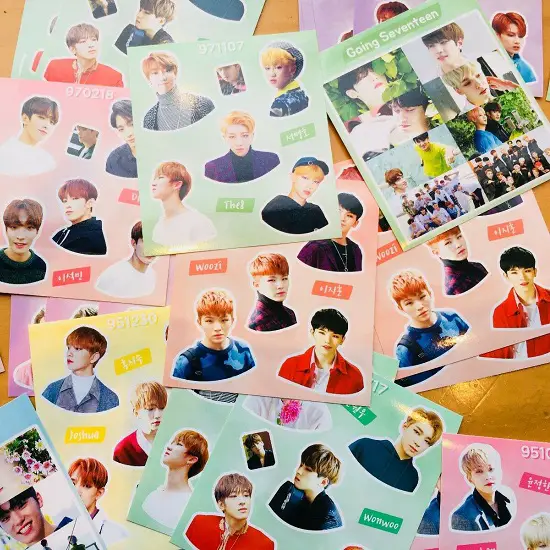 | | |
| --- | --- |
| Price | $6.98 |
| Type | Unofficial |
Available From Ebay ▼
Check It Out
If you like Seventeen and like decorating things this sticker set will be perfect for you. You can use it to decorate your laptop, tablet or even a case you're currently using with your smartphone. Actually you can beautify everything you want with these Seventeen stickers. Only the limits of your imagination can stop you from doing so. This is a great item to use as deco stickers in your diary.
The group has released only one set of stickers. It was a part of the collectibles prepared for the second fan meeting titled Seventeen In Carat Land. The set consisted of 13 cartoon character stickers depicting each of the members of Seventeen including Jeonghan, S.Coups, Jun, Woozi, Hoshi, Vernon, Wonwoo, Mingyu, DK, The8, Joshua, Seungkwan and Dino. The set was a part of a bigger selection composed of the official light stick Carat Bong, clear file (pink or white), a set of posters (three variants: Vocal, Performance and Hip-Hop version), light stick key ring, snowball pen, green hoodie, version A or B of a set consisting of 40 trading photo cards, black pouch and a Carat Land limited towel. The fan meeting took place at the Jamsil Indoor Stadium over a span of two days on February 2-3, 2018 (the members held one show on the first day and two more on the second). Of course we're talking about the official merchandise from Pledis Entertainment. There are many fan made items - like the one you're reading about - of which you can become a proud owner. And they are of the same high quality as the official counterparts so you can be sure you will be fully satisfied after the purchase. They are made of a professionals who happen to be a fans of South Korean music.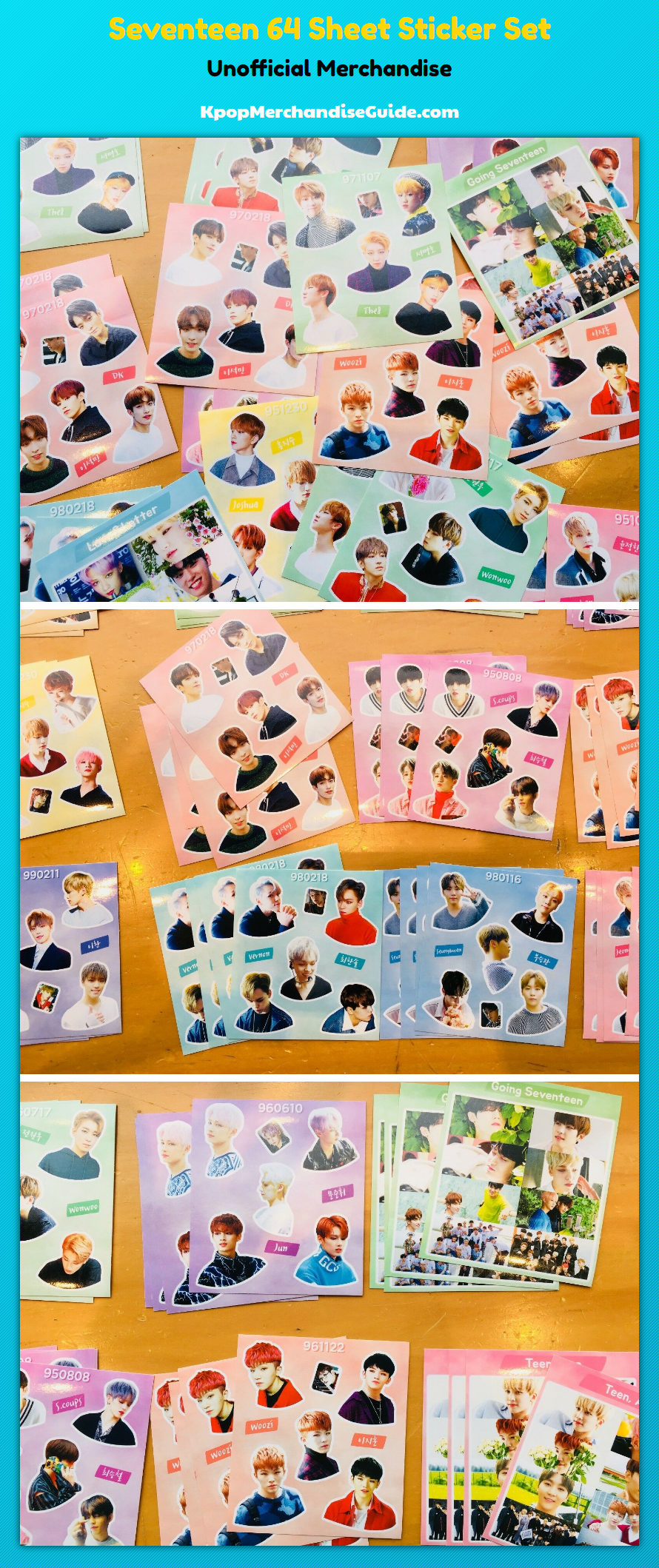 This set consists of 64 sheets of Seventeen stickers. Each of the them is related either to one particular member or the whole group. You will get a total number of 4 of 16 different sheets (3 group + 13 member) that are in a rectangular shape and different color. There are 6 stickers with a photo of a member, 1 sticker with his name written in Korean and 1 sticker with the name in English. Each sheet is marked with the date of birth of the member. The group sheets are marked with the title of the albums of Seventeen including the third extended play Going Seventeen, the first studio album Love & Letter from 2016 and the second full album Teen, Age that was released a year later on November 6, 2017.
The price is very affordable - you have to pay only $7.98. This is a highly popular product among the fans with 85 pieces sold so far. You can get your own from a trustworthy seller who deals with various KPop merchandise like photocards and socks. He also offers the same looking stickers of other KPop groups including Blackpink, Block B, Monsta X, BtoB, Red Velvet and Bangtan Boys. As you can see there are plenty of options to choose from. The sheets you can get in other listings differ in quantity so please be sure that you choose the right one.
Available From Ebay ▼
Check It Out