Monsta X We Are Here Grip Tok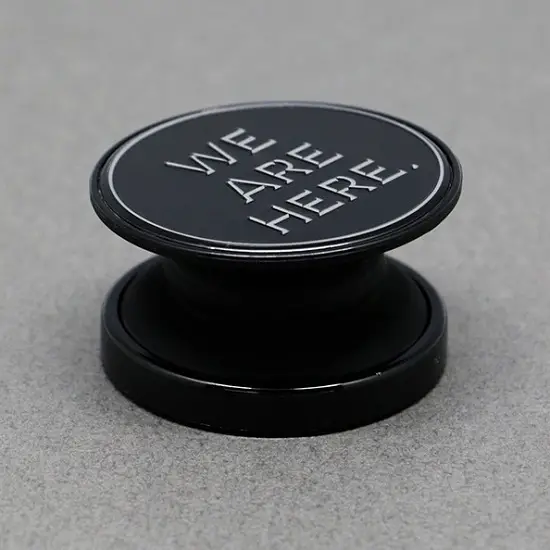 | | |
| --- | --- |
| Price | $18.99 |
| Type | Official |
Available From Ebay ▼
Check It Out
If you're reading this then you're probably a fan of Monsta X and you're looking for a nice accessory for your smartphone. A grip tok or popsocket is a perfect solution for someone who uses her/his smartphone often and don't want to worry about dropping it onto the floor. Anybody who needs to use the smartphone with one hand and do something with the other will find this Monsta X grip tok useful. The typical phone holder is made of TPU and PC. You can stick it to the back of your smartphone or phonecase with a reusable adhesive. The size of a KPop grip tok is usually 40 x 40 mm but you can find different sizes and shapes out there. If you're looking for a perfect item for yourself, this is the item you should think about.
There are many officially released holders as part of collections of merchandise from many KPop artists. NU'EST released a black one for their Segno Concert, a heart-shaped one was available from JYP Entertainment who prepared it for Blackpink's fans, two grip toks were available for purchase at the IZ*ONE's HEART*IZ Pop-up Store. There are many to choose from although they often are being sold out very quickly. In these situations you should consider buying an unofficial ones which are probably of the same quality and are more easily available. I don't have to mention that the price should be a little bit more affordable.

This black Monsta X grip tok came from the 2019 World Tour We Are Here merchandise collection. The tour began with the performance in Seoul on April 13-14, 2019. Then the members visited many countries around the world including Thailand, Australia, Malaysia, Spain, Netherlands, France, United Kingdom, Germany, Brazil, Mexico, United States and Japan. The tour concluded with the concert in Osaka on September 3-4, 2019.
The grip tok was one of 26 newly introduced items for the concerts in Seoul. It is round with a diameter of 40 mm. It has the words "We Are Here" written in white on a black background. It is a perfect product for anyone who like the group and would like to own something official from Starship Entertainment. And if you like this product you will probably be interested in another holder released during the fan meeting with the official fandom of Monsta X titled 2019 Fan Con The Game: MX Kingdom with MONBEBE. It is difficult to find but if you'll be patient then you will probably manage to get it.
The grip tok comes in a factory sealed package. The package is transparent so you can exactly see what you're buying and if the grip tok is in any way damaged. On the back side you will notice an instruction manual that states the product is "stable and easy to grip" and suggests that it can be also used to wind your earphones around it or as a simple horizontal stand. It also mentions that it's also compatible with a magnetic car cradle. It comes with a sticker of authenticity so you can be sure this item is 100% genuine.
Available From Ebay ▼
Check It Out