Monsta X Hoodie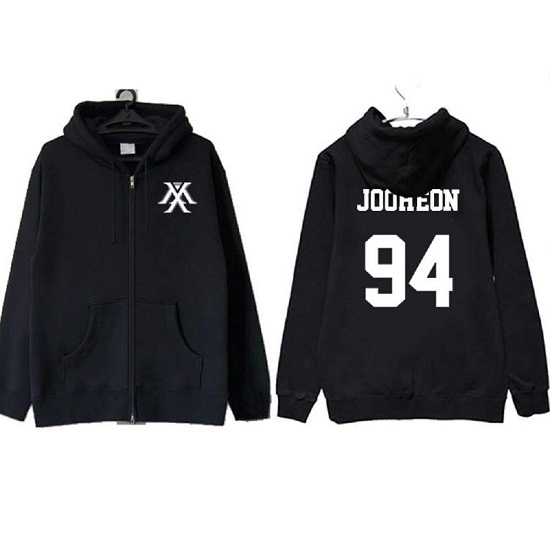 | | |
| --- | --- |
| Price | $19.99 |
| Type | Unofficial |
Available from Amazon ▼
Check It Out
If you're looking for a comfortable and nice looking Monsta X hoodie this item will be right up your alley. It features the classic Monsta X logo on the left side of the chest and the name of a chosen member with a date of birth on the back. It has two big pockets and a zipper that will make it even easier to put it on. It will be perfect for a casual wear in every season of the year. The Monsta X hoodie is made of cotton and is available in five different sizes so you can be sure you will find the ideal one for you. The sizes are S (length: 24.40 inch, chest: 40.94 inch, shoulder: 17.32 inch, sleeve: 20.86 inch), M (length: 25.98 inch, chest: 41.73 inch, shoulder: 18.89 inch, sleeve: 22.04 inch), L (length: 27.16 inch, chest: 43.30 inch, shoulder: 20.07 inch, sleeve: 23.62 inch), XL (length: 27.95 inch, chest: 47.24 inch, shoulder: 22.04 inch, sleeve: 25.59 inch), XXL (length: 28.74 inch, chest: 50.39 inch, shoulder: 22.83 inch, sleeve: 26.37 inch). The measurements are Asian so you should think about getting the size bigger than what you're currently wearing. The American sizes are known to be a little bit bigger. The hoodie weights around 1.21 pounds (it depends on the chosen option). All members are here available Hyungwon, I.M, Jooheon, Minhyuk, Shownu, Kihyun and even Wonho who departed from the group in November of 2019.
This piece of apparel is a fan made item. If you prefer the original Monsta X hoodie you can try to get the one that was officially released as part of the merchandise collection that was available at the first pop-up store titled One Fine Day that operated for a limited period of time at the end of 2015. It was black and came in only one, free size. It featured the words "One Finde Day" on a white background on front. Of course you could purchase at the store more items including two versions of the mini album Rush (Secret and Official version), a card case, a tumbler, a set of 8 L-Holders featuring the photos of all members, a set of 7 posters, a mini photo book consisting of 60 pages of pictures, a set of 11 photos, a set of 8 postcards, 7 standing dolls of a silhouettes of all members, 7 cushions, a face mask with the same graphics as the Monsta X hoodie and finally a square black and white bandana.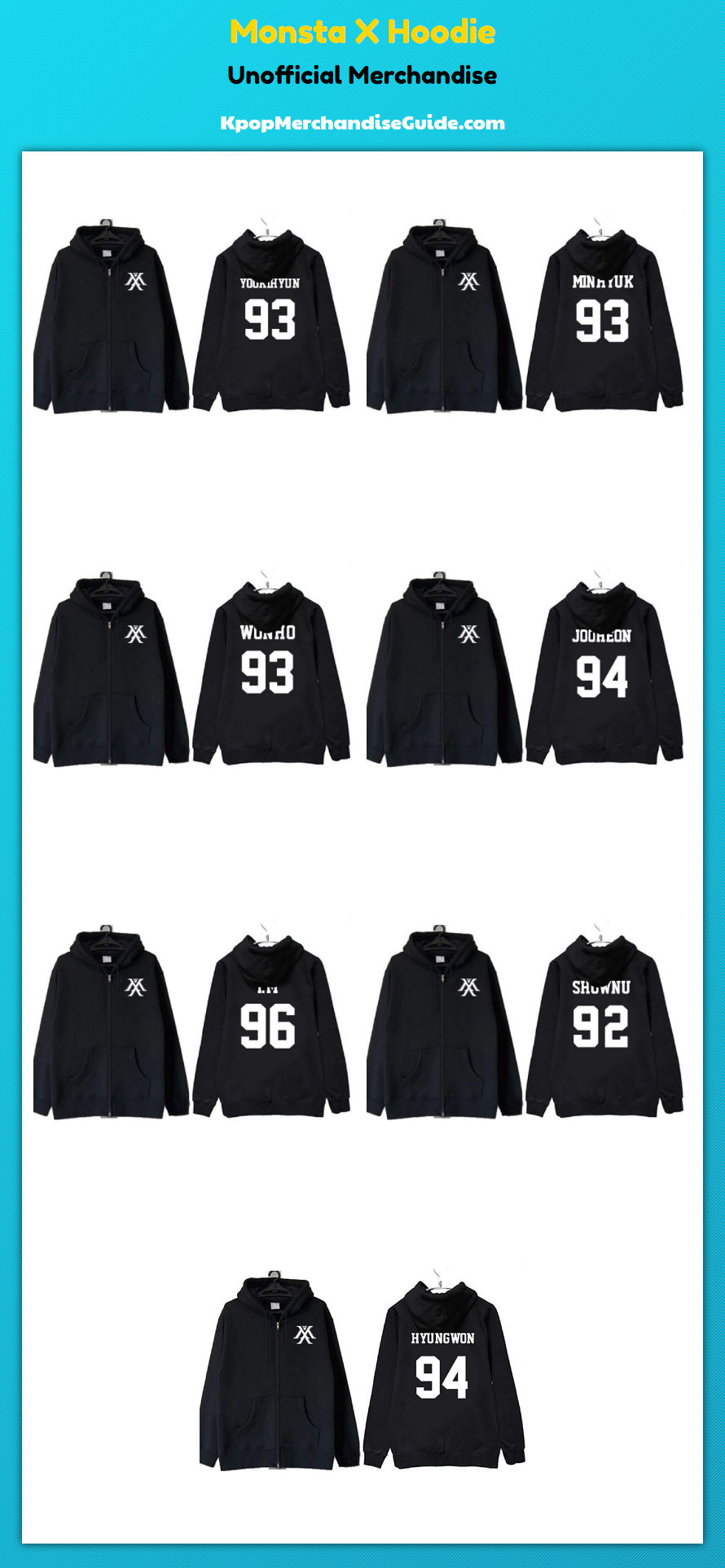 Additionally there are plenty of other officially released by Starship Entertainment pieces of apparel including T-shirts, wrist bands, ballcaps and even rain coats and long belts that you can try to find on the Internet and purchase. It will not be the easiest task but with a little luck it can be doable.
If you like this black Monsta X hoodie you can get it from Amazon. It costs only $19.99 which is a very good price for such a nice fan made thing.
Available from Amazon ▼
Check It Out