Loona 2020 Summer Package Loona Island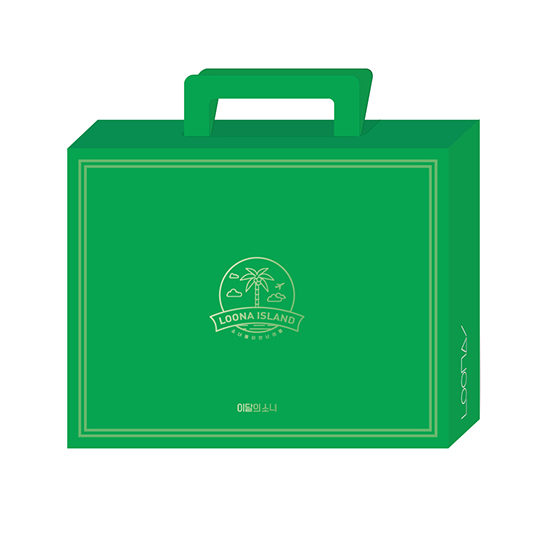 A special summer package with goods related to Loona was released during the summer of 2020, on August 14. The green box that looks like a suitcase contains 8 different collectibles and is a great treat for all fans of Loona.
The 2020 summer package titled Loona Island measures 307 x 244 x 76 mm. Inside the box you will find a photobook with 200 pages full of beautiful pictures of all members except Haseul who is not featured in the package (230 x 295 mm), a DVD disk with approximately 32 minutes of the making of footage, a 28 pages Q&A book (168 x 230 mm), a green luggage name tag with the title "Loona Island" (350 x 40 mm), a passport case made of PVC (96 x 135 mm), a set of 11 stickers featuring each of the members of Loona represented as a cartoon character (44 x 55 ~ 65 x 60 mm), and a set of 13 photos of a size of 89 x 127 mm (2 group and 11 individual member photos).
A set of 11 photo cards of a standard size of 55 x 85 mm was included if you pre-ordered your package. Also, if you were lucky enough, you could find a special signed polaroid which was available in a very limited quantity. It is extremely difficult to find nowadays.

The release of the Loona summer package was accompanied with a collection of merchandise referred to as "Concept Zone". The collection consists of a multi pouch (230 x 300 mm), a short sleeve T-shirt (XL), a diffuser with a different fragrances chosen by the members of Loona (120 ml), an Airpods case (50 x 65 x 30 mm), a camping chair (380 x 380 x 600 mm), a water bottle (98 x 150 x 35 mm), a beach bag (480 x 360 x 150 mm), a clear wallet with a hologram photo card (105 x 85 mm), a heart grip tok featuring one of 11 members (50 x 50 mm), a heart image picket (11 variants, 285 x 390 mm), a name block acrylic keyring showcasing the silhouette of a chosen member (35 x 100 mm), a set of 12 square posters of a dimensions of 300 x 300 mm (1 group and 11 solo sheets), a set of 2 film photos and 2 sheets of stickers (224 x 35 mm), and finally a set of 23 polaroids of a size of 86 x 72 mm (1 group plus 2 sheets per each member of Loona).
If you're interested in the Loona summer package Loona Island, you should definitely consider making a purchase. It will be a great addition to your collection of KPop related merchandise.
Available From Ebay ▼
Check It Out
Or Amazon ▼
Check It Out
Or Yesasia ▼
Check It Out