Loona Meet & Up Poster Set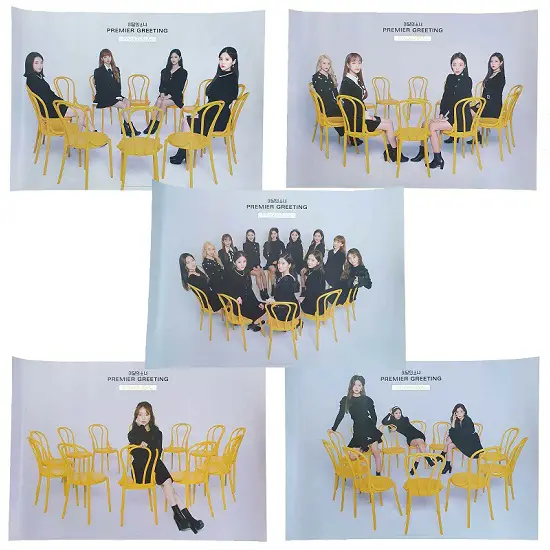 | | |
| --- | --- |
| Price | $39.99 |
| Original Price | ₩20,000 (~$16.80) |
| Type | Official |
Available From Ebay ▼
Check It Out
On the December 14, 2019 the members of Loona held their Premier Greeting: Meet & Up fan-event during which they performed their hit songs including Buttefly, FavOriTe, One & Only, Heart Attack, Love4eva, Girl Front and Hi High. The event took place at the YES24 Live Hall in Seoul. A special selection of new merchandise was prepared for purchase for all fans who attended the Meet & Up. Among the items you could find this set of posters featuring all members. The set consists of 5 sheets of a size of 570 X 320 mm. In the package you will find one poster with a photo of all members and four with each of the subunits of Loona - 1/3 (HeeJin, ViVi, HaSeul and HyunJin), Odd Eye Circle (Kim Lip, Choerry and JinSoul), yyxy (Yves, Go Won, Chuu and Olivia Hye) and YeoJin. The girls are wearing black apparel and are photographed sitting on yellow chairs placed in a circle. All comes in a black square tube with the title of the event on it. This set of Loona posters is the official item from BlockBerry Creative. It is of a high quality and features a crisp print.
This of course is not the only item you could get if you were lucky enough to attend the event. The other collectibles were the second version of an acrylic light stick (the first one was available at the Premier Greeting Line & Up that was held over two days from the 2nd to 3rd of June of 2018), the commemorating slogan that comes in a transparent plastic pouch opened by a zipper (600 x 200 mm), a set of 60 photocards of a standard size of 55 x 85 mm (5 sheets per member), a special binder book to store your collection of photocards (180 x 230 x 37), a black umbrella with a logo of the event and an acrylic stand depicting all members of Loona (150 x 105 mm). Additionally you could purchase a special shopping bag with the logo of BlockBerry Creative if you needed a space for all the goods you got.
If you need some cool Loona posters to hang on the wall you should definitely consider getting this set. You can buy it on Ebay for a price of $39.99. Remember that this item is an official collectible so you should grab it before it will be sold out. That kind of items are very popular among the fans and eventually become very difficult to find.
Available From Ebay ▼
Check It Out