IZ*ONE Photobook One Day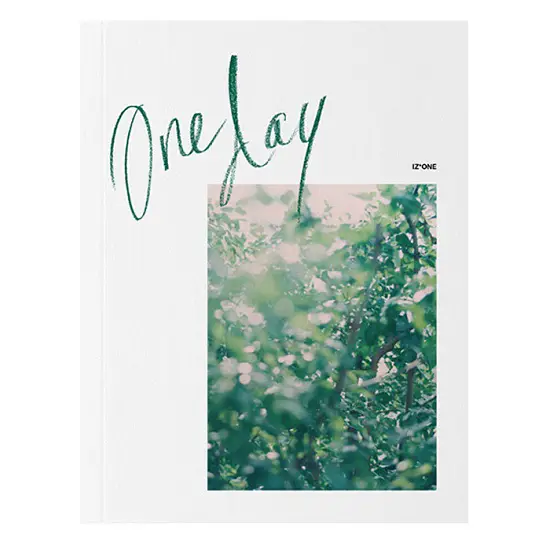 This is the second IZ*ONE photobook after Secret Time. It is titled One Day and was available for pre-order on September 2, 2019. It was officially released on September 23 by Off The Record Entertainment. The photobook consists of 152 pages featuring the photos of all members of Izone including Jang Won-young, Sakura Miyawaki, Jo Yu-ri, Choi Ye-na, Ahn Yu-jin, Nako Yabuki, Kwon Eun-bi, Kang Hye-won, Hitomi Honda, Kim Chae-won, Kim Min-joo and Lee Chae-yeon. The latter part of the pages feature the interviews with all girls alongside beautiful black and white photographs. The cover is sturdy and has a canvasy feel. In the package you will also find one postcard randomly chosen out of 12. It measures 130 x 180 mm. The dimensions of the whole IZ*ONE photobook are 287 x 370 mm. This will definitely be an item you will be pleased to have a copy of.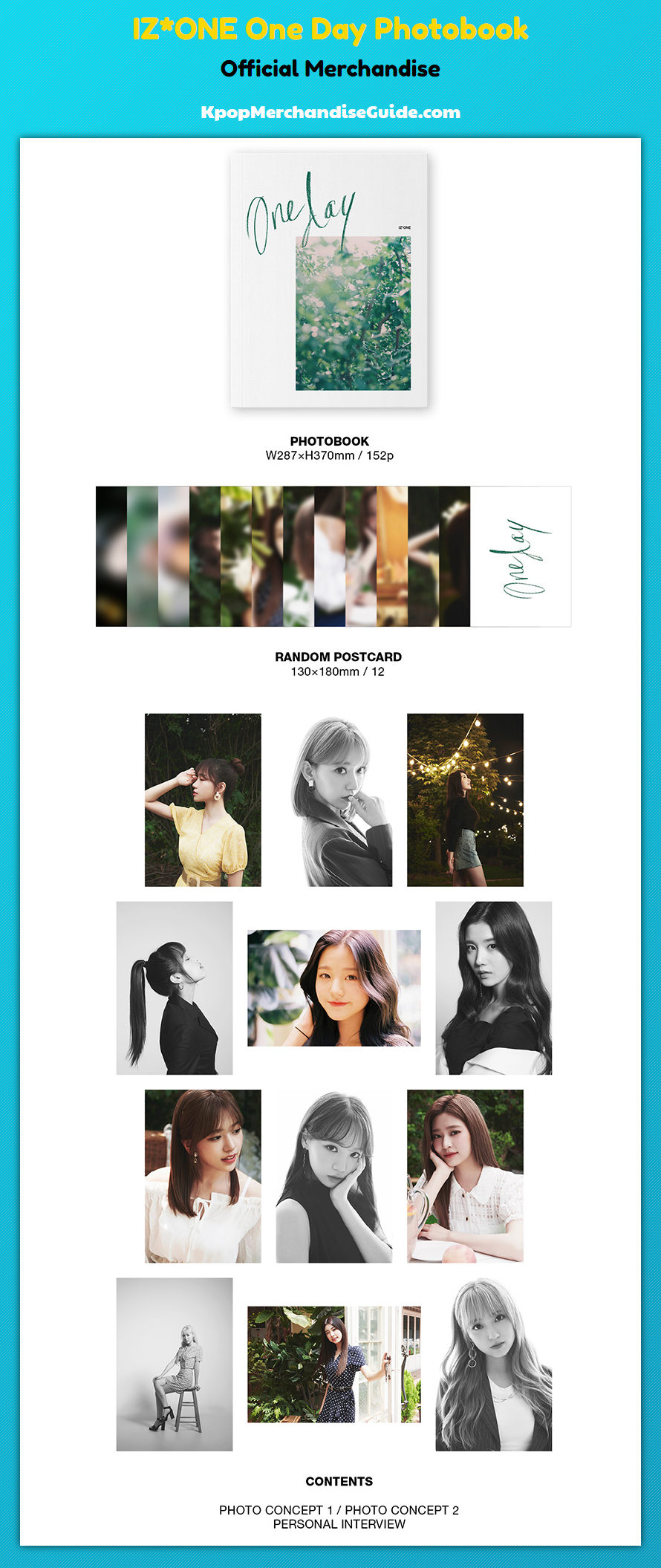 As I mentioned before this is not the only photobook that IZ*ONE released for their fans. Earlier this year another one titled Secret Time came out. This was actually a whole package of different goods and aside from the photobook it was composed of a desk calendar (255 x 125 mm), a set of 12 photocards of a standard size of 55 x 85 mm, two sheets of stickers (Selfie version (255 x 180 mm) plus Drawing version (160 x 160 mm)), a special cake spread card in a shape of a piece of cake (62 x 120 mm), an acrylic magnet with the title on front (30 x 35 mm), a special film photocard randomly chosen out of 4 (95 x 65 mm) and finally a random poster out of 2 variants of a size of 600 x 430 mm. The photobook itself contains 180 pages and measure 182 x 257 mm. A DVD disc with the making of is also included. All comes in a package box of a dimensions of 265 x 190 mm. The item was prepared by Stone Music Entertainment and Off The Record.
If you like the One Day photobook you can get it online for $38.99-$55.00 from a reliable sellers on Ebay and Amazon. The collectible will be a perfect addition to your collection of KPop merchandise especially if you are a big fan of the group.
Available From Ebay ▼
Check It Out
Or Amazon ▼
Check It Out