IZ*ONE Logo Hoodie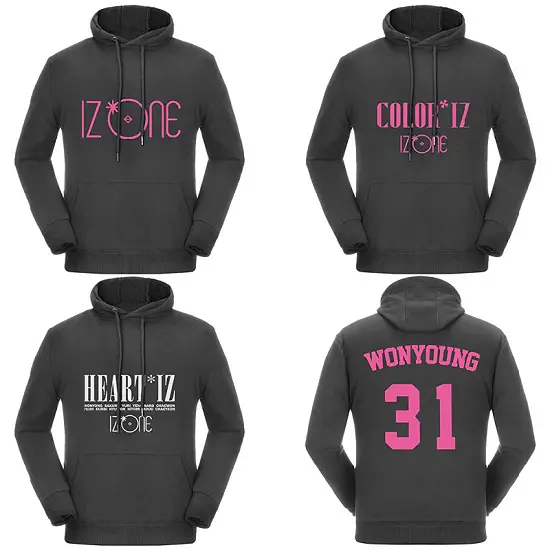 | | |
| --- | --- |
| Price | $23.99 |
| Type | Unofficial |
Available from Amazon ▼
Check It Out
Every fan of a KPop group should definitely own a hoodie featuring the logo of their favourite band. If you are one of them you should think about getting this IZ*ONE hoodie. It comes in three different options - one with the classic logo of the group, one with the title of the first EP Color*Iz and the other with the title of the second extended play of the group titled Heart*Iz. Color*Iz came out on October 29, 2018 and was available in either Rose or Color version. The extended play Heart*Iz was released on April 1, 2019 under Off the Record Entertainment. It was available in two physical versions - Violeta and Sapphire, both of the same dimensions. The third variant of the Izone hoodie has the title of the EP on top, the names of all members listed in the middle and the logo of the group at the bottom. On the back of the both variants of the hoodie we can find the name of a chosen member with a corresponding number below. The available options are: Chaewon (01), Chaeyeon (11), Eunbi (27), Hitomi (06), Hyewon (05), Minju (05), Nako (18), Sakura (19), Wonyoung (31), Yena (29), Yujin (01) and Yuri (22).

The Izone hoodie comes in one color - black but in 6 sizes so finding the right one for you will be relatively easy. You can get these sizes: S (chest: 37 inch, shoulder: 16.54 inch, length: 22.83 inch), M (chest: 39.37 inch, shoulder: 17.72 inch, length: 25.59 inch), L (chest: 41.73 inch, shoulder: 18.9 inch, length: 26.38 inch), XL (chest: 44.1 inch, shoulder: 20.1 inch, length: 27.56 inch), 2XL (chest: 46.46 inch, shoulder: 21.26 inch, length: 28.74 inch), 3XL (chest: 47.24 inch, shoulder: 22.05 inch, length: 29.53 inch). It is made of cotton and lycra and will be very comfortable to wear.
If you like this IZ*ONE hoodie you should think about getting one. You can get it from Amazon for $23.99 which is a relatively nice price. The seller is a very reliable person who delivers only the highest quality KPop goods. In the package you will also find a special pink pin button featuring the logo of the group and some photo cards.
Available from Amazon ▼
Check It Out