GOT7 Gotoon Baby Figure Turbulence Version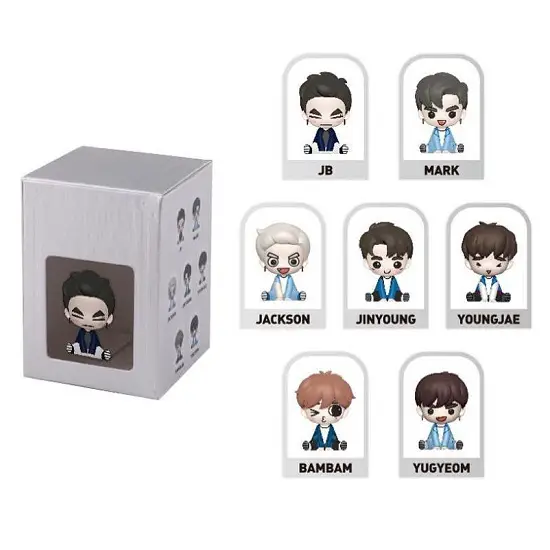 | | |
| --- | --- |
| Price | $14.99 |
| Type | Official |
Available From Ebay ▼
Check It Out
The Turbulence version of the GOT7 Gotoon Baby Figure was one of three lines of figures released to support the albums from the Flight Log trilogy including Departure, Turbulence and Arrival. The extended plays were released respectively on March 21, 2016, September 27, 2016 and March 13, 2017 under JYP Entertainment. This line was prepared for the second entry of the Flight Log series which peaked at number 1 of the Billboard's US World Albums. Turbulence consists of 13 songs including the title track Hard Carry.
In this collection of Gotoon Baby Figures you will find one for each of the members of GOT7 - Mark, JB, Jackson, Jinyoung, BamBam, Yougjae and Yugyeom. Each of the GOT7 figures feature a cartoon character depicting a single member in a sitting pose. They measure 40 mm and come in a nice silver package. The box has a transparent window so you can display the item without necessarily opening it and taking out the figure. The box measures 55 x 56 X 80 mm. It features the title of the album Turbulence on front and the photos of all figures from the line on a left side. If you're looking for a perfect piece of goods, this is the item for you.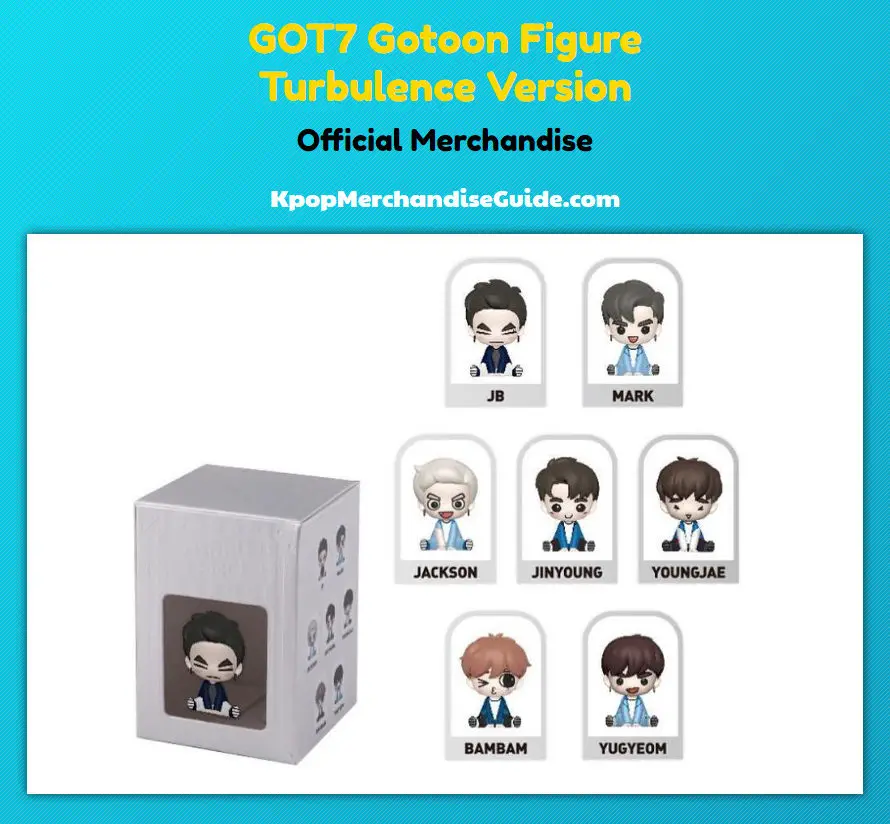 Other series were released for - as I mentioned before - other albums from the Flight Log series with very similar Gotoon figures but with different hairstyles and apparel. Both come in brown boxes instead of silver.
GOT7 are known for their merchandise related to their cartoon characters from the official webtoon comic Gotoon that was published by JYP Entertainment back in 2016. The webtoon was so popular among the fans that the members constantly release new collectibles related to the characters. On September 22, 2014 a whole collection devoted to the webtoon titled Gotoon "Pure" Season 2 Part 1 showed up on the online store K.ART. The selection consisted of a mini standing dolls, a set of comb and mirror, L-Holders, a set of five sheets of stickers and printed photos. The second part was released two months later on November 19, 2014 and included of a slogan, a weekly planner, 8 earcaps (for each member), 8 different mugs, a white eco bag, a black hoodie and a wappen. On November 11, 2014 a Lotte Gotoon Pop Up Store was opened and among the items we could find 7 variants of a cushion, 7 different keyholders and a pink blanket. On May 27, 2015 on the online store Withdrama the items from GOT7 X Gotoon Summer Official Collection showed up. We could find there a stamp set, a white ballpoint pen (1 for every member), a memo pad, a mouse pad, an ID card case, a neck cushion, a light blue umbrella with a cover, a wappen (7 options) and a snapback. The collection was prepared by Copan Global. You could find many other webtoon items in other collections that has been released by the group.
If you like this GOT7 Gotoon Baby Figure you can get it online for $14.99. The figure will look great on your desk or on the shelf.
Available From Ebay ▼
Check It Out