Chungha Flourishing Pop-Up Store Mouse Pad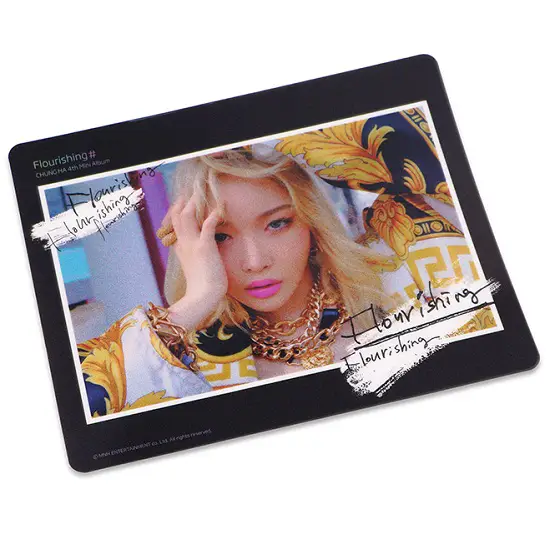 | | |
| --- | --- |
| Price | $6.99 |
| Original Price | ₩4,000 (~$3.36) |
| Type | Official |
Available From Ebay ▼
Check It Out
Official computer related accessories are seldom included in collections of KPop merchandise. Although they can be a very helpful items. This is a good example. The Chungha mouse pad was one of many items available for purchase at the Flourishing pop-up store that was opened on July 8, 2019 and was located at the Lotte Young Plaza department store in Myeongdong, Seoul. It was organized to support the fourth mini album Flourishing that came out a month before on June 24, 2019 and contained songs Chica, Young in Love, Call It Love, Flourishing and the title track Snapping. It's worth noting that also Wanna One and Twice did held their pop-up stores at the Lotte Young Plaza department store in 2017. It is a common place for the KPop artists.
The size of this Chungha mouse pad is 240 x 220 mm. It is made of PVC and features the photo of the soloist with the title of her album with the name of the company she belongs to. The item was manufactured by Copan Global - the company that's behind many other products including light sticks of Twice (Candy Bong Z), Day6 (Light Band), Sunmi, IZ*ONE and Monsta X and a whole collections of merchandise manufactured for events such as Seventeen In Carat Land - 2018 SVT 2nd Fan Meeting, In2it's Winter Paradise concerts and the 1st Tour Twiceland: The Opening of Twice. The company is known for their original memorabilia which are always made with the highest care.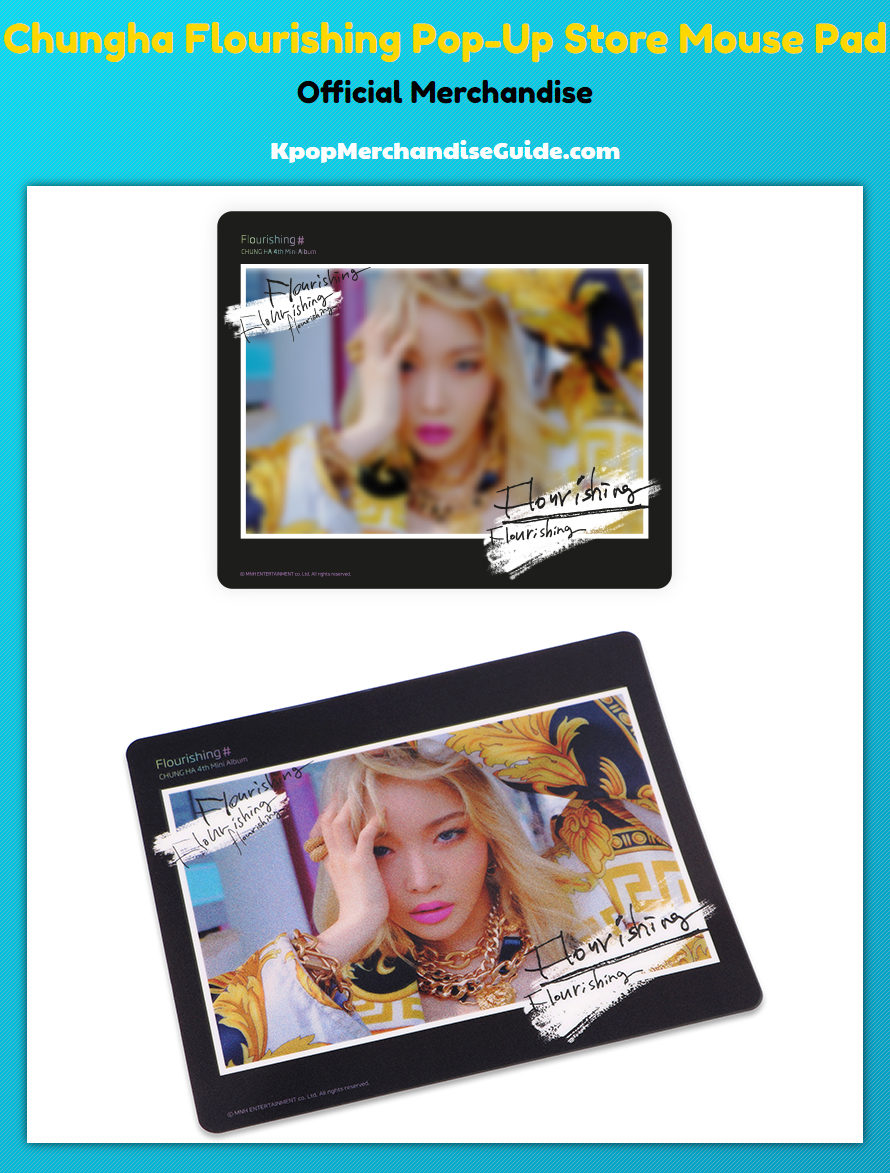 If you like this mouse pad you should definitely consider purchasing more of the goods from the Flourishing pop-up store. They should be still available online from the third party sellers who managed to get them directly from the store when it was opened. The collection consisted of 9 products: a set of two square memo pads, a set of 10 polaroid photo cards that measure 55 x 85 mm, a set of 10 photos (5 x 7 inch), a set of 3 L-Holders with the pictures of Chungha of a size of 220 x 305 mm, a transparent ice tumbler, a made of PVC pouch opened and closed by a zipper of a dimensions of 180 x 150 x 40 mm, a black eco bag made of canvas and a set of two rolls of masking tape.
If you want to get more official mouse pads you can try find them online. There was a selection of four round pads that was released as part of the first batch of BTS Hip Hop Monster goods prepared for the group's webtoon. You could choose one of four colors: white, black, pink or orange. A pink mouse pad was available at the Character Pop-Up Store of Twice in 2017. It measures 175 x 220 mm and features the cartoon characters depicting all of nine members of the group. The attendees of the First U.S. Tour Miracle concerts of Oh My Girl could became the owner of another pad with a photo of all girls and the logo of the group. Another cartoon pad was available as part of the GOT7 X Gotoon Summer Official Collection which consisted of 9 Gotoon products.
If you're interested in this item you can get it for just $6.99.
Available From Ebay ▼
Check It Out