BTS Mirror Grip Tok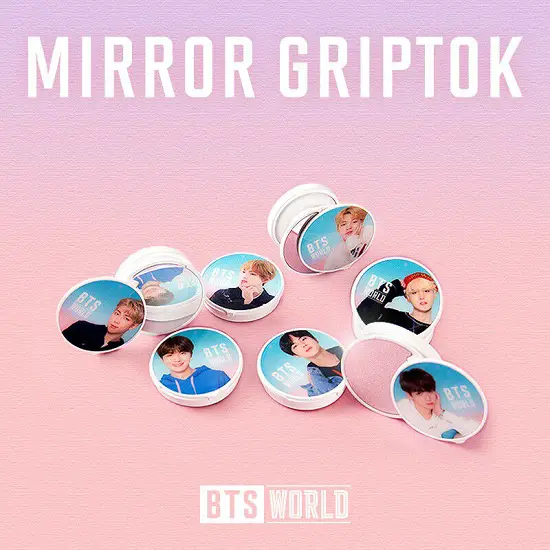 | | |
| --- | --- |
| Price | $27.99 |
| Type | Official |
Available From Ebay ▼
Check It Out
A grip tok is a small item that will help you to hold your smartphone in a much more confident way. It is often advertised as grip holder or popsocket (which is probably the most popular term, at least outside of the KPop community). There are many officially released grip toks that were included in the collections of merchandise prepared for event such as concerts, tours, fan meetings and showcases. Some of them are hard to get and are quickly sold out because of a high demand for these kind of devices. A good alternative is a fan made item which can be of course as good as the original. But if you have a chance to get the item you have in mind then you should definitely do so.
This official grip tok was released in conjunction with the premiere of the new game for Android and iOS called BTS WORLD. It is a simulation game where you can become the manager of BTS or help the members with solving the problems they have. The game was launched on June 26, 2019 by Netmarble Games. The grip holder has a photo of a chosen member on top and the words "BTS World" on a blue background. It comes in 7 different options - every member of Bangtan Boys is here available: RM, Jin, Suga, J-Hope, Jimin, V and Jungkook. This is a limited edition collectible that was manufactured by iBURSTER company in South Korea. The company is known for the other grip toks they created including BT21, Marvel, Hello Kitty and National Geographic line. That means you can be sure it is a high quality product.
The design of the grip tok is a little bit different from we've seen when it comes to other artists. Its other feature is that it can be used as a mirror. It can become handy in many difficult situations. You can just use it instead of a regular mirror whenever it's out of reach.
The dimensions of this product are 40 x 40 x 20 mm. It comes in a beautiful box with a transparent window sized 85 x 110 x 30 mm. It is made of TPU, PC, iron and gel tape and weights 339 g. It was manufactured in August 2019 and has the official Big Hit Entertainment hologram sticker of authenticity on the box. You can be absolutely sure that what you're buying the official item.
In the package you will find a transparent sheet of film that you ought to attach to your smartphone or case before starting using the grip tok, a special card, a user manual and warranty.
If you need some cool KPop accessory for your smartphone this BTS mirror grip tok will be perfect. And if you liked this one you can always get the other pieces of BTS merchandise released for the game - an acrylic key ring with a cartoon character depicting the boys from BTS with an additional pendant in a shape of a microphone, a strap key ring with a silhouette of a member of your choice, a flag with a photo of a whole group, 7 manager cards with cases and strings and 7 different ID magnets in 7 different colors.
Available From Ebay ▼
Check It Out