BTS Popsockets (Grip Tok) & iRings
A BTS popsocket can be a very useful accessory to your phone. Especially when it's customized with the photo of your favourite member. This small device - often called grip tok - can help you with holding your smartphone and minimize the chances of dropping it. You can stick them to the back of your case. It's typically made of a circular front part, a stem that look like accordion and the adhesive part. You will find more information about it in the post below.
Article: KPop Popsockets (Grip Tok)
If you're looking for a BTS popsocket you can find it on Ebay or Amazon. At this moment The only official grip toks that you can get are those from the BT21 collection. Otherwise you will have to purchase unofficial ones that are also easily accessible.
BT21 Popsockets
What is BT21? It is a collaboration project between Bangtan Boys and Line Friends Creators that started on September 26, 2017. Eight cartoon characters were created based of off the drawings of the members of BTS: Koya (created by RM), RJ (by Jin), Shooky (by Suga), Mang (by J-Hope), Tata (by V), Chimmy (by Jimin), Cooky (by Jungkook) and Van that represents the group and its fandom A.R.M.Y.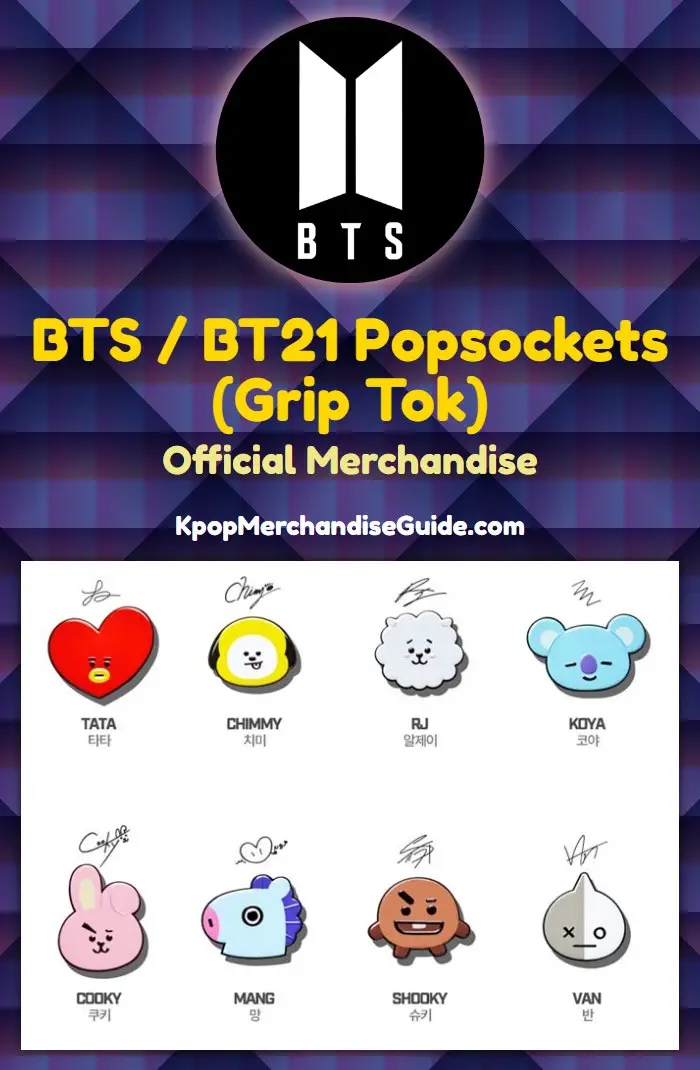 A collection of BT21 BTS merchandise was also released. It is available online for the domestic customers from South Korea and through Amazon US for others. The products you can collect includes fashion items, makeup accessories, phone cases, stationery and more. Among the items from the BT21 collection we can find a number of popsockets with each cartoon character. These are not in a circular shape but rather shaped as the characters' faces.
The Unofficial Grip Toks
You can get the unofficial BTS popsockets from the sellers on stores like Amazon or Etsy. The grip toks below are available here on Ebay from a seller based in USA. They come in a package with the additional car mount. It can be used while driving but also in other situations when you have to set your device in a fixed position for a quite some time.

Most of the unofficial products are custom made so you will have to wait some time (7 days for instance) for it to be produced. The pop holders with the photos of all members of BTS (RM, Jin, Jimin, V, Jungkook, J-Hope and Suga) are on the image below are available from KPopsessed online shop.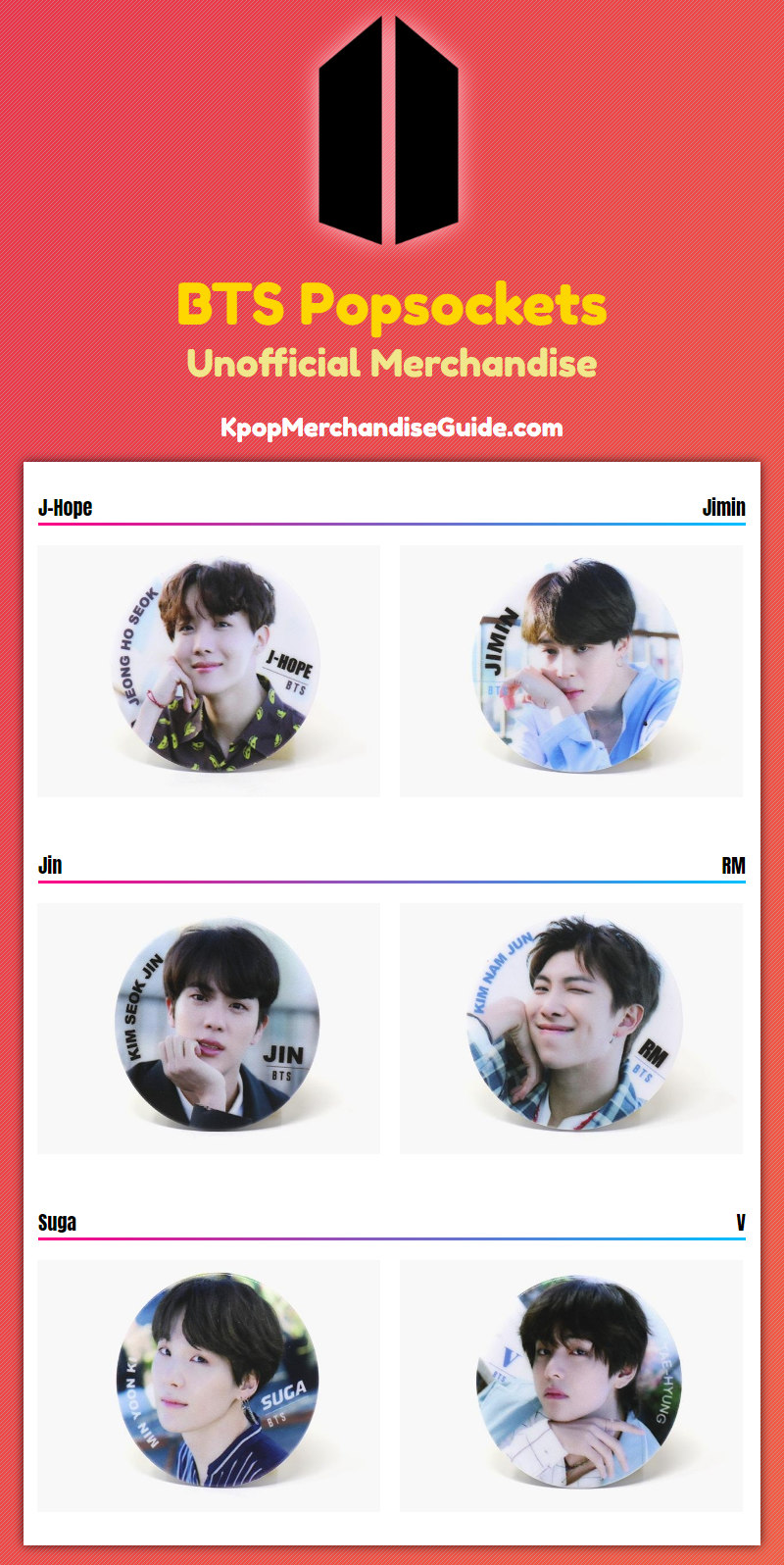 BTS iRings (Smart Rings)
If you're looking for something different then a BTS iRing can be a very good choice for you. The accessory can be attached to your smartphone and used as a holder. It works as the name suggests - you use one of your fingers to gain additional control over your device. It can make working, browsing the web or watching videos comfortable and easy. It can be even used as a hanger to place the smartphone on a wall.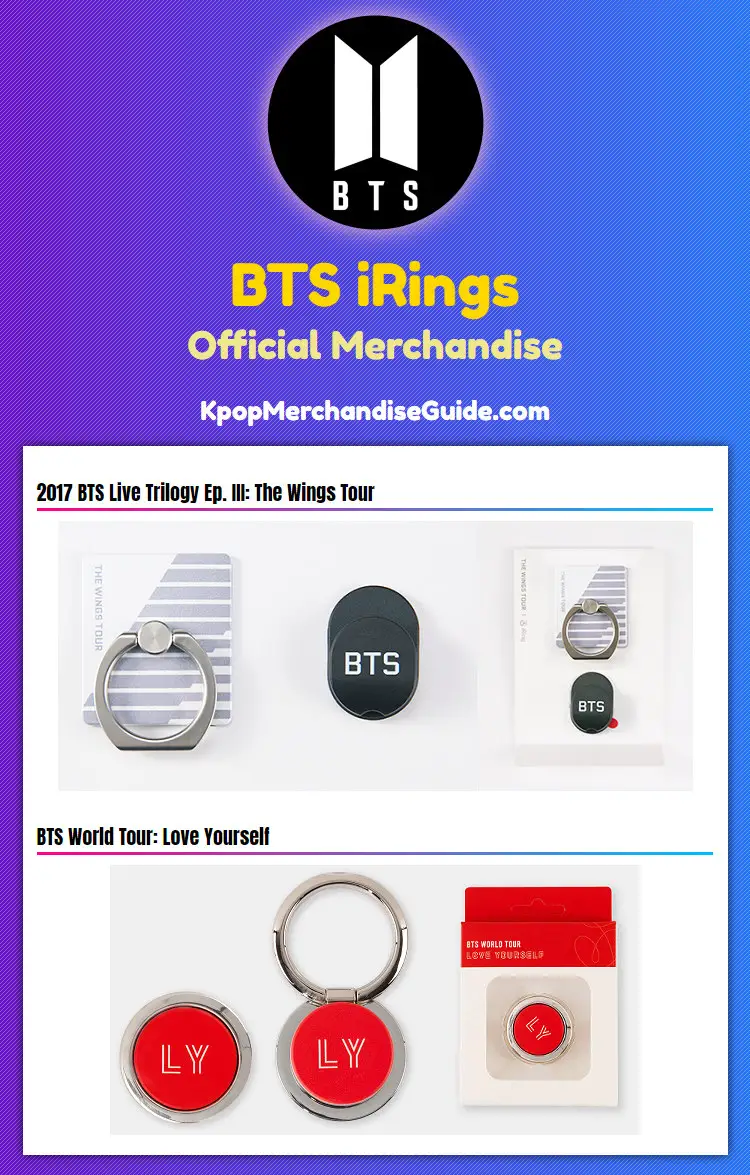 There are two officially released BTS iRings from Big Hit Entertainment. One red from the BTS World Tour: Love Yourself with the initials "LY" and one from 2017 BTS Live Trilogy Ep. III: The Wings Tour (35 x 40 mm) with a hook (32 x 21 mm) to hang it on wherever you would like. Both are manufactured and distributed by Compact.D company.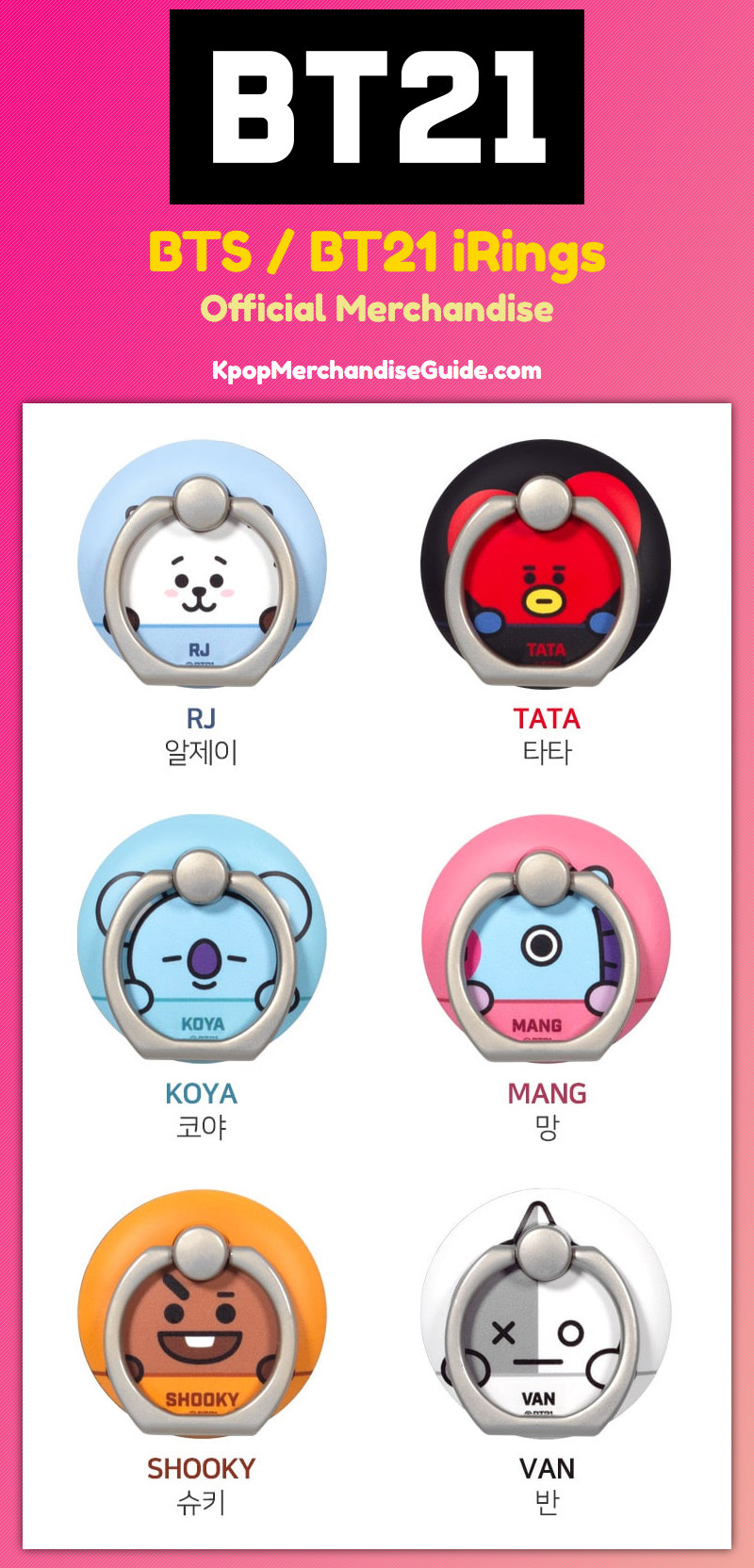 Additionally once again we have a set of iRings from the BT21 line of merchandise called Peekaboo Smart Finger Ring. Every of 8 BT21 characters are here available. It comes in a package with an authentication sticker on it. These products are licensed Line Friends. They are made of PVC and zinc.