Monsta X Baseball Jacket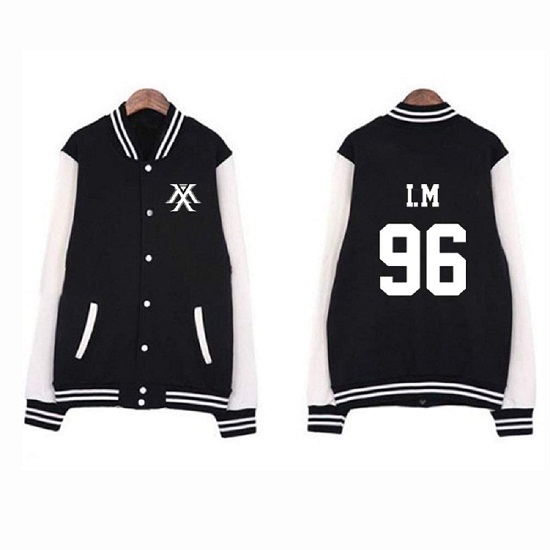 | | |
| --- | --- |
| Price | $24.49 |
| Type | Unofficial |
Available from Amazon ▼
Check It Out
If you are a fan of the group this Monsta X jacket will be perfect for you. And if you're looking for a nice gift for your friend who happens to be a fan of one of the members this item will certainly make her/him happy. This is a typical baseball jacket that features the logo of Monsta X on front and a name of a chosen member with a corresponding number on the back. You can get one of 7 options: Hyungwon (94), I.M (96), Jooheon (94), Minhyuk (93), Shownu (92), Wonho (94), Yookhyun (93). The number of course represents the year of birth of each boy. The Monsta X jacket comes in one color - black and white - and several sizes - S, M, L, XL, 2XL. It will definitely fit you whatever the size you're wearing. Although you should probably choose a size bigger than what you are used to since the sizes listed on the page are Asian sizes and they are usually smaller. The jacket is made of soft cotton and is very comfortable to wear. It can be washed both in a washing machine or by hand. It will definitely be an item that will last for a very long time.
The details related to the sizes are here: S (length: 24.01 inch, chest: 37.79 inch, shoulder: 16.92 inch, sleeve: 22.83 inch), M (length: 24.8 inch, chest: 40.55 inch, shoulder: 17.32 inch, sleeve: 23.22 inch), L (length: 26.77 inch, chest: 44.09 inch, shoulder: 18.5 inch, sleeve: 23.62 inch), XL (length: 27.55 inch, chest: 45.66 inch, shoulder: 18.89 inch, sleeve: 24.80 inch), 2XL (length: 28.74 inch, chest: 48.42 inch, shoulder: 20.47 inch, sleeve: 25.98 inch). In case of any problems regarding the measurements you can send a message to the seller and he will help you out.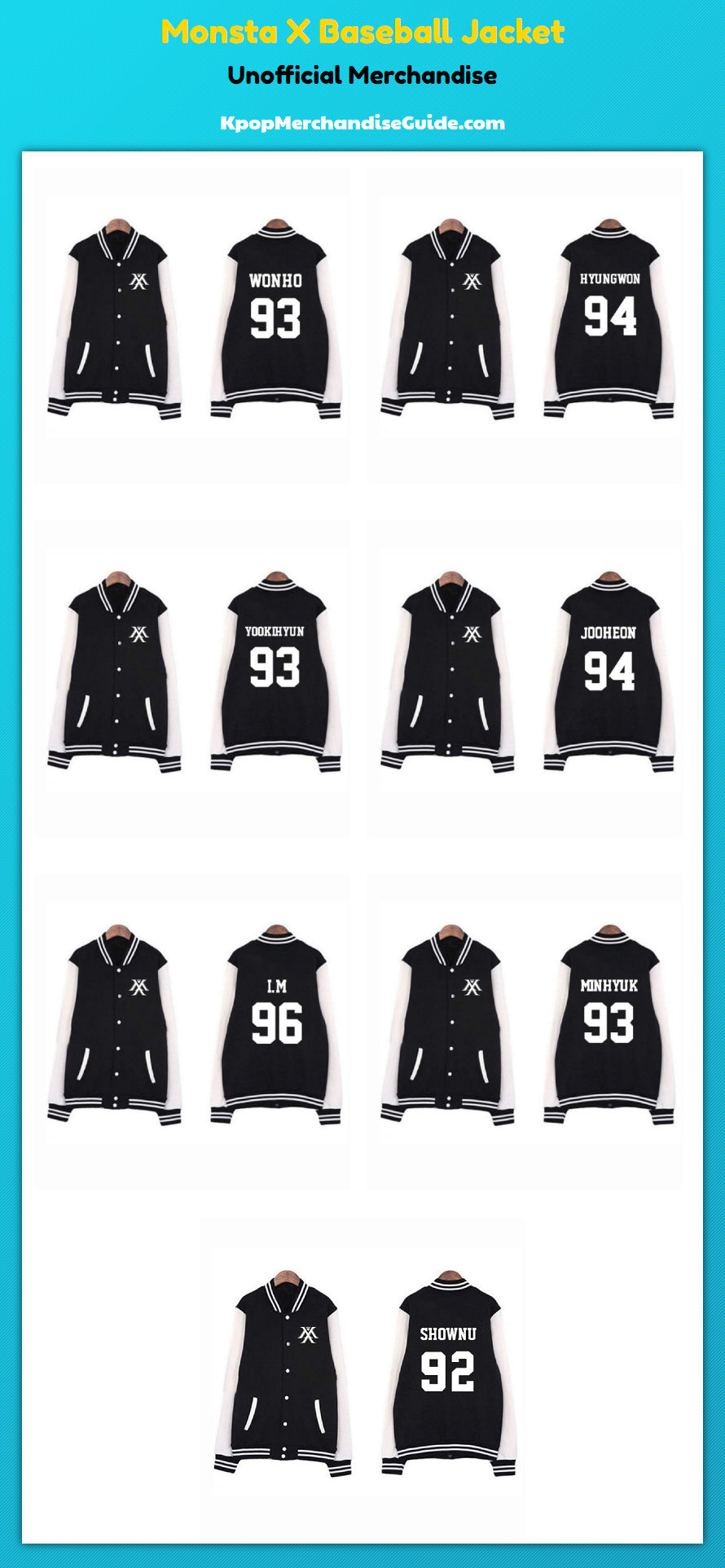 The Monsta X jacket you're looking at is an unofficial item made by fans. If you prefer something original to wear - although this is a high quality item - you can refer to the collections of the merchandise released for a particular event such as concert or fan meeting. For example at the first pop-up store titled One Fine Day you could find a black hoodie and a face mask. During the first world tour Beautiful In Seoul you could get a black T-shirt with the logo of the tour on front. More pieces of fashion were included in the collection prepared for The Connect world tour. As a attendee of the concert you could buy another T-shirt, a black 3D mask and a ballcap. The Encore selection of collectibles contained a white T-shirt, a black raincoat and a long black belt. At The Game: MX Kingdom fan-con that was held at the Kyunghee University in Seoul the members of the official fandom Monbebe could get a black sweatshirt, a hooded blanket (with a special photo) and a muffler. As you can see, although there is no official Monsta X jacket available, there are plenty of other pieces of apparel to choose from.
If you are interested in this baseball jacket you can get it from a seller on Amazon for a reasonable price of $24.49. You won't be disappointed with the purchase.
Available from Amazon ▼
Check It Out