iKON Posters and Stickers Set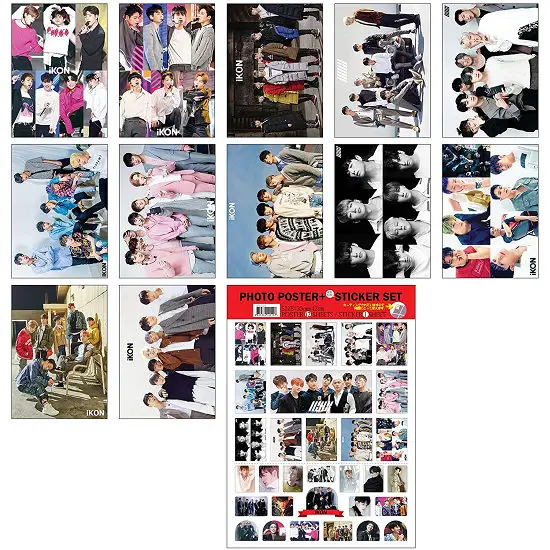 If you are looking for a nice gift to give it to a fan of iKON this probably will be the right suggestion. The set you're looking at features the pictures of all members of iKON including Yunhyeong, Jinhwan, Donghyuk, Bobby, Chanwoo, Ju-ne and B.I. B.I is also included despite the fact that he left iKON in June of 2019.
The set is composed of 12 group posters of a size of 11.8 x 16.5 inch (A3) or 300 x 420 mm, and 1 big sheet of stickers of the same size. The sheet contains 31 stickers. The set can be very handy if you want to decorate your room or office. This is the perfect product to do so.

Similar sets of other KPop groups are also available. You can get other variants such as Winner, Twice, TXT, SuperM, Red Velvet, Stray Kids, Seventeen, NCT, Monsta X, GOT7, ITZY, IZ*ONE, EXO, Day6, Blackpink, Ateez and BTS. As you can see there are plenty of groups to choose from.
The item was manufactured in South Korea. You can get it for a very reasonable price, so if you are a fan of iKON it's definitely worth it.
Available From Ebay ▼
Check It Out
Or Amazon ▼
Check It Out