iKON Summertime Season 3 In Hawaii DVD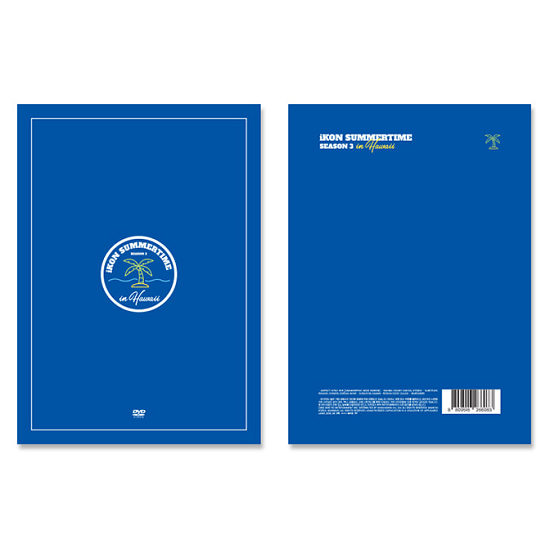 The iKON Summertime Season 3 In Hawaii is a DVD set released for the fans in 2018. It reports the group's stay in Hawaii during their summer holidays. As the title suggests it is the third this kind of merchandise after the first season filmed in Saipan in 2016 and the second season released after the members traveled to Bali in 2017. This is the official product from YG Entertainment. So it was made with an exceptional care.
The set comes in a blue box of a dimensions of 220 x 310 mm and consists of many interesting collectibles. Two DVD disks are included. They contain around 244 minutes of video content with optional English, Chinese and Korean subtitles. The region codes of the DVDs are 1, 3, 4, 5 and 6.

The memorabilia included in the box of Summertime Season 3 In Hawaii are 2 photobooks with 100 pages of beautiful pictures (they measure 210 x 297 mm), a mouse pad featuring all members of iKON including Yunhyeong, Donghyuk, Jinhwan, Bobby, Ju-ne, Chanwoo and B.I who left the group a year later (210 x 297 mm), a set of 14 photo cards of a standard size of 55 x 85 mm, a set of 7 photos (90 x 125 mm), 7 sheets of stickers in a set (90 x 125 mm), and a red square hand towel (310 x 310 mm).
The Summertime set came with a special bonus, a photo fan, if you pre-ordered your copy of the DVD before the official release.
You can get this piece of merchandise from Ebay or Amazon for a very good price considering it is a genuine item from YG Entertainment. If you are a fan of iKON you will definitely be pleased with the purchase.
Available From Ebay ▼
Check It Out
Or Amazon ▼
Check It Out
Or Yesasia ▼
Check It Out