Converse Unisex All Star 70s High Top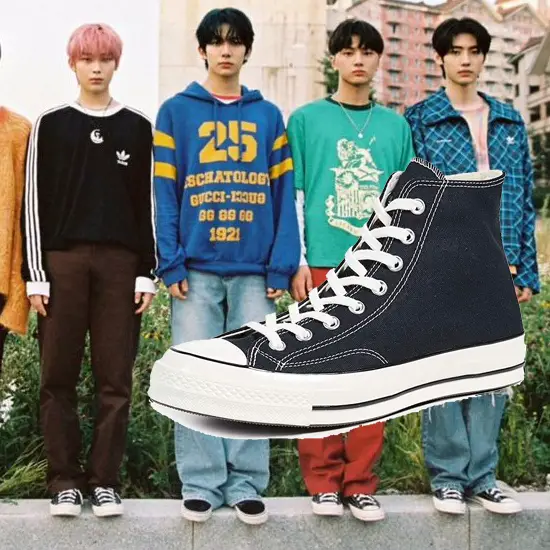 | | |
| --- | --- |
| Price | $109.99 |
| Type | Official |
Converse Unisex All Star '70s High Top is one of the most popular model of the brand among the KPop artists. If you're looking for something you could relate to, a piece of fashion that the members of Enhypen has been wearing throughout the years, this is something you'll be interested in.
The members of the group showed up in different models of footwear during the promotional shoot for their first full-length album titled Dimension: Dilemma. The album was released by Belift Lab on October 12, 2021. On one picture promoting the release, the boys can be spotted wearing some cool shoes.
While four of the members including Ni-Ki, Jake and Jungwon choose Vans, the rest of the boys including Jay, Sunoo and Sunghoon had on their feet the All Star '70s model. If you're looking for a perfect style to be influenced by, this will be the perfect one.
This classic model has a black body made of Canvas, white laces and a white, rubber sole with a clearly visible black line giving it more sophisticated look. The sole under the shoe is brown. On one side of each shoe you can spot a highly recognizable logo of the brand with a black star in the middle.
On the backs of the shoes you can spot the same star, but this time in white on a black background. This is a unisex product, so you can wear it regardless if you are a woman or man.
If you already feel inspired, you can acquire the shoes right now. You can get it online for a very affordable price in comparison with other luxurious brands. The item costs around $100 depending on the size. It will be a nice gift for anyone who likes fashion and their favourite group is Enhypen.