Enhypen Memories: Step 1 Photobook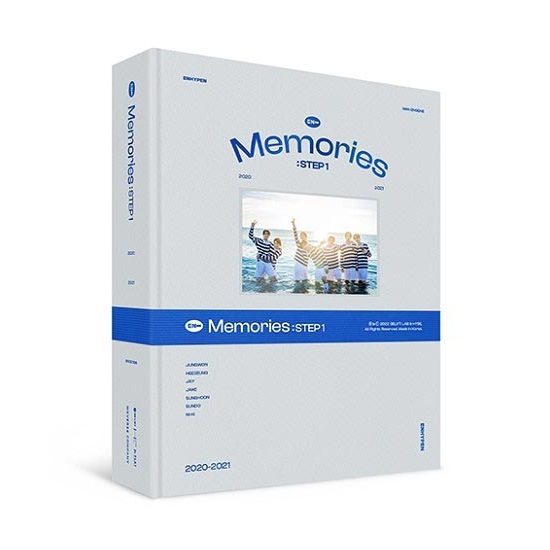 Memories: Step 1 is a special package of Enhypen released as a chronicle of aproximately one year of their artistic career starting with their debut. The members debuted with their lead single Given-Taken on November 30, 2020. The package features their journey between their first mini album Border: Day One and the repackage of their first full-length release Dimension: Answer.
The whole product measures 188 x 262 x 40 mm. It showcases a picture of all members of Enhypen on the cover and comes with a dark blue band.
It contains a 232 pages photobook with some beautiful photos of the group. The dimensions of the item are 276 x 246 x 21 mm. It is probably the most precious item inside the package.
Additionally you will get 3 other pieces of merchandise. That includes an accordion photo of a size of 700 x 150 mm with pictures of all members including Jay, Jake, Heeseung, Sunghoon, Sunoo, Jungwon and Ni-ki, a Polaroid photo of the whole group measuring 108 x 85 mm, and finally a random photo card selected at random out of 7 unique variants measuring 54 x 86 mm.
You will also get a white envelope with a special card with a digital code to the making of videos. The videos showcases some pre-debut profile making films, the making of the concert New Year's Eve Live that took place in 2021, the debut media showcase and the making of the first anniversary.
The video material also features the making of films for the first four albums of Enhypen. That includes the extended plays Border: Day One and Border: Carnival, the studio album Dimension: Dilemma, and its reissue Dimension: Answer.
This is the official collectible from Hybe and Belift Lab, manufactured in South Korea and distributed by Weverse Company Inc. It can be yours for a very affordable price considering it is a genuine and high quality item.
Available From Ebay ▼
Check It Out
Or Amazon ▼
Check It Out