Converse Chuck Taylor All Star High Platform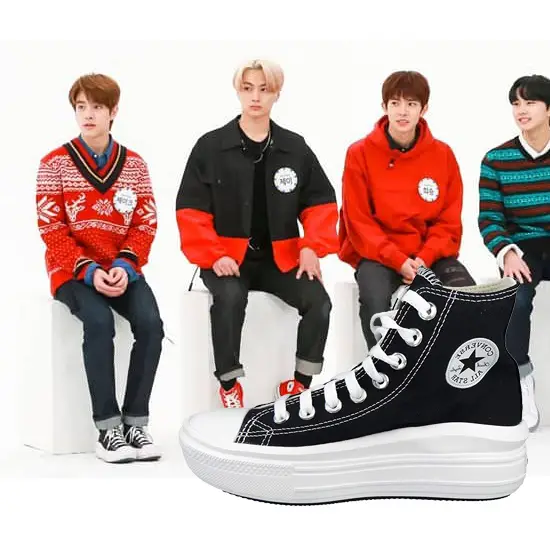 If you're looking for some inspirations regarding the Converse shoes the members of Enhypen like to wear, you've come to the right place. The example you can see here is one of the most popular models among the boys, and will definitely grab your attention.
You could spot it during the Enhypen's visit to Weekly Idol on December 23, 2020, when Jake had it on his feet. The exact model is Chuck Taylor All Star High Platform.
It has a black body with white laces and high white sole. On one side of each of the shoes you can spot the classic logo of the brand with a black star in the middle. The shoes are made of Canvas and have a padded insole. They are extremely comfortable to wear.
You can get them for a very reasonable price. They cost less than $100 and will definitely be a great addition to your wardrobe. And of course it always great to have something in common with the members of your favourite band.
If you are still looking for some alternatives, you can check out other models the members was wearing during their Weekly Idol appearance. All boys except Heesung came in a Converse shoes. Sunghoon and Jake was wearing Chuck 70 High Top model in white and red version respectively, Jake had on his feet black Chuck Taylor All Star Move, Sunoo white variant of Run Star Hike High Top, and finally Niki had a checkered black and white Chuck 70 Rivals High Top.
As you can see there are plenty of options to choose from. The footwear are very popular among the fans who constantly are looking to find a perfect style inspired by their idols.
Available From Ebay ▼
Check It Out
Or Amazon ▼
Check It Out