BTS World Tour: Love Yourself: Speak Yourself Merchandise
Speak Yourself is an extension to the Love Yourself tour that began in 2018 and concluded in April of 2019. 16 concert dates in four legs were added - North American (Pasadena, Chicago and East Rutherford), South American (São Paulo), European (London and Saint-Denis), Asian (Osaka and Shizuoka). Additional dates may be added. The extension started with the BTS' performances on May 4-5, 2019 in Pasadena at the Rose Bowl venue. The event gathered 120 000 fans.
The members of BTS prepared another collection of merchandise that is available on-site as well as online.
With four of them we're quite familiar. Those are the official light stick (version 3), the case for the light stick, relatively much slower light finger ring and official slogan "Beyond The Scene". The collection consists mainly of apparel - T-shirts and hoodies.

The first item is a premium photo available in 7 options: RM, Suga, Jin, J-Hope, Jimin, V and Jungkook. The size of the photo is 240 x 340 mm.
The second is a mini flag with a photo of each member, very similar to the one from the Love Yourself collection. The size of the item is 60 x 165 mm.
Next we have a red key ring with two straps, logo charm (35 x 20 mm) and BTS charm (20 x 20 mm) with a photo of a single member. The length of the key ring is 160 mm.
The garland comes with a 2800 mm long string, a 360 mm long acrylic stick and 10 paper elements (120 x 120 mm and 110 x 110 mm).
The set of photo frames consists of 3 frames with the pictures of all members. They come with three stands. The size of the frame is 150 x 100 x 3 mm and the size of the stand is 90 x 70 x 8 mm.
The white shopper bag has the logo of the extension on front: "BTS World Tour Love Yourself: Speak Yourself". The size of the bag is 450 x 370 mm.
Next we have four different beautiful T-shirts with the tour's logo: Ver.1 (white and black option), Ver.2 (black), Ver.3 (black) and two hoodies: zip-up hoody (black), regular hoody (black).
The next three pieces of fashion have a BTS image on front: two white T-shirts (Ver.1 and Ver.2) and a gray hoody.
The last 6 items are T-shirts with a BTS logo and the words "BTS Beyond The Scene" at the back: two T-shirts (black or white), two long sleeve T-shirts (black or white) and Ver.3 and Ver.4 T-shirts. All items are available in two sizes: M and L.
Apparel for US & UK & EU
A special line of apparel was also prepared for the fans from US, UK and EU.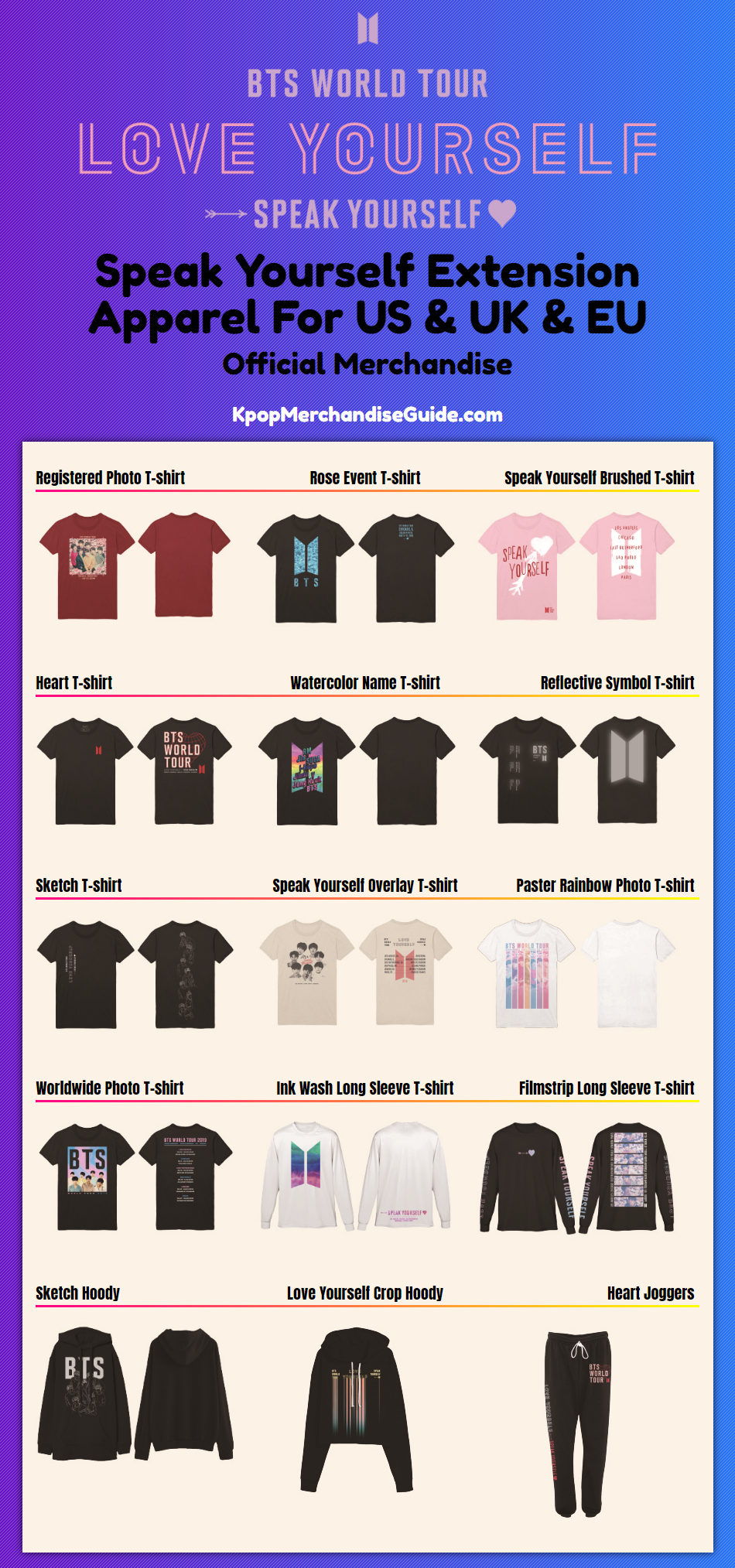 It consists of 10 designs of T-shirts: registered photo T-shirt, rose event T-shirt, Speak Yourself brushed T-shirt, heart T-shirt, watercolor name T-shirt, reflective symbol T-shirt, sketch T-shirt, Speak Yourself overlay T-shirt, pastel rainbow photo T-shirt, worldwide photo T-shirt; 2 long sleeve T-shirts: ink wash long sleeve T-shirt, filmstrip long sleeve T-shirt; 2 hoodies: sketch hoody, Love Yourself crop hoody; and 1 heart joggers. All items are available in four sizes: S, M, L, XL.