Zico Pullover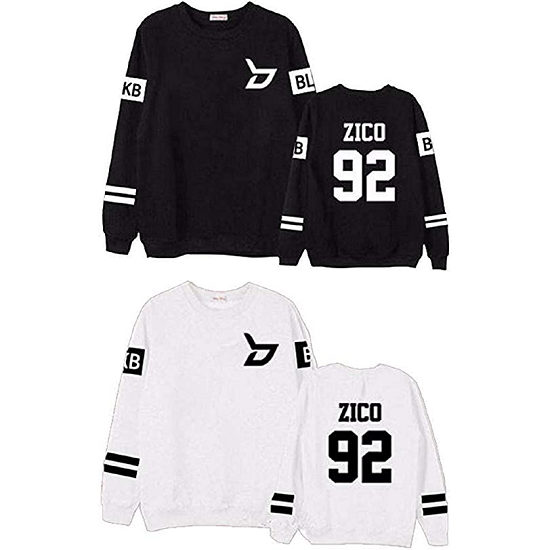 This pullover features a name of Zico (or any other Block B member) on the back alongside the corresponding number, and the logo of the group on front. It also has two white stripes and the name of Block B on both sleeves.
You can choose either black or white variant and one of 5 sizes including Small (length: 24.40 inch, chest: 40.15 inch, shoulder: 16.92 inch, sleeve: 22.04 inch), Medium (length: 25.98 inch, chest: 42.15 inch, shoulder: 17.91 inch, sleeve: 22.83 inch), Large (length: 27.16 inch, chest: 44.88 inch, shoulder: 20.07 inch, sleeve: 23.62 inch), X-Large (length: 28.93 inch, chest: 47.24 inch, shoulder: 21.25 inch, sleeve: 24.01 inch), XX-Large (length: 29.52 inch, chest: 50.39 inch, shoulder: 22.04 inch, sleeve: 24.80 inch). Please notice that these are Asian measurements so you should be getting a pullover 1 or even 2 sizes bigger than what you're used to if you live outside Asia. The item is made of 100% cotton and is very comfortable to wear.
You can purchase it for a very good and affordable price. It is definitely not expensive. Beside Zico all other members of Block B are available - B-Bomb, Jaehyo, Kyung, P.O, Taeil and U-Kwon.
Available From Ebay ▼
Check It Out
Or Amazon ▼
Check It Out