STAYC Stay In Chicago Photobook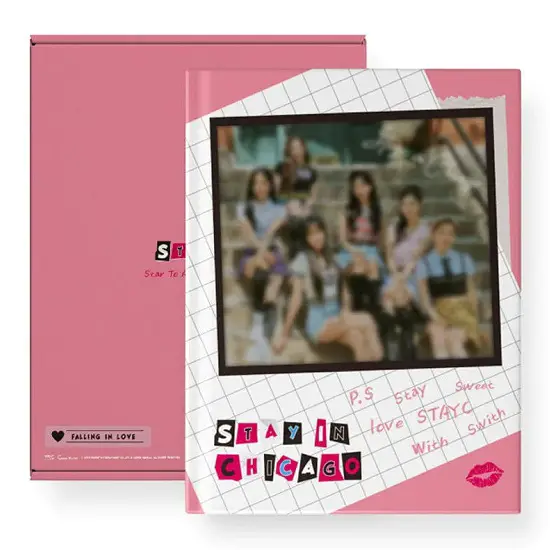 If you're looking for a special and one of a kind piece of merchandise related to STAYC, this item will definitely grab your attention. It is the first photobook of the group titled STAY In Chicago.
The package is a great treat for all the fans. It is full of great collectibles carefully contained in a cardboard box with the title printed on the top. The whole product measures 220 x 307 mm and is in white and pink colors.
Inside the box you will find a photobook with beautiful pictures of all members including Sumin, Isa, Sieun, Yoon, Seeun and J, featured on 200 pages. The size of the photobook is 210 x 270 mm. It depicts a photo of the whole group on the cover.
Aside from the photobook you will also get a DVD disk, a set of photo cards and postcards. The DVD contains approximately 30 minutes of video content and measures 120 x 120 mm.
There are 6 different sheets in both photo card and postcard sets. Each of them showcases a single member of STAYC. The cards are of a standard size you can find in the majority of the currently released KPop albums and measure 55 x 85 mm. The dimensions of the postcards are 120 x 180 mm.
This is the official product from High Up Entertainment manufactured by a well-known South Korean company Copan Global, you can probably recognize from the merchandise of other artists.
You can get this wonderful package for a good price on the e-commerce websites online. You will certainly be pleased with your purchase.
Available From Ebay ▼
Check It Out
Or Amazon ▼
Check It Out