SM Entertainment Mini Fanlight Keyring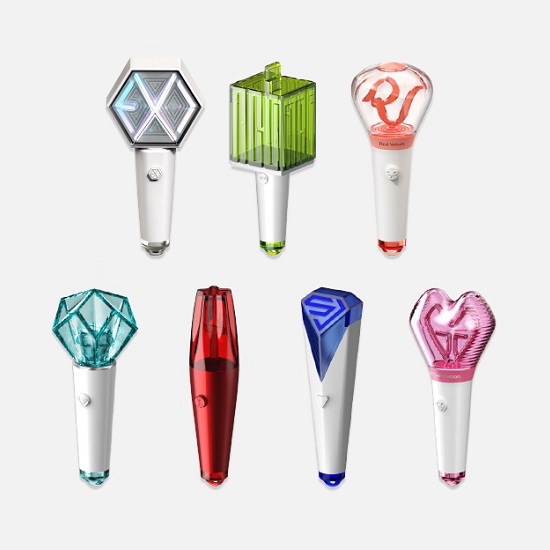 | | |
| --- | --- |
| Price | $29.99 |
| Type | Official |
Available From Ebay ▼
Check It Out
The lightsticks are probably the most well known KPop merchandise that are being produced. This is the must have item for any concert or fan meeting. That's why it's so important for a KPop groups to have their own original and unique lightsticks. They differ in shape and sizes and try to feature the most recognizable elements related to a specific KPop artist. You can say they are a business card of the artist. SM Entertainment is known for their merchandise which they prepare to meet the demands of the fans. In 2019 the company manufactured a line of small key rings that resemble the lightsticks previously released for their girl and boy groups. The key rings are almost identical to their bigger counterparts. The fanlight keyrings were prepared for EXO, SHINee, NCT, Super Junior, Red Velvet, TVXQ, and Girls' Generation. It's worth noting that BoA was omitted - there's no keyring representing her lightstick.
You can immediately notice the most recognizable features when looking on a particular keyring - a cupcake and the letter "R", a blue diamond, a heart in a shape of two letters "GG", blue letters "SJ" or logos of SM Entertainment groups. The colors of each keyring is consistent with the colors of SM artists - you can notice the colors including silver, dark blue, red, pink, yellow, orange and blue.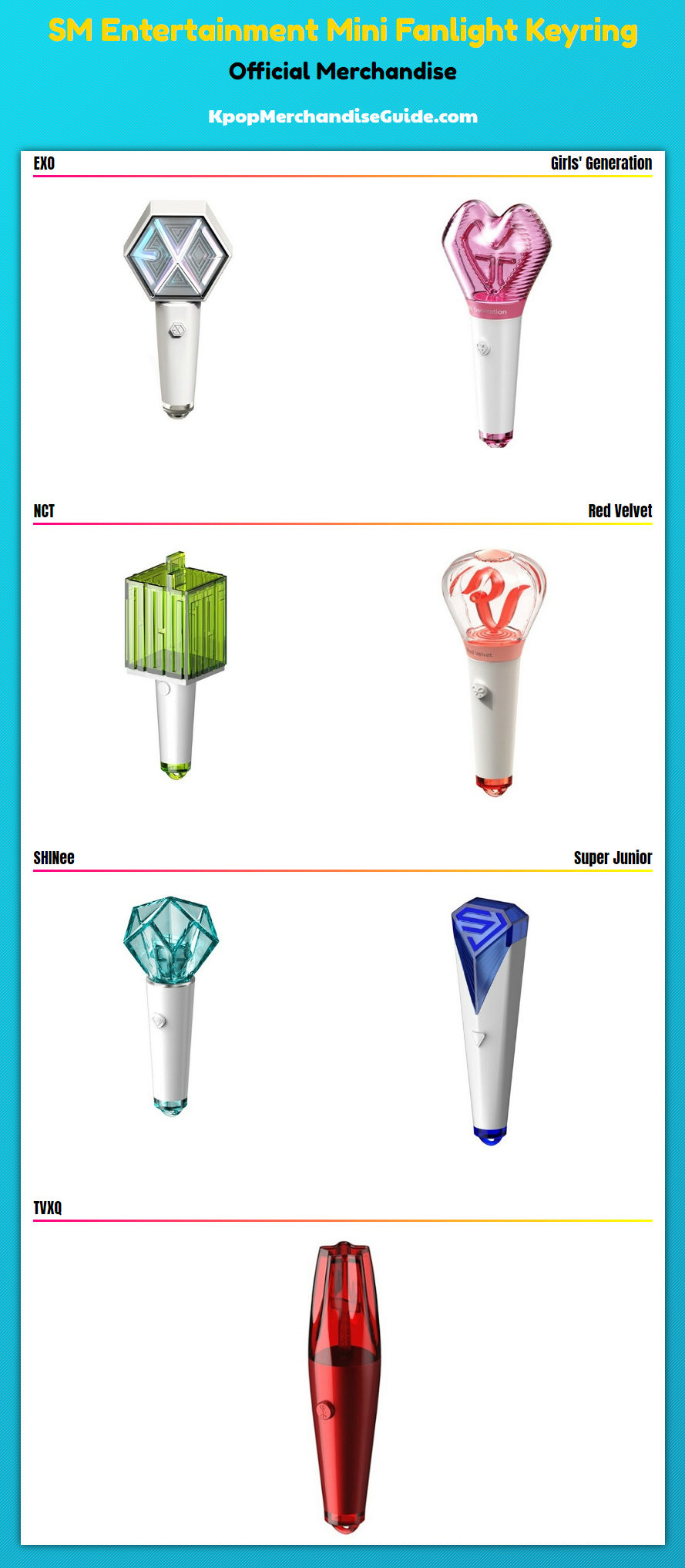 The SM Entertainment fanlight keyring function in the same way as the regular lightstick does. It can produce light similarly to the product it's based on. The item is powered by three LR41 coin batteries. The size of the each keyring is similar but slightly different: EXO: 47.7 x 29.8 x 100.7 mm, Girls' Generation: 43 x 30 x 95 mm, SHINee: 37.5 x 35.8 x 91 mm, NCT: 35 x 31 x 95.6 mm, Super Junior: 28 x 25.5 x 100 mm, Red Velvet: 37.7 x 37.7 x 92.8 mm, TVXQ: 23.3 x 24 x 95.8 mm. The items are bigger than the keyrings we're used to so it will be difficult to keep them in the pockets of our trousers or jeans. But you can easily keep the item in your bag or backpack.
The item was manufactured in China by a company Sun Entertainment Co., Ltd. If you are a fan of that kind of devices which will help you to keep your keys in one place and is way more interesting than the regular keyrings you probably should think about the purchase. You can get one for a very affordable price of $24.20 from a seller based in South Korea. The product will came in a transparent box with the name of a chosen group on front and on side.
And if you're looking for other official KPop keyrings there are plenty to choose from. For example you could find one made of a black strap included in the 2018 BTS Festa - Prom Party collection, a blue one in the ONF You Complete Me line of goods or the keyring that looks like a guitar pick available during the Day6 1st Live Concert D-day.
Available From Ebay ▼
Check It Out