NCT Poster And Sticker Set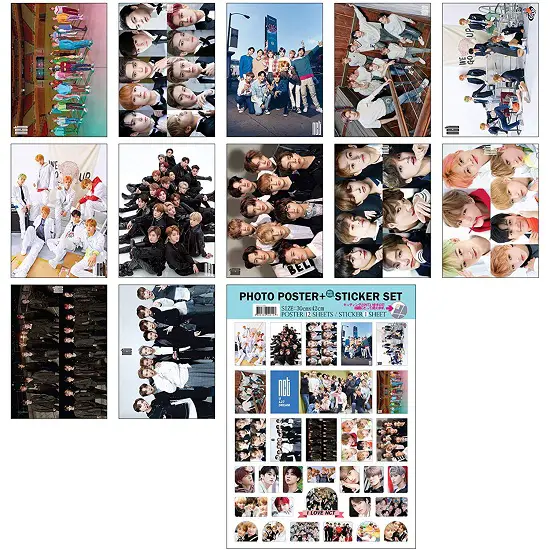 If you're looking for a nice set of NCT posters this item will certainly catch your attention. The collectible features the photos of all members of the group from SM Entertainment. If you already own the set related to Ateez or Stray Kids you know exactly what you will find in the package. This set of NCT posters is composed of 12 sheets that measure 11.8 x 16.5 inches or 30 x 42 cm (A3 format) and one additional sheet of the same size with stickers. The posters are a great and useful items for any of the NCT fans who would like to decorate their room with the photos of their favourite male group. The sheets feature the members of three units including NCT U, 127 and Dream: Doyoung, Taeil, Jaehyun, Ten, Taeyong, Yuta, Mark, Haechan, Renjun, Winwin, Jaemin, Jeno, Chenle, Johnny, Jisung, Jungwoo and Lucas. If you check the listing on Amazon you will also find other options of the item to choose from including KPop groups such as BTS, Blackpink, EXO, GOT7, Seventeen, Twice, TXT and Winner. This is an unofficial product from South Korea. Nevertheless it is a quality item you will be pleased to own.
Of course there are other NCT posters in existence that was released officially by SM Entertainment. Although difficult it is not impossible to find them on various online e-commerce websites. For example a selection of A1 sized NCT posters (594 x 841 mm) was available for the attendees of the NCT 127 World Tour 'Neo City - The Origin' Photo Exhibition that was held from June 9 to June 12, 2019 at the SM Celebrity Center in Seoul. The fans could purchase one or more of 9 different variants (one member on each sheet including Taeyong, Taeil, Yuta, Johnny, Doyoung, Jungwoo, Jaehyun, Mark and Haechan). Another selection was prepared for the NCT 127 We Are Superhuman Pop-Up Store that operated for 12 days in June of 2019 at the F1963 art complex in Busan. This time the sheets measured 420 x 594 mm (A2 format). A set with similar pictures was included in the package Summer Vacation Kit alongside the DVD disc, a set of pouch and stickers, a summer and vacation note, mini clear fan (chosen randomly out of 9 options), a bottle and finally a set of 9 postcards and 1 frame. This set of NCT posters was composed of 12 sheets instead of 9.
And if you like this item you can get it as I mentioned before from Amazon or Ebay for a reasonable price of $13.99-$19.00. It is definitely worth it if you need to make the space around you a little bit more exciting. And of course NCT is not the only group available here. If you like any other you should definitely consider getting the set related to it.
Available From Ebay ▼
Check It Out
Or Amazon ▼
Check It Out