Rose R Vinyl Record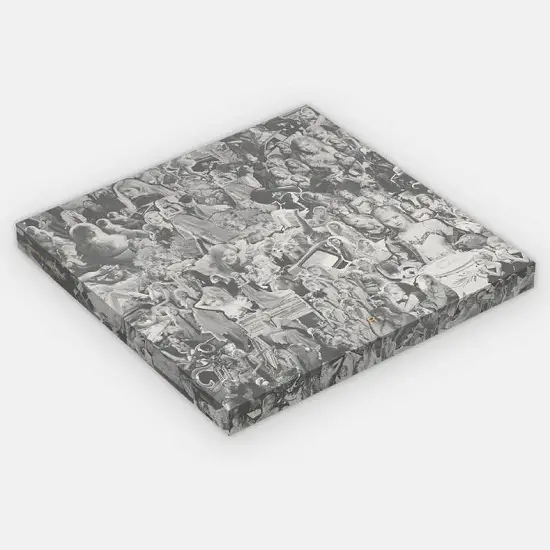 The vinyl edition of -R- is a wonderful piece of merchandise. If you're looking for collectibles related to Blackpink or Rose, this is the perfect one for you. It is the official item released by YG Entertainment.
-R- is the debut single album of Rose. It came out under YG and Interscope Records on March 12, 2021, and was distributed by YG Plus, Inc. Korea. On the album you will find four tracks including the songs On The Ground and Gone, and the instrumental versions of both of them.
The LP record of the album is a limited edition collectible. It contains several pieces of merchandise. On the cover you can spot a collage of numerous pictures of Rose. The cover is completely different from the regular CD edition. The title of the record is printed at the bottom.
The LP features both songs from the single on side A, while side B contains 2 instrumental versions. The 45 RPM disk itself is of a regular size of 12 inches in diameter (301 x 301 mm).
The package consists of a large lenticular photo card of a size of 300 x 300 mm, four large double-sided photo cards measuring 309 x 309 mm with the addition of a transparent insert of the same size, a gatefold featuring a pictures of Rose (309 x 309 mm), a lyrics slave sized 306 x 305 mm, a 120 pages mini flipbook with a hardcover of a dimensions of 135 x 65 x 10 mm, 3 metal badges in a shape of a heart with a letter "R" in the middle of each of them, and lastly a double-sided poster measuring 870 x 580 mm.
Everything comes in a beautiful box of a dimensions of 322 x 322 x 26 mm. There is no more elegant piece of merchandise than this one. If you're thinking about a perfect present, this item is for you. You can still get it for a relatively good price on various e-commerce websites online.
Available From Ebay ▼
Check It Out
Or Amazon ▼
Check It Out