Red Velvet Red Room Hoodie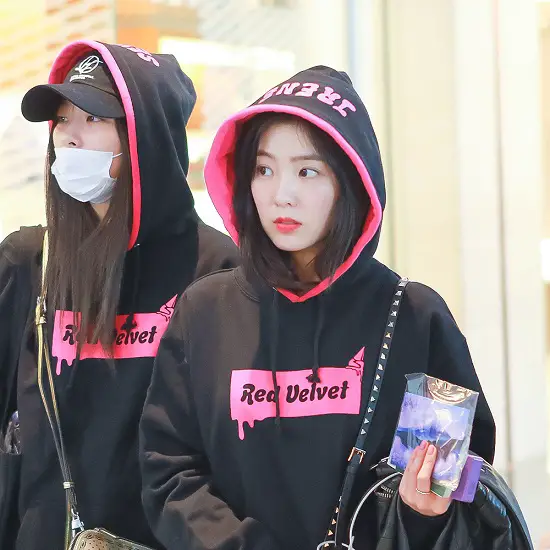 If you're looking for a cool Red Velvet hoodie you'll probably be interested in this item. It is a fan made product based on the piece of fashion the girls were wearing at the airport after they came back from Japan on March 30, 2018. The day earlier they performed a concert at the Musashino Forest Sports Plaza in Chōfu as part of their tour Red Room. The concert was held over two days starting on March 28 and gathered the audience of 20 000 people. Beside Chōfu the girls visited other cities in South Korea and Japan including Seoul, Sapporo, Ichinomiya, Hiroshima, Fukuoka, Osaka, Yokohama. The Red Velvet hoodie features the name of the group on a pink background on front and the name of a chosen member on the hood. You can choose Irene, Seulgi, Wendy, Joy or Yeri. It is available only in one color - black. The hoodie comes in six different sizes including S (chest: 94 cm, length: 60 cm, shoulder: 40 cm, sleeve: 57 cm), M (chest: 98 cm, length: 63 cm, shoulder: 43 cm, sleeve: 59 cm), L (chest: 104 cm, length: 66 cm, shoulder: 46 cm, sleeve: 61 cm), XL (chest: 108 cm, length: 69 cm, shoulder: 49 cm, sleeve: 63 cm), 2XL (chest: 114 cm, length: 72 cm, shoulder: 52 cm, sleeve: 65 cm), 3XL (chest: 118 cm, length: 74 cm, shoulder: 56 cm, sleeve: 67 cm). The sizes are a little bit smaller than what you are used to so you should definitely think about getting a size (or maybe even two) bigger. Please remember that American measurements are larger than those in Asia.

This Red Velvet hoodie is an unofficial piece of apparel. If you're looking for some officially released items from SM Entertainment you can try to get some that came out in conjunction with album releases and concerts. For example when The Red album was released five different baseball caps and socks in five different colors were available for purchase. A special white T-shirt was released as part of the official merchandise for the first concert of Red Velvet titled Red Room. A selection of apparel was introduced when the repackage The Perfect Red Velvet came out on January 29, 2018. Although it didn't included a Red Velvet hoodie you could find there a black sweatshirt, a red had with long strap, a beanie featuring the logo of the album, a black long sleeve T-shirt with the name of the group, a white long sleeve T-shirt with a round design showcasing the silhouettes of all girls and finally a raglan baseball T-shirt with the title of the song Bad Boy on front. In April of 2018 a special black T-shirt was available for the attendees of the Fanmeet In Chicago that took place at the Rosemont Theatre. It had the name Red Velvet on front and the title of the event on the back. The same year at the second concert Redmare te fans could get a T-shirt that was available in either black or white color and a black ballcap. As you can see there are other interesting pieces of fashion beside the hoodie if you prefer something original.
Or you can just buy one of the collectibles prepared for the Red Room concert. The collection includes a photocard collect book that comes with one of 5 different cards, a penlight, a postcard book, an invitation card that is available in 5 variants, a photo stand featuring each of the members, a desk mat (5 options), a long cushion cover, five different clear frames, 5 passport cases, already mentioned white T-shirt, a cold cup with a straw, a badge (7 options), a white eco bag, a iRing with a face of one chosen member, a portable charger and a strap keyring (5 options).
If you like this Red Velvet hoodie you can get it for an affordable price of $24.48. The item is made of cotton and is very comfortable to wear. It will be perfect for you or as a gift for someone you care about.
Available From Ebay ▼
Check It Out
Or Amazon ▼
Check It Out