Loona 3D Printed Hoodie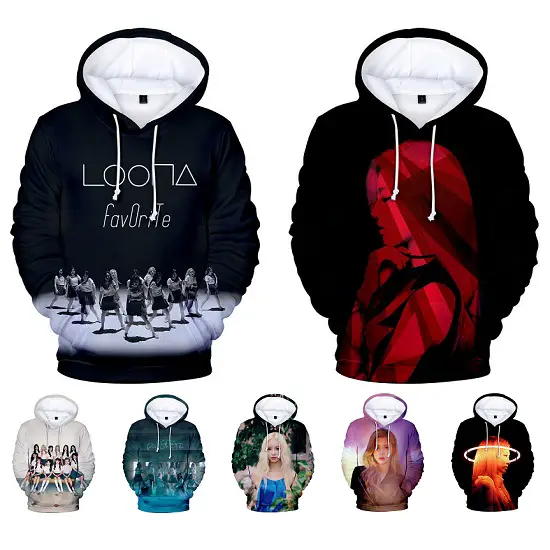 | | |
| --- | --- |
| Price | $17.69 |
| Type | Unofficial |
Available From Ebay ▼
Check It Out
If you're looking for a cool Loona hoodie this piece of apparel will be perfect for you. What you can see here is a 3D printed item which features the members of Loona. It is available in 12 different variants including the photos of the whole group and other depicting one of the members: Jinsoul, Kim Lip, Heejin, Hyunjin, Olivia Hye. The photos come among others from the photoshoot for the lead track Favourite that came out on August 7, 2018. It was later included on album [+ +] (plus plus) that was released on August 20 by Blockberry Creative. The album consisted of 6 songs including the title track Hi High, + +, favOriTe, 열기 (Heat), Perfect Love and Stylish. The songs were composed by a very talented artists. The release was the second most selling release by any KPop girl group in 2018.
The Loona hoodie comes in many different sizes so it will be relatively easy to get the size you need. It is available in XXS, XS, S, M, L, XL, 2XL, 3XL and 4 XL. As you can see there's plenty of options to choose from. This is the unofficial product made by fans. If you're looking for a official hoodie from the Blockberry Creative you have only one option. There was a black hoodie released for the Loonaverse concert. Loonaverse is the second concert of the group after Loonabirth that was held at the Olympic Hall in Seoul on February 16-17, 2019. The hoodie available at the event was black and had a small double + logo on front with the title of the event. On the back you will find a list of all members of Loona in this particular order: HeeJin, HyunJin, HaSeul, YeoJin, ViVi, Kim Lip, JinSoul, Choerry, Yves, Chuu, GoWon, Olivia Hye. The item was made in South Korea and was initially available for 40,000 KRW.

There were other collectibles released for the Loonaverse concert. The selection consisted of a slogan, a set of mini posters and another set of illustrations posters, a set of photos that looks like accordion, an ID photo set in an envelope, a set of pins for each of the units: 1/3, Odd Eye Circle, yyxy and YeoJin, a smart holder, a wristband, a mirror of a diameter of 75 mm, a keyring and two stamps. If the list of these Loona goods sounds interesting you can try to spot them on e-commerce websites. They tends to show up from time to time so if you're lucky maybe you will manage to get them.
Beside this Loona hoodie there's only one official piece of fashion. It a black T-shirt that was released as part of bigger collection of merchandise for the debut concert of the group titled Loonabirth that took place at the Olympic Hall in Seoul on August 19, 2018. It featured the moon logo of the event and came in only one size, L.
If you like any of the variants of this Loona hoodie you should definitely think about purchasing one. There's not many good quality items like this one on the Internet.
Available From Ebay ▼
Check It Out