iKON Logo T-shirt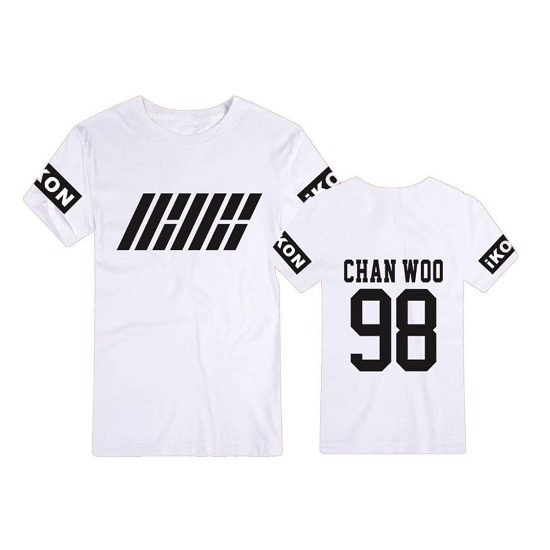 | | |
| --- | --- |
| Price | $13.59 |
| Type | Unofficial |
Available from Amazon ▼
Check It Out
The T-shirt you're currently looking at is an unofficial merchandise related to iKON. The item features the logo of the group from YG Entertainment on front. On the back you will find the name of a chosen member of iKON including Bobby, Chanwoo, Donghyuk, Jinhwan, Junhoe (also known as Ju-ne), Yunhyeong and even B.I, who left the group in June of 2019. The name is accompanied by a corresponding number which represents the year a chosen member was born in. On the sleeves you will spot the name of the group on a black background. The details are very clearly visible.
There are two colors to choose from. You can get this iKON T-shirt either in white and black. The product is made of cotton and will be perfect to wear on a summer day.

You can get it in 5 sizes ranging from S to 2XL. Please check the measurements before making the purchase to avoid surprises. The details are here: S (length: 24.8 inch, chest: 39.37 inch, shoulder: 17.32 inch), M (length: 25.59 inch, chest: 40.94 inch, shoulder: 18.11 inch), L (length: 26.37 inch, chest: 42.52 inch, shoulder: 18.89 inch), XL (length: 27.16 inch, chest: 44.09 inch, shoulder: 19.68 inch), 2XL (length: 27.95 inch, chest: 44.48 inch, shoulder: 20.47 inch). Please notice these are Asian measurements so to be sure you are buying the right size please go 1 or even 2 sizes up.
You can get this item from Amazon for an affordable price of $13.59. If you are a fan of iKON it's definitely worth it.
Available from Amazon ▼
Check It Out