iKON Logo Hoodie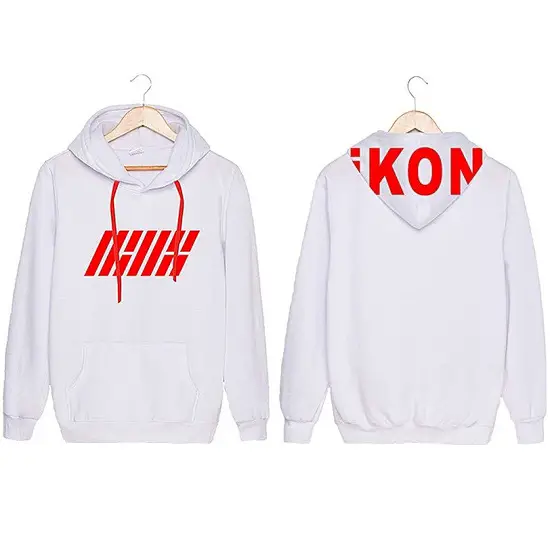 | | |
| --- | --- |
| Price | $16.99 |
| Type | Unofficial |
Available from Amazon ▼
Check It Out
The group is one of most important boy bands of YG Entertainment. If you like the members and you are looking for a cool iKON hoodie this item will definitely interest you. What you're currently looking at is a comfortable piece of fashion that comes in white color. It has a classic red logo of iKON on front the group's name on the hood in the same color. The hoodie is made of cotton and you can wear it during each of the seasons. It is made of a very light material. It is very comfortable and soft in touch. As I mentioned before it is available only in white color but it comes in 7 sizes to finding the right one for you will not be a problem. The measurements are here: S (length: 61 cm / 24.01 inch, bust: 98 cm / 38.58 inch, sleeve: 57 cm / 22.44 inch, shoulder: 42 cm / 16.53 inch), M (length: 63 cm / 25.59 inch, bust: 100 cm / 39.37 inch, sleeve: 58 cm / 22.83 inch, shoulder: 44 cm / 17.32 inch), L (length: 65 cm / 28.35 inch, bust: 102 cm / 40.16 inch, sleeve: 59 cm / 23.23 inch, shoulder: 46 cm / 18.11 inch), XL (length: 67 cm / 26.38 inch, bust: 104 cm / 40.94 inch, sleeve: 60 cm / 23.62 inch, shoulder: 48 cm / 18.90 inch), 2XL (length: 69 cm / 27.16 inch, bust: 106 cm / 41.73 inch, sleeve: 61 cm / 24.01 inch, shoulder: 50 cm / 19.68 inch), 3XL (length: 71 cm / 27.95 inch, bust: 108 cm / 42.52 inch, sleeve: 62 cm / 24.41 inch, shoulder: 52 cm / 20.47 inch). Please notice that these are Asian sizes so you should definitely order the iKON hoodie in a size bigger than what you wear outside Asia.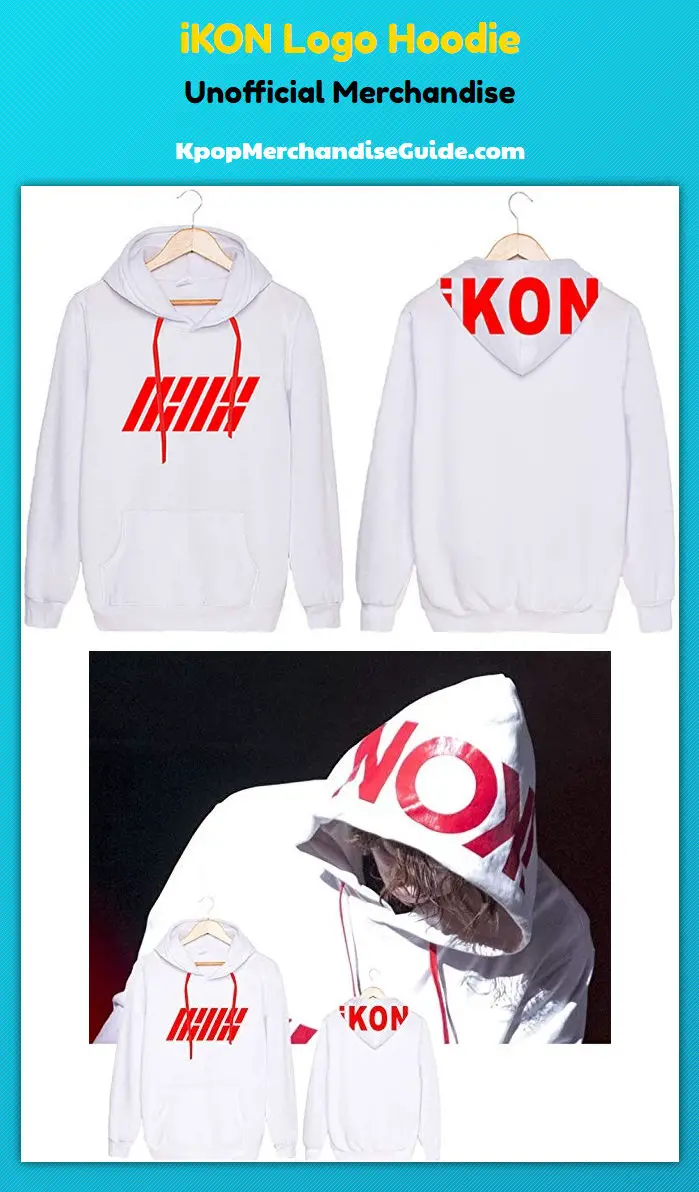 If you prefer something official from YG Entertainment instead of this fan made product you can always try to find the apparel the company released for numerous concerts and other events. For example at the Debut Concert Showtime on October 3, 2015 the fans had an opportunity to get a grey iKon hoodie with the red logo on front. It came in two sizes: M and L. It was later available at the iKONCERT 2016 Showtime In Seoul. During the same concert the attendees could also purchase a limited edition hoodie in white color with the words "Dumb Dumber" on front. In 2018 in conjunction with the first fan meeting of the group with their fans titled Private Stage Re-Konnect another iKON hoodie was prepared. It was available in a very interesting light purple color and two sizes - as usual - M and L. In January of 2019 another hoodie came out for the encore concert of the 2018 Continue Tour. You could get it in either green or navy color and one of two sizes: M and L. The item features the words "Continue iKon Tour Encore Seoul 2019" on front.
If you like this white iKON hoodie you can get it from Amazon. It currently costs $16.99 so you should grab it before the price will go up. I'm sure it will be a well spent money.
Available from Amazon ▼
Check It Out