GWSN Collage T-shirt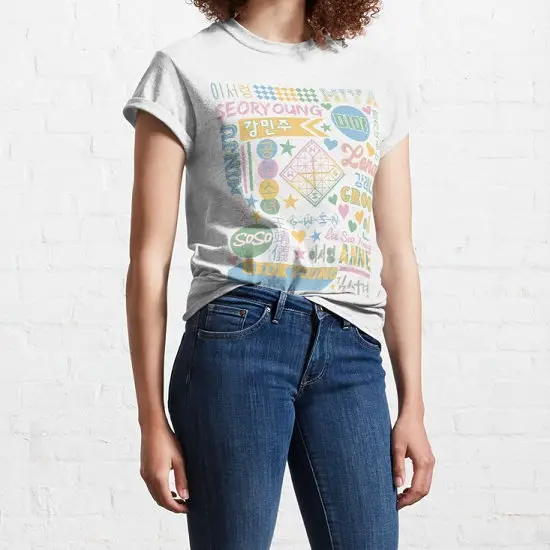 | | |
| --- | --- |
| Price | $21.49 |
| Type | Unofficial |
Available from Redbubble ▼
Check It Out
This GWSN T-shirt features a colorful collage design, either printed on front or on the back depending on the preference. The collages is composed of the names of all members of the group, logos and other graphics. It will be perfect for someone who likes GWSN and is looking for a nice piece of fashion to wear casually.
The material is made of a high quality heavyweight fabric composed of 100% cotton or a combination of cotton and polyester. Please check the information for more details. The T-shirt is very durable and will be very easy to wash. It will last for a very long period of time.
Many colors are available. The design will look good on any background, regardless if it's light or dark. You can get one of 17 tones including white, black, gold, dark grey, orange, denim, light blue, army, purple, grey, navy, blue, red, dark red, creme, brown and green. I'm pretty sure you will find something for yourself.
There are many sizes to choose from, it doesn't matter if you are a smaller or a bigger person. The sizes range from S to 5XL. Here are the measurements (you should carefully check them before making the purchase): S (chest: 36 inch, length: 28 inch), M (chest: 40 inch, length: 29 inch), L (chest: 44 inch, length: 30 inch), XL (chest: 48 inch, length: 31 inch), 2XL (chest: 52 inch, length: 32 inch), 3XL (chest: 56 inch, length: 33 inch), 4XL (chest: 60 inch, length: 34 inch) or 5XL (chest: 64 inch, length: 35 mm).
The GWSN T-shirt is available through Redbubble. You don't have to pay a high price to become the owner of this item.
Available from Redbubble ▼
Check It Out