GFriend 2nd Photobook Choice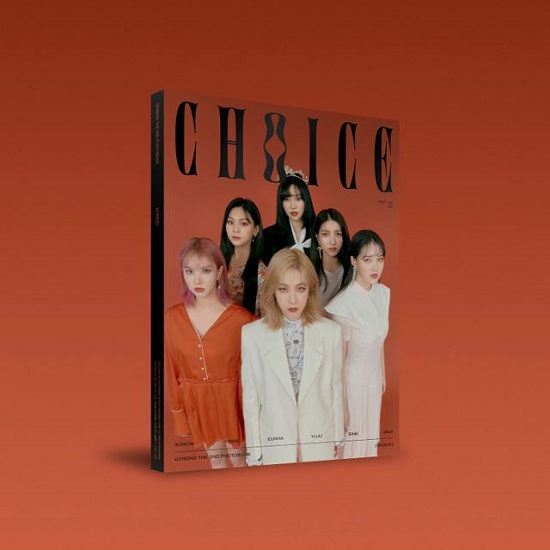 The photobook of GFriend titled Choice was released on October 14, 2020 by Source Music and Play Company Corp. It was manufactured in South Korea and distributed by a subsidiary of Big Hit Entertainment, beNX Co., Ltd. It is the second photobook after GFriend, that had its premiere on April 25, 2019.
The item measures 210 x 297 mm and is composed of 112 pages with beautiful pictures of all members of the group including Sowon, Eunha, Yerin, Yuju, SinB and Umji, a DVD disk with some video content on the making of the photobook, and 2 postcard books (red and blue) of a dimensions of 148 x 210 mm containing 14 different postcards. The DVD contains approximately 14 minutes of material. It is extremely fun to watch.

Choice came with a set of photo cards as a bonus if you pre-ordered your copy before the official release. The set consists of a 6 individual member photo cards, and come in a red and black envelope.
You can get the Choice photobook for a very good price from Amazon, Ebay or Yesasia. It will be a great treat for all fans of GFriend and a great recommendation for a gift.
Available From Ebay ▼
Check It Out
Or Amazon ▼
Check It Out
Or Yesasia ▼
Check It Out