EXO Overdose Hoodie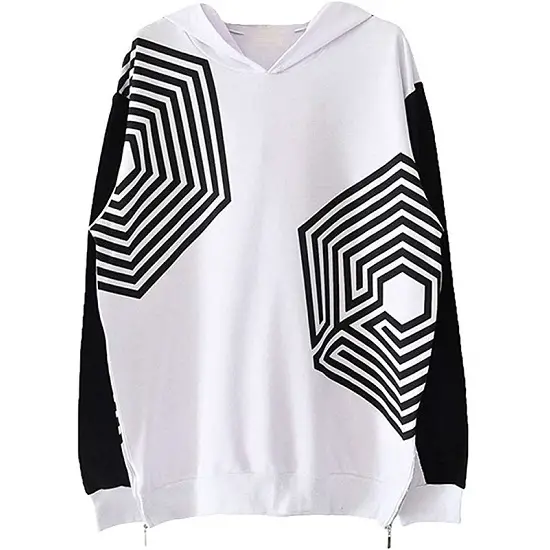 This EXO hoodie is a very popular item among the fans. It features the maze from the music video for Overdose. Overdose is a title song from the group's second mini album of the same name. It was released on May 7, 2014 by SM Entertainment in two versions - Korean and Chinese. It was the last release featuring Luhan and Kris as members who eventually left the group later that year. The EXO hoodie comes in white color with black sleeves. It has two black mazes on front, two on the back and two on the hood. It is made of cotton. You can choose one of six sizes. Since these are the Asian measurements you should definitely think about getting one or even two sizes bigger. The measurements in Asia are usually smaller. You can get the hoodie in XS, S (chest: 90 cm, length: 57 cm, sleeve: 55 cm, shoulder: 43 cm), M (chest: 100 cm, length: 60 cm, sleeve: 57 cm, shoulder: 45 cm), L (chest: 110 cm, length: 66 cm, sleeve: 59 cm, shoulder: 46 cm), XL (chest: 118 cm, length: 70 cm, sleeve: 64 cm, shoulder: 48 cm), and 2XL.

Although this is an unofficial item made by fans it of a high quality and you should be pleased with the purchase if you decide to buy it. Of course there are official EXO hoodies in existence but are very difficult to find. For example a black one opened and closed with a zipper was available at the encore concerts of EXO Planet #2 - The EXO'luXion [dot] tour. The performances was held at the Olympic Gymnastics Arena in Seoul over three days starting on March 18, 2016. Among the 16 collectibles available at the event you could also find a black double layer mask. A year later, in 2017 during the concerts of EXO Planet #4 - The ElyXiOn tour another EXO hoodie was prepared for the fans who attended the events. The hoodie showcased the titles of all albums the group had released so far starting with the first extended play Mama and concluding the list with the repackage album The War: The Power Of Music. Additionally 4 other pieces of apparel were available at the venues including a T-shirt (black or white variant) with the same list as the hoodie, school uniform white shirt in either M or L size featuring the number and logo of a chosen member, a made of cotton black ball cap with a number, and a white and grey T-shirt from The Exo'rdium [dot] collection of merchandise.
If you're interested in this Overdose EXO hoodie you can get it from Amazon or Ebay for a very affordable price. It costs about $24.88-$39.99. If you are a big fan of EXO it's probably worth it.
Available From Ebay ▼
Check It Out
Or Amazon ▼
Check It Out