Dreamcatcher Welcome To The Dreamland Eco Bag (Character Version)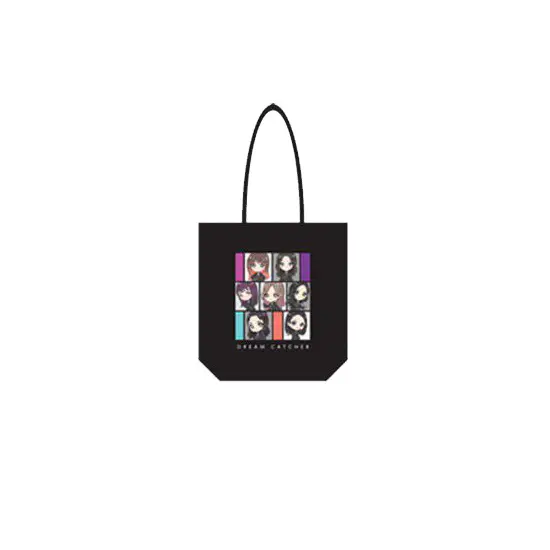 | | |
| --- | --- |
| Price | $39.95 |
| Original Price | ₩18,000 (~$15.12) |
| Type | Official |
Available From Ebay ▼
Check It Out
This Dreamcatcher eco bag was available at the group's concert Welcome to the Dreamworld. It was the first concert of the KPop girl group in Seoul. It took place at the Shinsegae Mesa Hall on March 10, 2018. Soon after the members visited as part of the Welcome to the Dreamworld tour the countries in Latin America (Buenos Aires in Argentina, Santiago in Chile, Lima in Peru, Bogota in Colombia and Panama City in Panama). They finally performed in Taipei, Taiwan on June 21, 2018.
The eco bag you're looking at right now is one of two released for the concert. It's black and has a graphics of cartoon characters depicting all seven the members of the group including JiU, SuA, Handong, Siyeon, Yoohyeon, Dami and Gahyeon. Under the photo you can spot the words "Dream Catcher". The bag is made of a durable environment-friendly material and measures 340 x 360 mm. Also another version was manufactured - almost identical but with the words "Baby, Good Night." instead of the graphics on it. At the venue you could purchase both variants separately (the cartoon character version for 18,000 KRW while the other for 15,000 KRW) or in a set with a discount of 3,000 KRW (you had to pay only 30,000 KRW). This product is not only beautiful but also very useful.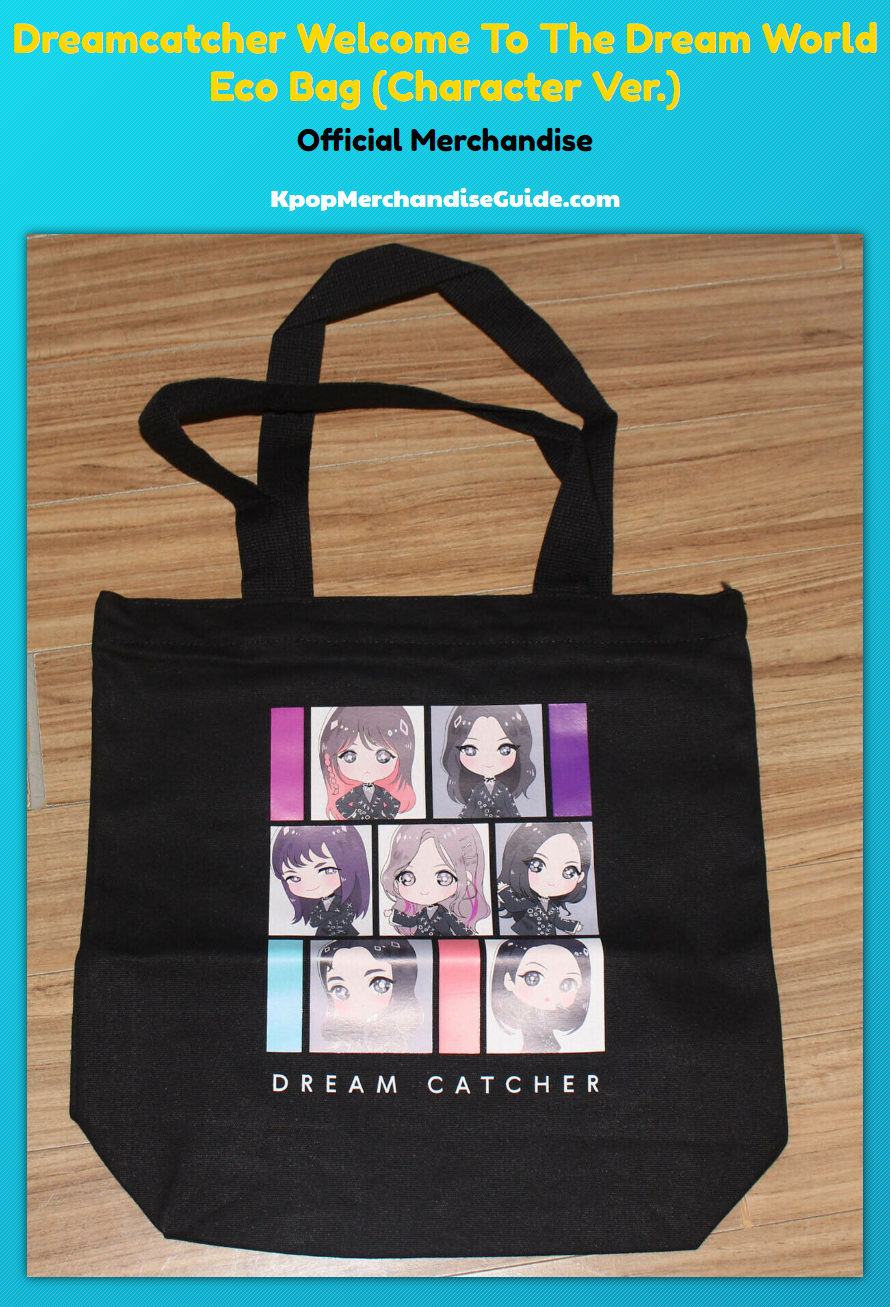 At the venue of the Seoul concert you could also get some other cool items which were available for the attendees. It included a slogan of a size of 1050 x 220 mm which came in a plastic bag featuring the event's title, an acrylic light stick packed in an elegant box, a black face mask with the logo of the concert on a bottom left side of the item, a set of 8 posters (1 group and 7 sheets for every member) sized 594 x 420 mm and finally a set of 9 photocards of a standard size 55 mm x 85 mm. The set was composed of 7 member cards chosen randomly out of 21 different versions, 1 group card and a special card.
The selection was brought to you by Happyface Entertainment which is a parent of a sub-label Dreamcatcher Company set up in 2019 especially for the purpose of managing the girl group it was named after. It became quite a habit for Happyface since they afterwards created the sub-label D1CE Company when their new five-member boy group D1ce debuted on August 1, 2019 with their first EP Wake Up: Roll the World.
If you're still in need for the Dreamcatcher collectibles you're only hope is to keep an eye on the various listings on e-commerce websites where the original items show up from time to time. It's sad to say but getting something related to the group is a difficult task. There are not many products released officially and they tend to disappear very fast, they are immediately sold out by the fans. What's even more surprising is that we can't count on the unofficial items since there's not many of them released either.
You can get this cool eco bag for only $28.99 from a very reliable and widely known seller grapemusiccd. It is a very affordable price for a very unique Dreamcatcher item.
Available From Ebay ▼
Check It Out