Dreamcatcher Nightmare Escape The Era Official Poster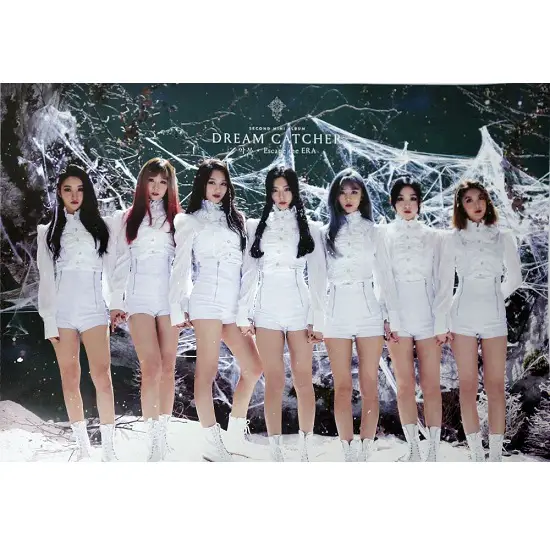 This is the official poster from the second mini album of Dreamcatcher titled Escape the Era which was released on May 10, 2018 in physical and digital format by Happy Face Entertainment. It was distributed by Genie Music. On the CD you will find some ear-pleasing pieces of music. The album consists of 6 tracks: Inside-Outside (Intro), Mayday, 어느별, Scar and the title song You and I along with the instrumental version. In the package with the physical release you could find one of two versions of the poster, Inside or Outside version. The one you're looking at is the Outside variant. This Dreamcatcher poster features all members of Dreamcatcher (Siyeon, JiU, Handong, SuA, Dami, Yoohyeon and Gahyeon) wearing white attires and the logo with the name of the KPop group. It measures 594 x 420 mm.
In the package you also could find the adequate to the chosen version CD (120 x 120 mm), a 64 pages photobook, one photocard randomly chosen out of 29 (1 group sheet and 28 single member sheets, 4 for each of them) and a special golden card. All comes in a green or red box of a dimensions of 150 x 215 mm. You will definitely be happy with the content you're going to find after getting the copy.
If you like this official item you can also try to get a different set of Dreamcatcher posters that was released as part of the Welcome to the Dreamworld concert collection. The concert took place on March 10, 2018 at the Shinsegae Mesa Hall in Seoul. The set of posters was available for all who attended the event and was composed of 1 group sheet plus 7 member sheets. The size of each of them is the same as the size of the Dreamcatcher poster you're looking at. Additionally there were 5 other items at the event including the official slogan commemorating the concert in a plastic pouch, an acrylic lightstick in an elegant box, a black face mask, a set of standard size photocards (7 sheets randomly chosen out of 21 plus 1 group sheet and 1 random special card) and two versions of a black eco bag (Night and Character version).
If you like to decorate the walls of your room this Dreamcatcher Escape the Era poster will be perfect for you. If not you can check out other official posters that were added to the packages of the KPop group's other releases including Prequel, Alone in the City, The End of Nightmare, Raid of Dream, Nightmare and Fall Asleep in the Mirror.
Available From Ebay ▼
Check It Out
Or Amazon ▼
Check It Out