Day6 Scentographer Light Keyring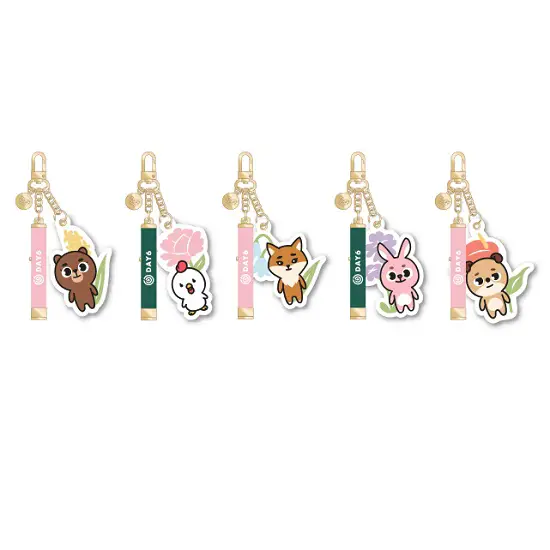 | | |
| --- | --- |
| Price | $29.79 |
| Original Price | ₩18,000 (~$15.12) |
| Type | Official |
Available From Ebay ▼
Check It Out
The second fan meeting of Day6 You Made My Day - Episode 2 - Scentographer was held at the Jamsil Arena in Seoul on June 29, 2019. The first meeting with the fans of the group took place in 2018. During the event a special selection of merchandise was prepared. Among the items the attendees could find this interesting light key ring. It can project an image of a chosen member of Day6 on wall on any other surface. Each of them depicts one cartoon animal corresponding to every member. It is available in 5 different versions: a white baby chick called Jje (for Jae), a bear Bang (Sungjin), a fox Ke (Young K), a pink rabbit Pil (Wonpil) and a dog Don (Dowoon). Jae's and Wonpil's keyrings are colored green while Sungjin's, Young K's and Dowoon's are colored pink. The item comes with a small pendant. The size of the product is 13 x 80 mm and the size of the character charm is 52 x 81 mm. It is made of aluminum, alloy, bras and PVC. It was manufactured by a South Korean company Copan Global which was also responsible for the light sticks of numerous KPop artists including BTS, IZ*ONE, Oh My Girl, Astro, Monsta X, B1A4, WJSN (Cosmic Girls), Twice and Sunmi.
You can also try to find other similar items to this one. There are some in existence that were released on different occasions. In 2016 during the Seoul concert of the tour Fly of GOT7 the fans had a chance to get a light keyring with their favourite member. So everyone will get what they wanted. There were 7 options to choose from - Mark, Jackson, JB, Jinyoung, Yugyeom, Bambam and Youngjae. The keyring came either in red or blue color and measures 10 x 125 mm. Another example is the keyring released as part of the 1st Tour Twiceland: The Opening collection of Twice. The item looks exactly like the first version of the official light stick of Twice called Candy Bong. It was available in 9 variants - 1 for each of the members including Sana, Jihyo, Mina, Nayeon, Jeongyeon, Chaeyoung, Tzuyu, Dahyun and Momo. The dimensions of the product are 45 x 120 mm.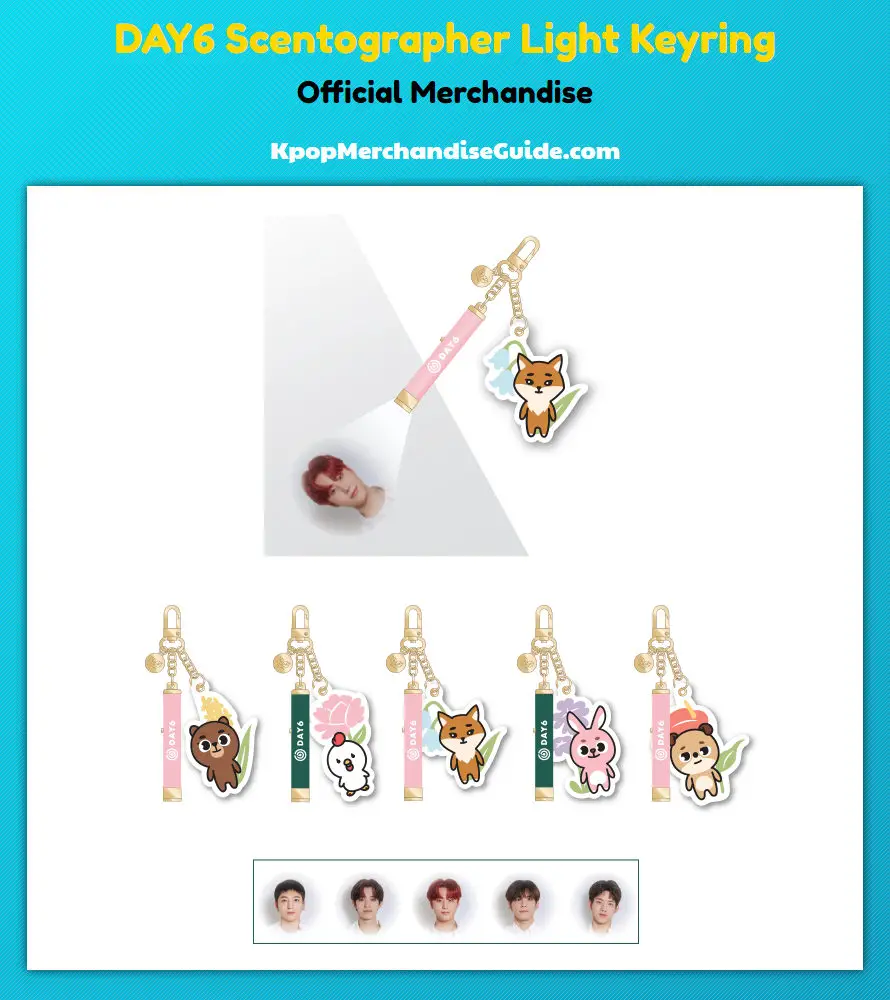 If you like this Day6 collectible you can try to get more related to the cartoon characters of the group. The first one - a pin button and a badge set - was released for the 1st World Tour Youth that began on June 22-24, 2018 in Seoul. This was a lonely item among 19 other. The fans who came to the You Made My Day event had a greater luck. They could purchase 4 different items including a set of a roll of masking tape and a roll of round stickers, a set of badge and wappen, a plush doll (5 variants - 1 for each member) and a ballpoint pen (pink, dark blue, light blue, white and black). For the Christmas Special Concert - The Present the members of Day6 prepared a selection of 11 character collectibles. These were a silicone band (pink, blue, green, white and khaki) for the official light stick of Day6, a keyring with three charms, one sheet of clear stickers, a round hand warmer, a blue blanket of a size of 1400 x 1000 mm, a snow ballpen (5 options), a round black pouch, a sleeping mask (5 options), an acrylic stand with a silhouette of a chosen member and related character, a Christmas edition of a plush doll (5 variants) and finally a set of a wappen and a badge.
If you like this official Day6 light keyring from JYP Entertainment you can get it for only $26.50.
Available From Ebay ▼
Check It Out