Astro Logo T-shirt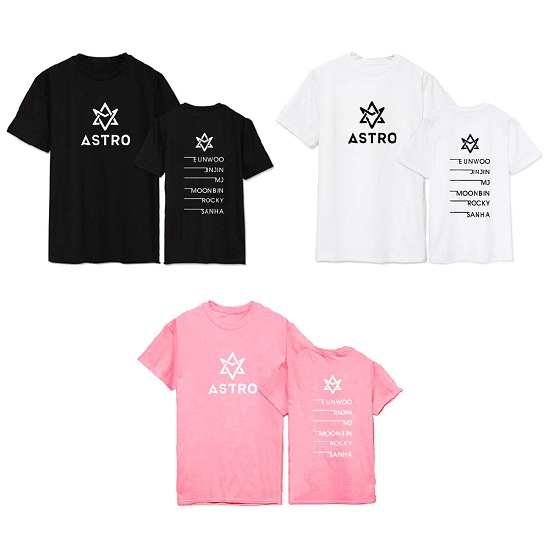 | | |
| --- | --- |
| Price | $13.59 |
| Type | Unofficial |
Available from Amazon ▼
Check It Out
If you're looking for a cool Astro T-shirt this piece of fashion will certainly be for you. It features the logo of the KPop group along with its name on front. On the back you will find a smaller logo and a list of all members including Eunwoo, JinJin, MJ, Moonbin, Rocky and Sanha. The Astro T-shirt is available in three colors including black, white and pink. It is made of cotton and will be perfect for any occasion and time of the year. When it comes to size you will definitely find the right one for you. There are several to choose from. You can get one in five sizes: S (length: 24.8 inch, chest: 39.37 inch, shoulder: 17.32 inch), M (length: 25.59 inch, chest: 40.94 inch, shoulder: 18.11 inch), L (length: 26.37 inch, chest: 42.52 inch, shoulder: 18.89 inch), XL (length: 27.16 inch, chest: 44.09 inch, shoulder: 19.68 inch), and 2XL (length: 27.95 inch, chest: 44.48 inch, shoulder: 20.47 inch).

The item is a fan made product so it is not original and doesn't come from Fantagio. If you would like to own the original Astro T-shirts there are two options to choose from. The first one is a white tee that was available at the Rise Up Photo Exhibition that was held especially to support kids with a hearing impairment. At the exhibition the attendees could purchase some collectibles including posters, postcards, bookmarks, stickers and a white T-shirt with the title Rise Up on front and the words "Always You. By Your Side. Call Out. Stay With Me. Real Love." on the back. It was available in one free size. Another white Astro T-shirt was released for the first concert of the group titled The 1st Astroad To Seoul. It had a blue graphics on front and a small tag on the sleeve. It also came in free size. These two of course are very hard to get and it will be most certainly difficult for you to find it.
But if you like this one you can purchase it from Amazon for a price between $9.99 and $13.59 which is a very affordable deal, even for someone who don't want to spend too much.
Available from Amazon ▼
Check It Out