Astro 2019 Season Pouch And Photo Cards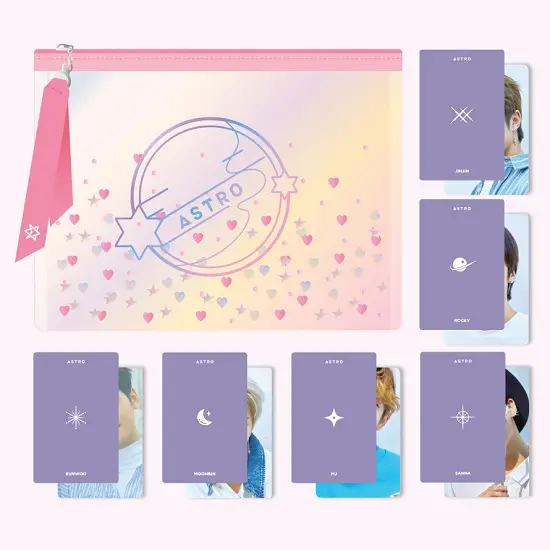 If you're looking for a cool and what's more important - a useful Astro collectibles this item will be right up your alley. What you can see here is a set composed of a transparent pouch and photo cards. The pouch features numerous hearts and stars on it and a big graphic with the group's name in the middle. It can be opened and closed by a zipper. The item measures 210 x 160 mm. It comes with a set of 6 photo cads of a standard size of 55 x 85 mm. They feature the photos of all members of Astro including Eunwoo, Moonbin, MJ, Sanha, JinJin and Rocky. It is the official collectible from Fantagio Music and Stone Music Entertainment. You can be certain about its quality.

This was not the only piece of merchandise released for the 2019 season. The other two were a card case with a mini stand (121 x 243 mm) and a set of three pin badges composed of a moon with a date of the Astro's debut (25 x 21 mm), a blue star with the logo of the group (19 x 18 mm) and a pink shooting star with the group's name (35 x 22 mm).
If you like the pouch and you think that's a nice collectible you should definitely get it. It costs between $28.95-$45.99. It may not be the cheapest but if you like these kind of things and you are a photo cards collector it will definitely be worth it.
Available From Ebay ▼
Check It Out
Or Amazon ▼
Check It Out