A.C.E Under Cover: Area US Hoodie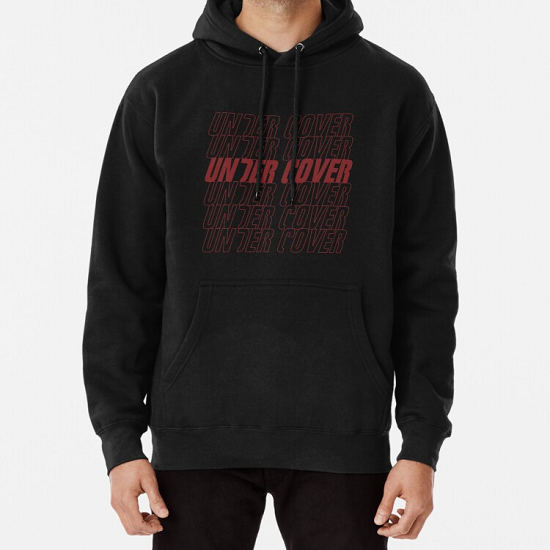 | | |
| --- | --- |
| Price | $48.27 |
| Type | Unofficial |
Available from Redbubble ▼
Check It Out
This ACE hoodie is an unofficial item released in conjunction with the tour A.C.E CONCERT [UNDER COVER: AREA US] in the United States. The group consisting of DongHun, Jun, ByeongKwan, Wow and Chan visited Chicago, Atlanta, Minneapolis, New Jersey, Miami, Dallas, Seattle, San Francisco and Los Angeles. The concerts began with the performance in Chicago on December 1, 2019 and concluded on December 22 in Los Angeles. The ACE hoodie you're currently looking at is a nice piece of KPop fashion. It features a big logo of the tour on front in a dark red color. The material is soft and comfortable. It is composed of cotton rich fleece (80% cotton and 20% polyester). You can get one of five sizes including S, M, L, XL and 2XL. So you don't have to worry that you won't find the perfect size for you. Everyone has a chance to get something for themselves.
The design is based on the official one that you will find on the hoodie that was available as part of the merchandise prepared for the tour. The hoodie was not the only item that was included in the collection. A black sweater was also available. It is made of 100% ring-spun cotton and features the same design as the hoodie. Another one is a white T-shirt with the logo and the list of all cities the group visited written in black. All these official collectibles were available for purchase at the venue or online. The original prices for the items were respectively $50, $40 and $30.
This is not the first time the group is releasing this kind of apparel. During the A.C.E Global Fan-Con 2018 - Sweet Fantasy the attendees of the event had an opportunity to purchase a white ACE hoodie with the logo of the group on front and on the tag. Another one was available during the first leg of the To Be An Ace tour. This time the pullover was pink and featured a square logo on front. When To Be An Ace tour visited Europe a new hoodie showed up. This time it was black with a colorful graphics on front. It was available in five sizes - S, M, L, XL and 2XL. The members prepared also more cool items including two T-shirts, long sleeve T-shirt, a wristband and a ballcap.
If you're interested in this ACE hoodie you can get one from Redbubble or Zazzle. It will be a nice addition to your KPop collection especially if you are a fan of the group.
Available from Redbubble ▼
Check It Out