SF9 Mamma Mia! T-shirt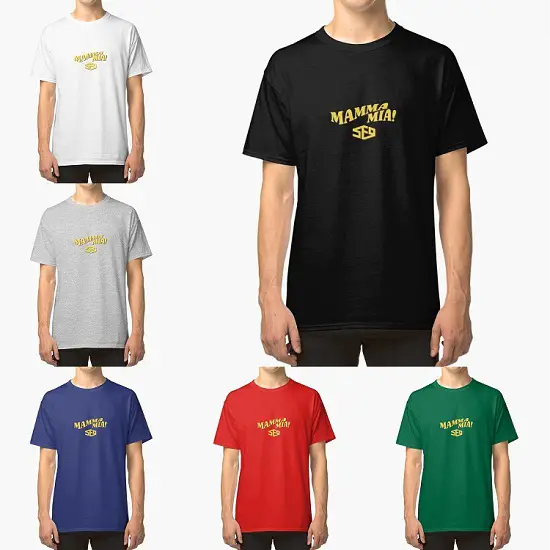 If you are a fan of SF9 you will probably want to get something like this T-shirt. The piece of fashion features the logo of the album titled Mamma Mia! on front along with a logo of the group in yellow. We can spot this design (without the group's logo) on the album's cover. The extended play is the fourth that kind of a release and came out on February 26, 2018 under FNC Entertainment. Beside the title track of the same name as the EP on the CD you will find five other songs including Never Say Goodbye, Go Back in Time, Be My Baby, Midnight Road and Dear Fantasy. A special edition was released a month later on March 13, 2018. The album was very positively received.
The T-shirt is available in many different colors and sizes. You can order it in white, green, red, gold, orange, blue, grey, black, navy and many others. When it comes to sizes you can get it in S, M, L, XL, 2XL and 3XL. So you won't be having any problem with choosing the right size for you. Before making a purchase please check the details regarding the measurements. Here are the charts: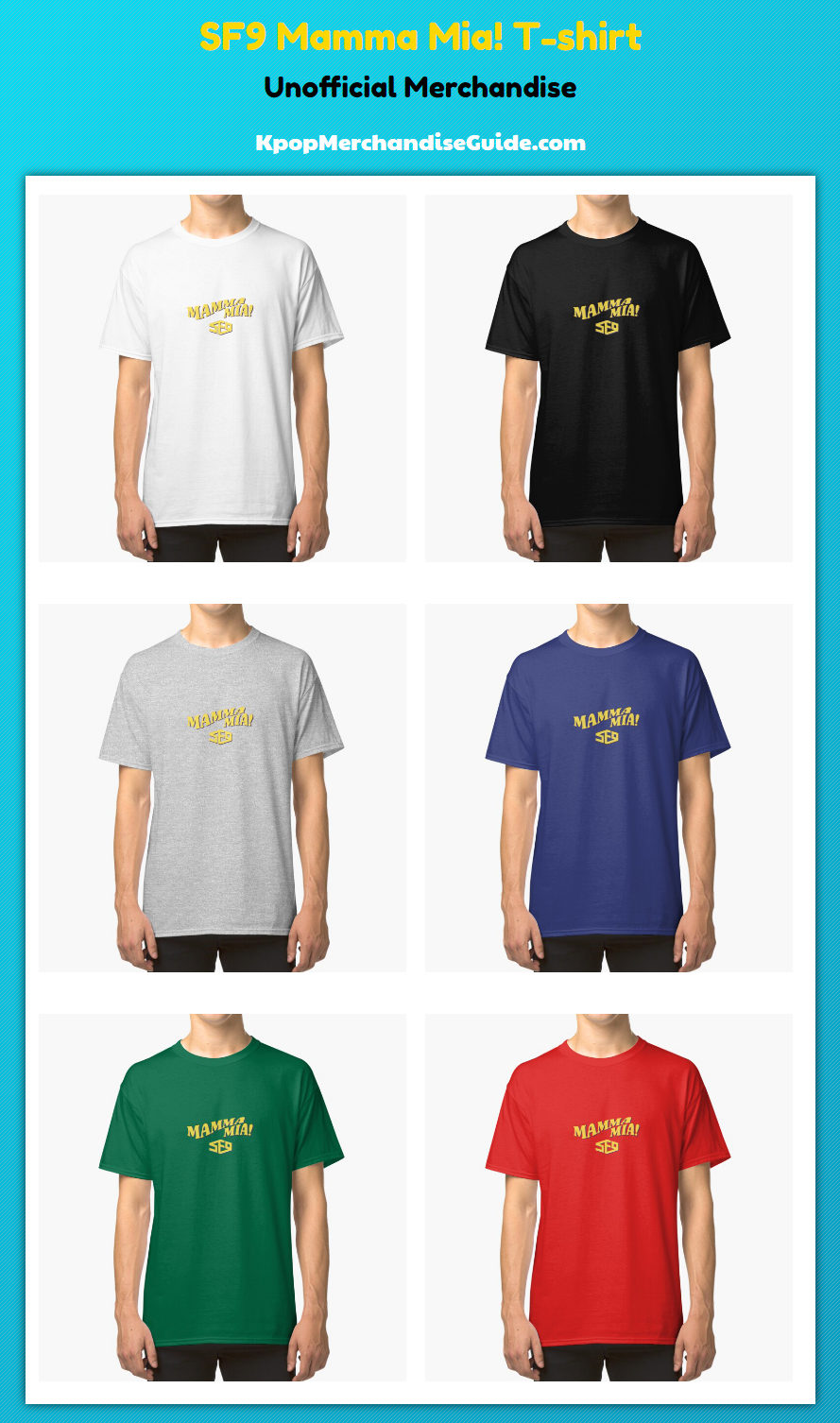 Redbubble: S (chest: 36 inch, length: 28 inch), M (chest: 40 inch, length: 29 inch), L (chest: 44 inch, length: 30 inch), XL (chest: 48 inch, length: 31 inch), 2XL (chest: 52 inch, length: 32 inch), 3XL (chest: 56 inch, length: 33 inch).
Zazzle: S (chest: 33-34 inch, waist: 25-26 inch, width: 18 inch, length: 25 inch), M (chest: 35-36 inch, waist: 27-28 inch, width: 20 inch, length: 26 inch), L (chest: 37-39 inch, waist: 29-31 inch, width: 22 inch, length: 27.5 inch), XL (chest: 40-41.5 inch, waist: 32-34.5 inch, width: 24 inch, length: 29 inch), 2XL (chest: 42-44 inch, waist: 35-38 inch, width: 26 inch, length: 30 inch), 3XL (chest: 45-46 inch, waist: 39-42 inch, width: 28 inch, length: 31 inch).
You can order this SF9 item for just $20.10-$20.12. This is a very affordable price if you are on a budget and want to get some kind of a high quality fan made item. I'm pretty sure you won't be disappointed.
Available from Redbubble ▼
Check It Out
Or Zazzle ▼
Check It Out