SF9 O Sole Mio T-shirt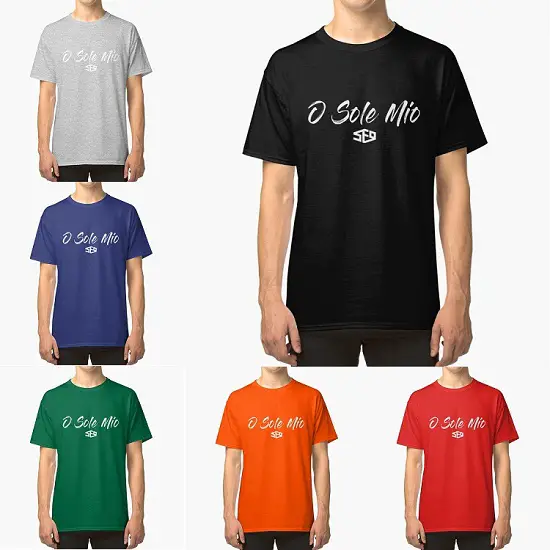 This SF9 T-shirt will definitely interest you if you are a fan of the group from FNC Entertainment. The item depicts the title of their song O Sole Mio in the exact way we can see it in the music video. Below the title we can spot the classic logo of the group. O Sole Mio is the title track of the third mini album of SF9 Knights of the Sun. The extended play was released on October 12, 2017 and contains 6 songs including 00:00, Let's Hang Out, Blank., Scold and Just On My Way. O Sole Mio also came out as the fourth Chinese digital single on October 27, 2017. It's worth noting that it was not released in South Korea neither Japan. The SF9 T-shirt can be ordered in different colors. Depending on the service you can choose it in black, red, blue, orange, green, gold, grey, dark grey, light blue, denim, crème, army, dark red, purple and brown (Redbubble) and even deep royal, deep red, pale pink, light steel and light blue (Zazzle).
When it comes to the sizes there are plenty to choose from. You can get it in sizes from S to 3XL regardless of the website you'll be buying from. And since these are US sizes there's no need to order a bigger SF9 T-shirt unlike when ordering from Asian seller. The charts are below. Please carefully check your measurements before deciding which size you'll be getting. It's easy to make a mistake.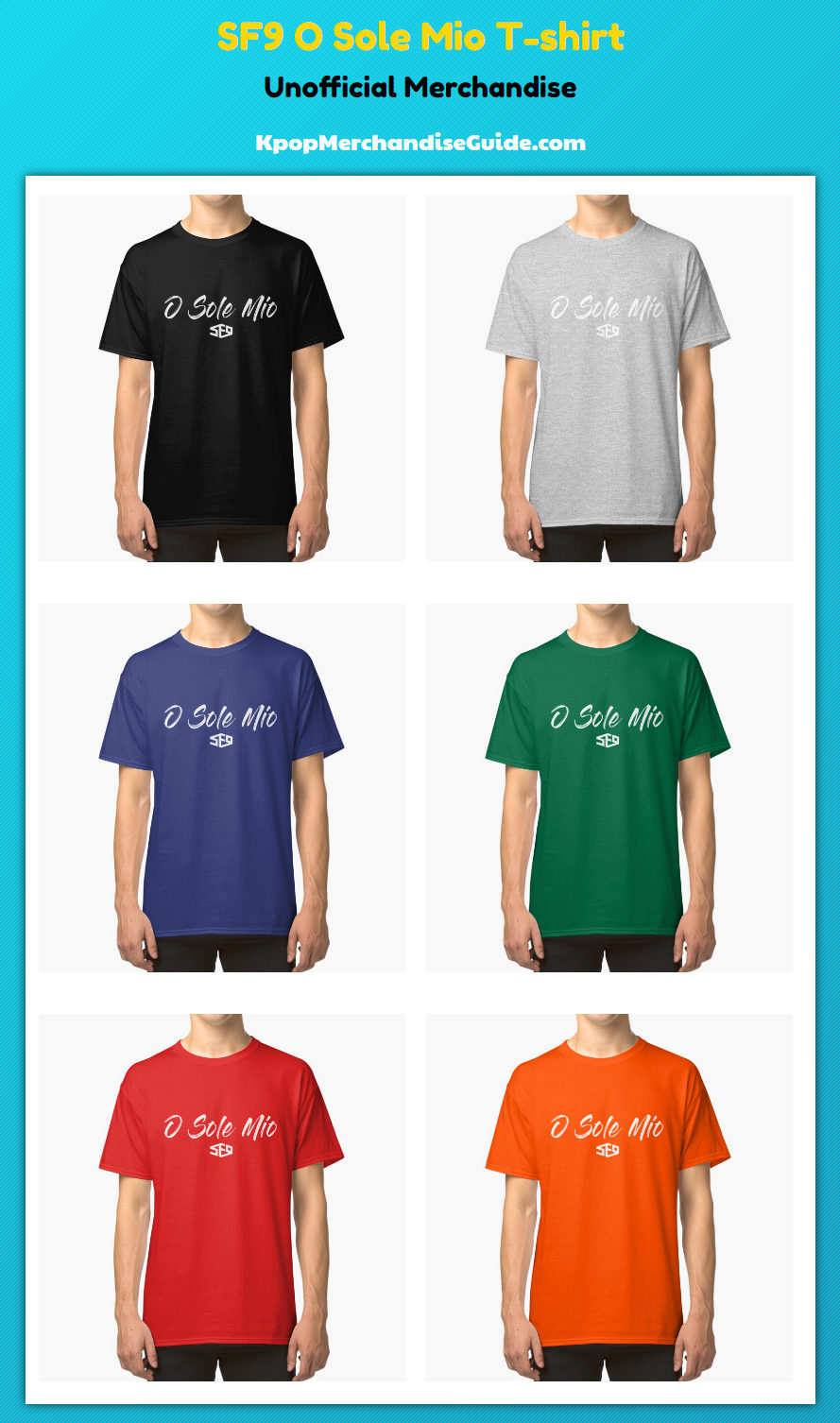 Redbubble: S (chest: 36 inch, length: 28 inch), M (chest: 40 inch, length: 29 inch), L (chest: 44 inch, length: 30 inch), XL (chest: 48 inch, length: 31 inch), 2XL (chest: 52 inch, length: 32 inch), 3XL (chest: 56 inch, length: 33 inch).
Zazzle: S (chest: 33-34 inch, waist: 25-26 inch, width: 18 inch, length: 25 inch), M (chest: 35-36 inch, waist: 27-28 inch, width: 20 inch, length: 26 inch), L (chest: 37-39 inch, waist: 29-31 inch, width: 22 inch, length: 27.5 inch), XL (chest: 40-41.5 inch, waist: 32-34.5 inch, width: 24 inch, length: 29 inch), 2XL (chest: 42-44 inch, waist: 35-38 inch, width: 26 inch, length: 30 inch), 3XL (chest: 45-46 inch, waist: 39-42 inch, width: 28 inch, length: 31 inch).
This is an unofficial SF9 T-shirt. If you are a person that prefer original items you can try to get a T-shirt that was released for the group's first concert in Japan titled Fanfare. Although it's not impossible it will be difficult to find it online. The item features the logo of the concert on front and the logo of SF9 on the back. You could get it in one size - L, and two colors - black and white. This was not the only collectible prepared for the event. The other were pin buttons (10 options), the official acrylic fanlight, a key holder (9 options), a towel and a black tote bag.
Anyway if you think this T-shirt will be something you'll be wearing with pride you can get it for a price of $20.12-$25.70. It is a good deal if you are a fan of the group.
Available from Redbubble ▼
Check It Out
Or Zazzle ▼
Check It Out