(G)I-DLE Welcome To The Neverland Transparent Photocards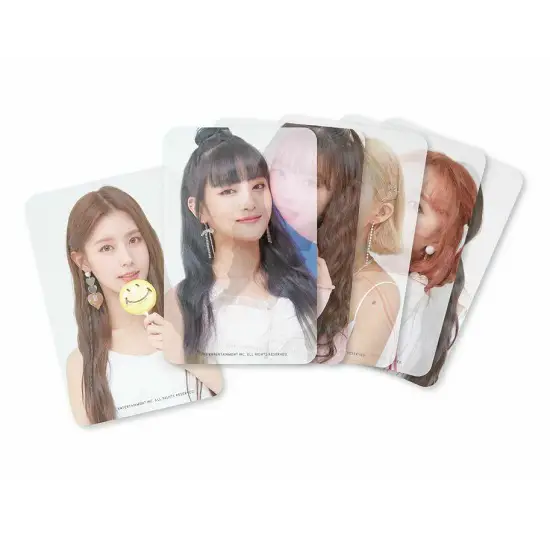 | | |
| --- | --- |
| Price | $14.99 |
| Original Price | ₩10,000 (~$8.40) |
| Type | Official |
Available From Ebay ▼
Check It Out
This is the only set of official (G)I-DLE photocards released so far. It was a part of the biggest selection of collectibles that was available during Welcome To The Neverland fanmeeting. The event was held at the YES24 Live Hall in Seoul on September 22, 2019. This was the first time the girls met with the members of their official fanclub. The set consists of 6 transparent sheets featuring each of the members of (G)I-DLE - Soyeon, Soojin, Miyeon, Shuhua, Minnie and Yuqi. The cards measure 85 x 55 mm so it is the same size as the cards you can find in any KPop album. They come in a tightly packaged silver envelope. On the back side of it you will find an authentication sticker that guarantees that this is a genuine item from Cube Entertainment - the company of the girl group. The product was designed and manufactured by 101X in South Korea.
It is worth mentioning that it is not the only collectible you could get at the Welcome To The Neverland fanmeeting. The members put a lot of effort into providing you with some interesting collectibles. There were four other you could get including an acrylic stand (in 6 variants - 1 for each member) of a height of 170 mm, a set of 12 postcards sized 100 x 150 mm, The second a little bit darker version of the official slogan with the logo of (G)I-DLE in the middle and finally a Cube Entertainment shopping bag with a small logo of the company on it. The collectibles can still be found online available from the third-party sellers.

If you like this set of transparent cards and you want to get more this kind of items you can easily find them on the Internet. There are plenty of examples of similar sets. During the Oh My Girl Secret Garden concerts that were held six Mondays from January 22 to February 26, 2018 the attendees could purchase one of 10 collectibles available which was a set of beautiful transparent cards. Each of them featured one of the members YooA, Binnie, Arin, Hyojung, Mimi, Jiho and Seunghee and measured 85 x 56 mm. A similar set was later released for their Fall Fairy Tales that was held at the Blue Square IMarket Hall in Seoul on 20-21 October, 2018. Another example is a set of 4 transparent sheets that was included in with a self care planner of Blackpink. Each of them features a photo of one member of the group - Jennie, Lisa, Rose and Jisoo. The item was released to commemorate the second tour of the group titled In Your Area. A special set was prepared for the event titled Cinema Theory: Up & Line of Loona that took place in cinemas in Seoul and Busan. The set consisted of 12 sheets representing each member of Loona (although Olivia Hye's card was not included in the Seoul set since she hadn't been revealed at this point).
And there is a big selection of unofficial transparent cards from a South Korean company called Ladybug. They are known for their big collection of items related to many different boy and girl groups.
And if you like this (G)I-DLE set you can easily get it online for just $14.99 from a very trustworthy merchant on Ebay.
Available From Ebay ▼
Check It Out