(G)I-DLE Welcome To Neverland Postcard Set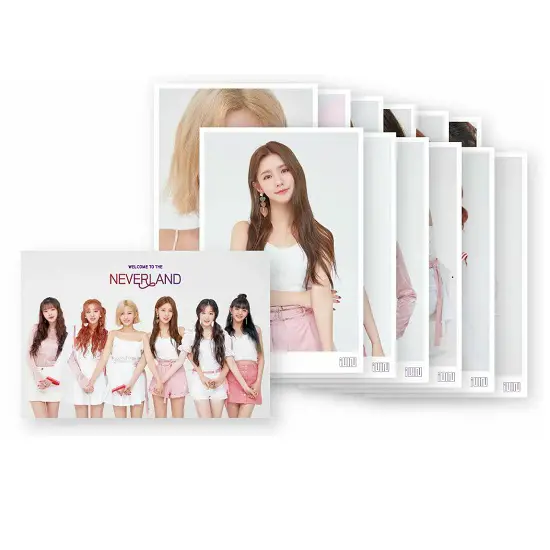 | | |
| --- | --- |
| Price | $20.99 |
| Original Price | ₩15,000 (~$12.60) |
| Type | Official |
Available From Ebay ▼
Check It Out
On September 22, 2019 (G)I-DLE held their first fan meeting titled Welcome To Neverland. The event took place at YES24 Live Hall in Seoul. Earlier this year the group came back with their digital single Uh-Oh.
The members prepared a selection of 5 new collectibles for the fans - 6 different acrylic stands (for each member Soyeon, Miyeon, Soojin, Minnie, Yuqi and Shuhua) of a height of 170 mm, a set of 6 translucent photocards of a standard dimensions of 55 x 85 mm, the new official slogan towel (800 x 200 mm) and a shopping vinyl bag with the logo of Cube Entertainment (400 x 460 mm). The final item you could get at the event was a set of (G)I-DLE postcards. All products were available at a special booth outside the hall. The sale began at 11:00 AM and ended at 4:30 PM (30 minutes before the fan meeting began). You could acquire whatever you wanted to add to your collection of memorabilia.

Postcards are a product which we can often find among other items in various collections that are available for purchase during concerts and other events. They are a very desired collectibles along with photocards. The biggest KPop groups have released them on numerous occasions. For instance Monsta X offered a set consisting of 1 group and 7 individual member postcards for the clients of their first pop-up store One Fine Day that was held in 2015. A set of 11 postcards was available for the fans who attended EXO From Exoplanet #1 - The Lost Planet concerts. The set came with a key holder randomly chosen out of three. During the first concert of Red Velvet titled Red Room you could get a special postcard book with 10 sheets with the photos of each member (2 postcards per 1 member) and two sheets with a photo of a whole group. It had a colorful and sturdy made of cardboard cover. Additionally we can find many unofficial items made by the fans who sell them online on various stores. There really is a big selection we can choose from.
In this (G)I-DLE Welcome To Neverland postcard set you will get a total of 12 sheets with 2 for each member. Each postcard has a white thick border and at the bottom you can spot the title of the fan meeting with the logo of the group. On the back side there's a logo of the event (based on the (G)I-DLE logo) and a name of the company Cube Entertainment along with a name of the manufacturer. The product was designed and made in South Korea by 101X company. 101X previously designed the Season's Greeting packages in 2018 for almost all artists (excluding BtoB) from Cube: Pentagon, CLC and Yoo Seon Ho.
The size of the Welcome To Neverland postcards is 100 x 150 mm. They come in a nice envelope of a white and purple color with a photo of all members holding each other's hands. On the back you will find a sticker of authenticity to prove it is 100% genuine. You can get the item for a very reasonable price from the third party seller who managed to get it directly at the Neverland fan meeting.
Available From Ebay ▼
Check It Out