Viviz 1st Vivid Dayz Fanmeeting Ticket Set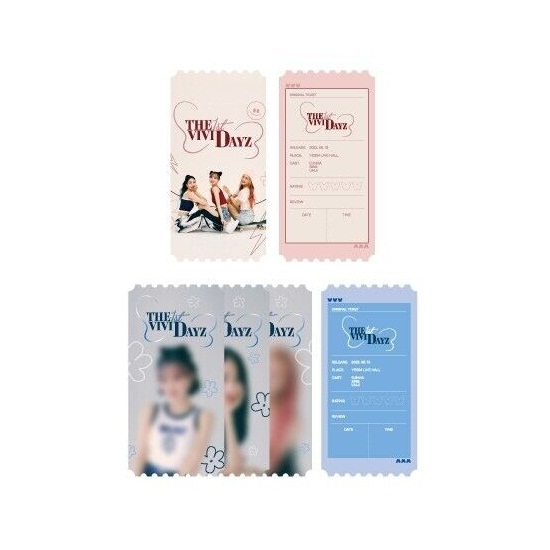 | | |
| --- | --- |
| Price | $32.99 |
| Type | Official |
Available From Ebay ▼
Check It Out
This wonderful ticket set is one of the collectibles prepared for the fans for the first fanmeeting of Viviz titled The First Vivid Dayz. The item was available for purchase online through the Everline shop for 25,000 Korean won.
The fanmeeting took place at the YES24 Live Hall in Seoul on August 13, 2022. The group performed before the live audience, as well as the spectators online, who purchased a ticket to a special live broadcast.
The set is one of those collectibles you would definitely like to have in your collection. And it is a perfect item for a gift for anyone who is either a Viviz or GFriend fan.
Inside the package you will find 1 group ticket with a photo of all members including SinB, Umji and Eunha, and 3 individual member tickets, each featuring a picture of a single girl. Additionally you will also get a paper holder with the logo of the event. The whole set measures 70 x 140 mm.
The piece of merchandise was not the only collectible prepared for the event. There is a total number of 8 goods you could acquire. That includes newly released official light stick of Viviz, trading cards available in packs of 5 sheets selected randomly from a lot of 30 variants, an acrylic stands with the silhouettes of each of the members, a postcard book, a photo card binder, and a set composed of 2 T-shirts including black and white, along with a single photo card featuring a random member.
You can still purchase the item from the third-party sellers through e-commerce websites online. It will cost you a little bit more than originally, but it's definitely worth it.
Available From Ebay ▼
Check It Out