VAV Spotlight Hoodie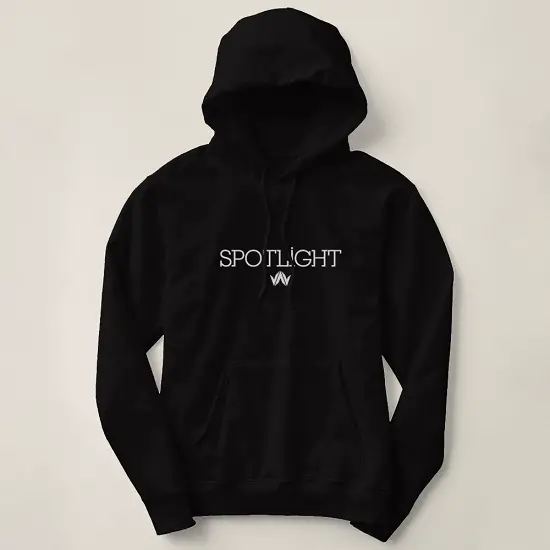 If you are a big fan of the group and you're looking for a nice VAV hoodie this item will be perfect for you. It features the logo of the KPop boy band on front alongside the title of their third mini album titled Spotlight. The EP was released on January 29, 2018 by A Team and was distributed by a widely known Genie Music. It contains 8 songs including two title tracks Spotlight and Gorgeous, Give It To Me, She's Mine, ABC (Middle of the Night), Flower (You), Dance With Me and Winter Breeze. This VAV hoodie is one of the few available on the internet so you should definitely grab it since you will probably not anything of this quality. It is a fan made item but was made with a lot of care so you can be sure it will be a good purchase. The hoodie is made of a composition of cotton and polyester and will be very comfortable to wear on different occasions and seasons of the year. The VAV hoodie is available in sizes from S to 2XL through Redbubble and from S to 3XL through Zazzle. Please refer to the charts below for more details about the measurements to avoid purchasing the wrong size. The information will be very helpful. You can also check it on the listing page.
If you prefer to order from Redbubble please check these information: S (chest: 40 inch, length: 27 inch), M (chest: 44 inch, length: 28 inch), L (chest: 48 inch, length: 29 inch), XL (chest: 52 inch, length: 30 inch), 2XL (chest: 56 inch, length: 31 inch).

And if your choice is Zazzle you should carefully read this info: S (chest: 34-36 inch, waist: 28-30 inch, width: 21 inch, length: 28 inch), M (chest: 38-40 inch, waist: 32-34 inch, width: 23 inch, length: 29 inch), L (chest: 42-44 inch, waist: 36-38 inch, width: 25 inch, length: 30 inch), XL (chest: 46-48 inch, waist: 40-42 inch, width: 27 inch, length: 31 inch), 2XL (chest: 50-52 inch, waist: 44-46 inch, width: 29 inch, length: 32 inch), 3XL (chest: 54-56 inch, waist: 48-50 inch, width: 31 inch, length: 33 inch).
Of course you can get this VAV hoodie in many different colors beside black. It is also available in deep forest, navy blue, grey, dark grey, ash, oatmeal, charcoal and blue.
You can get the item for a good price of $48.05 to $49.68 depending on the service you'll be using. If you're in need of a cool piece of fashion featuring your favourite KPop group it will definitely be worth it.
Available from Redbubble ▼
Check It Out
Or Zazzle ▼
Check It Out