VAV Senorita T-shirt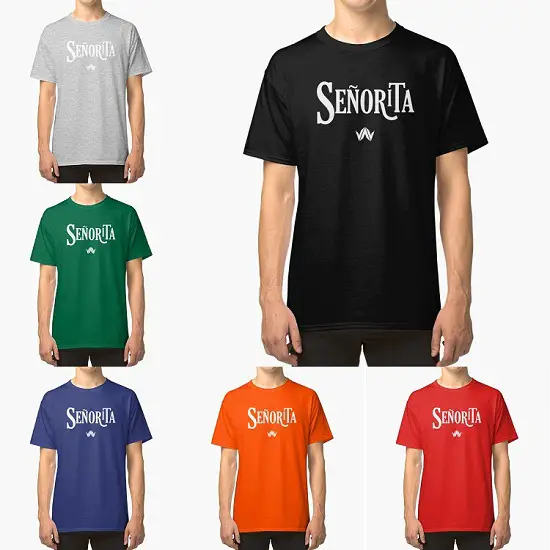 If you're in need for a VAV T-shirt - which is often not so easy to find - this item will be right up your alley. It features the logo of the fifth digital single of the group on front alongside the their classic logo. Senorita was released on October 11, 2018. It was released by A Team and distributed by Genie Music. It is a remake of the song of the same title of a German rapper called Kay One. It is one of the most beloved songs among the fans. The digital single contains also the instrumental version of the track. The VAV T-shirt comes in many sizes from S to 3XL. Please refer to the charts below for more information. If you want to order from Redbubble here's what you should know when choosing a proper size: S (chest: 36 inch, length: 28 inch), M (chest: 40 inch, length: 29 inch), L (chest: 44 inch, length: 30 inch), XL (chest: 48 inch, length: 31 inch), 2XL (chest: 52 inch, length: 32 inch), 3XL (chest: 56 inch, length: 33 inch). And if you prefer Zazzle you should read this: S (chest: 33-34 inch, waist: 25-26 inch, width: 18 inch, length: 25 inch), M (chest: 35-36 inch, waist: 27-28 inch, width: 20 inch, length: 26 inch), L (chest: 37-39 inch, waist: 29-31 inch, width: 22 inch, length: 27.5 inch), XL (chest: 40-41.5 inch, waist: 32-34.5 inch, width: 24 inch, length: 29 inch), 2XL (chest: 42-44 inch, waist: 35-38 inch, width: 26 inch, length: 30 inch), 3XL (chest: 45-46 inch, waist: 39-42 inch, width: 28 inch, length: 31 inch). Of course there is no need to order this VAV T-shirt in a size bigger than what you usually wear since the measurements are US and not Asian.
The T-shirt is available also in many different colors so you can be pretty sure you will find the right one for you. Redbubble offers way more colors than Zazzle. You can find there the shades such as black, orange, red, green, blue, grey, denim, navy, light blue, crème, dark grey, army, dark red, gold, purple and brown. On Zazzle though you will find some unique colors including black, light blue, pale pink, light steel, deep red and deep royal. It is up to you what kind of a T-shirt you will chose.
And if you would like to get some official VAV T-shirt instead of this fan made item you can try to find the item that was released for the tour titled 2018 Meet & Greet in Europe: Spotlight. During March of 2018 the group visited Europe to meet with their fans in Russia, Germany, U.K., Spain and Poland. The attendees could purchase a small selection of merchandise including a signed Spotlight album, the official reflection slogan (590 x 200 mm), a white eco bag (340 x 370 mm) and a white VAV T-shirt.
If you're interested in this item you can get it right now for a reasonable price of $20.19 to $25.70. If you are a fan of the boy group you should consider making a purchase. I'm pretty sure you will be satisfied.
Available from Redbubble ▼
Check It Out
Or Zazzle ▼
Check It Out