TXT The Dream Chapter: Star Hoodie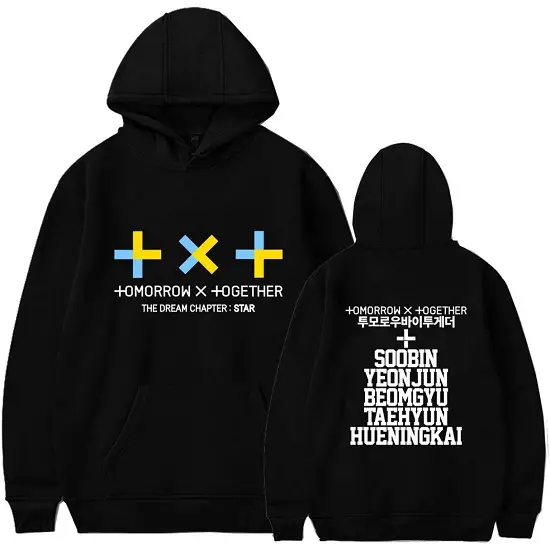 | | |
| --- | --- |
| Price | $21.98 |
| Type | Unofficial |
Available from Amazon ▼
Check It Out
If you are a new fan and you would like to get a cool TXT hoodie this item will be perfect for you. The hoodie comes in two variants - the first one features the logo of the newest group of Big Hit Entertainment on front and the other additionally lists the members of the KPop band - under the name Tomorrow X Together written in both English and Korean you will find the names: Yeonjun, Soobin, Taehyun, Beomgyu and Huening Kai. On front of the TXT hoodie under the logo you will spot the name of the group and the title of their debut album titled The Dream Chapter: Star. The EP was released on March 4, 2019 by Bit Hit and Republic Records and was distributed by Iriver Inc. It contains 5 songs including Blue Orangeade, Crown, Our Summer, Cat & Dog and Nap of a Star. The other variant of the hoodie features the name of a chosen member with a corresponding number on the back. The piece of fashion is made of a very comfortable cotton and is available in four colors - black, white, navy and pink. It's up to you what color will match you better. I'm pretty sure you will find something for youself.
The TXT hoodie comes in six different sizes so you will not be having any problems with finding the right one for you. The measurements are: XS (length: 67 cm / 26.38 inch, bust: 50 cm / 19.69" inch), S (length: 69 cm / 27.17 inch, bust: 52 cm / 20.47 inch), M (length: 71 cm / 27.95 inch, bust: 54 cm / 21.26 inch), L (length: 73 cm / 28.74 inch, bust: 56 cm / 22.05 inch), XL (length: 75 cm / 29.53 inch, bust: 58 cm / 22.83 inch), 2XL (length: 77 cm / 30.31 inch, bust: 60 cm / 23.62 inch).Please notice that these are Asian measurements so you should consider purchasing at least one size bigger than what you're used to.

If you're interested in the official items instead of the fan made as this TXT hoodie you can always try to get the original T-shirt released as part of the Debut MD "Hello Nice To Meet U!" collection that was available through the official Big Hit Entertainment online store. You could get either black or white T-shirt with the vertical logo of the group on front and the group's name on the back. This piece of apparel was available in two sizes: M and L. Other collectibles prepared alongside this item were a set of three badges (5 variants), Star Album Ver. 1 set of 3 badges, Star Album Ver. 2 set of 2 badges, a keyring and one additional badge featuring the name of TXT.
And if you like this TXT hoodie you should definitely grab it either for yourself or someone you care about. It is available for $21.98 which is a fair price so it will not cost you so much. That's a cool item to own if you really like the band.
Available from Amazon ▼
Check It Out