Treasure Summer Camp Package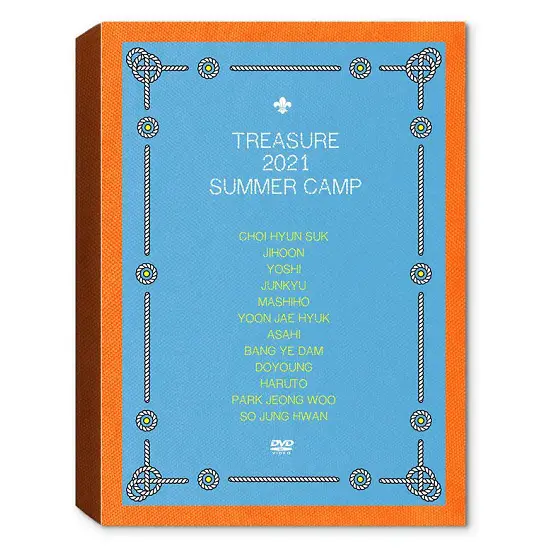 This wonderful package was prepared for the Summer season of 2021. It is the official piece of merchandise from Treasure, and will be perfect for anyone who wishes to give it to your friend or a family member who is a big fan of the group.
The package has a blue cover with an orange border, listing the names of all the members including Hyunsuk, Jihoon, Yoshi, Junkyu, Mashiho, Jaehyuk, Asahi, Yedam, Doyoung, Haruto, Jeongwoo and Junghwan. Inside the box you will find several collectibles you will be happy to have in your collection.
The highlight of the package is definitely a photobook with some beautiful pictures taken especially for the release. It measures 180 x 250 mm and contains of 152 pages full of content. Additionally you will get a 132 pages making book of a size of 130 x 180 mm.
The other items are a mouse pad with a photo of the whole group measuring 220 x 180 mm, a set of bookmarks, an accordion postcard set with the individual pictures of all Treasure members, two sets of photo cards, a random set of 12 Polaroids measuring 88 x 108 mm (selected out of 2 variants), a finally a circle photo fan available only for the pre-orders.
The photo cards are split into 2 sets - a large one consists of 12 sheets of a dimensions of 180 x 250 mm, while the other is smaller, with 12 cards sized 55 x 85 mm, which is a typical format you can always stumble upon.
The Summer package comes with a special DVD disk containing about 70 minutes of video material.
This is - as I mentioned before - the official collectible from YG Entertainment. If you like Treasure and you're looking for something to own that is related to the members, this item will be an ideal solution for you.
Available From Ebay ▼
Check It Out
Or Amazon ▼
Check It Out