Love Yourself: Her Special Limited Lenticular Photo Card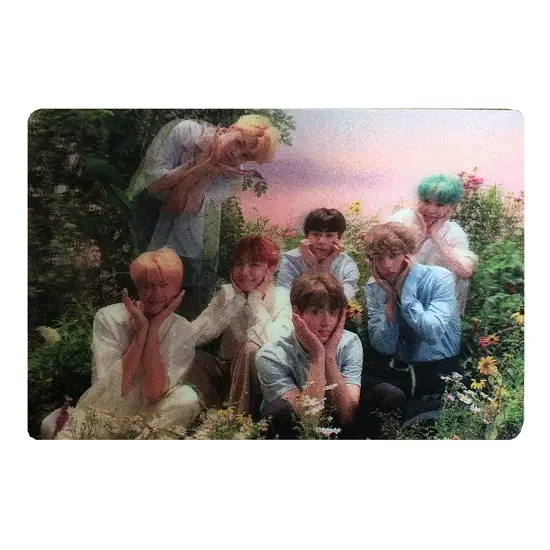 | | |
| --- | --- |
| Price | $219.99 |
| Type | Official |
Available From Ebay ▼
Check It Out
What you can see here is a very rare photo card of BTS. It comes from the first installment of the Love Yourself series of albums titled Love Yourself: Her.
The release premiered on September 18, 2017 under Big Hit Entertainment (now known as Hybe). There is a total number of 11 tracks on the CD. The physical edition consists of several pieces of merchandise including a photo card.
29 unique cards were issued for this release. There are 28 regular sheets split into 4 different categories including L, O, V and E. Each of them contains 7 individual member photo cards. They are roughly of a size of a typical sheet you can find in almost the majority of currently released KPop albums.
The 29th photo card is a special limited edition lenticular item. There are only 1000 pieces in existence, and you could find it with only the selected first-press copies of the album.
It is a little bit larger than all other and measures 90 x 60 mm. It features all members of the group with their hands below their faces. It is a very interesting looking piece of merchandise. If you are a collector you will definitely like to own it.
You can get this collectible from Ebay for a rather expensive price, which reaches even a hundreds of dollars. Nevertheless it's definitely worth it if you are a big fan and you want to have something that not many other people do have.
Available From Ebay ▼
Check It Out