Le Sserafim The First Moments In Your Hands Package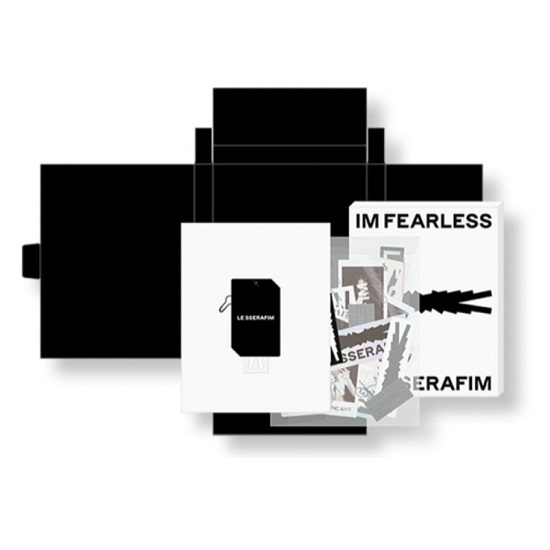 | | |
| --- | --- |
| Price | $99.99 |
| Type | Official |
Available From Ebay ▼
Check It Out
This wonderful package will be perfect if you're looking for a high quality official merchandise related to Le Sserafim. It is composed of several items featuring all the members including Sakura, Chaewon, Yunjin, Kazuha, Eunchae and even Garam who left the group in 2022.
The package titled The First Moment In Your Hands was prepared by the group's company so you could enjoy something tangible and interesting. The merchandise included inside "reflects the unique vibe of Le Sserafim". Everything comes in a dark box with the logo of the group and words "I'm Fearless" printed on the front.
Inside you will find a brand tag with the name of the girl group printed in white and the names of all members. It is made of two overlapping pieces of paper.
Next we have a set of postcards. You will get 2 group photos, 2 individual photos of each member of the group, and 6 postcards depicting 5 Polaroids pictures of a single member. That means inside the package you will find a total number of 20 sheets. The postcards have the members' signatures and the messages from them in their handwriting on the backs. Each of the Polaroid postcards features a member's profile.
The third and last collectible present in the package is a set of stickers. You will receive 6 instant photo stickers, 16 logos, and 1 sticker with the autographs. You will get 23 stickers in total, which are carefully packed in a pouch.
This is the official product from Hybe, so you don't have to worry it will not meet your expectations. It's definitely worth the price it is sold for. If you're looking for some interesting ideas for a gift, this is something you should consider.
Available From Ebay ▼
Check It Out