Ateez Transparent Photocards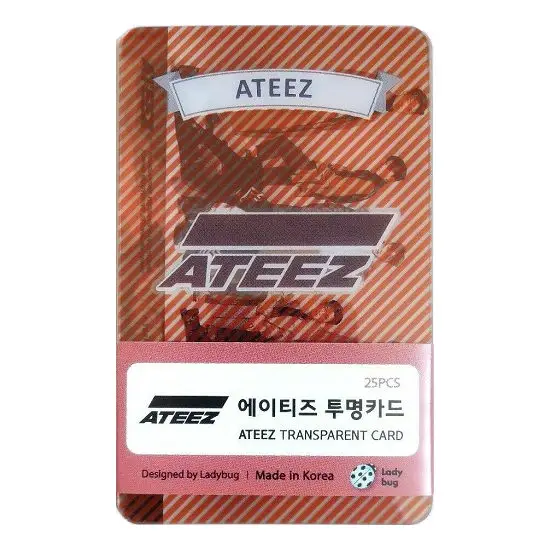 There are plenty of different kinds of KPop merchandise. The best example can be a set of photocards which is a very popular item to collect. The fans around the world are building their collections trying to get as many photocards as they can including the official that are added to the newly released albums and these from the selections of goods that are available during the events such as concerts and showcases. Even a special binders to help keep their collection in one place are released nowadays by the KPop artists.
There are some types of photocards available for the fans including a typical made of paper type with a rounded corners, a polaroid photo type that's rather square than rectangular and the type that you're currently looking at.

What you can see here is a set of transparent Ateez photocards. These are not made of paper but of PVC. It's one of more original items from the group. As the name suggests the parts of the photos featured on the sheets are transparent which makes a very interesting effect. The size of each Ateez photocard is a typical 85 x 55 mm (2.1 x 3.3 inches). It measures around the same as the standard credit card that you have in your wallet. The product was designed and manufactured by a South Korean company called Ladybug that have been releasing these kind of merchandise also for other KPop groups like NCT, Monsta X, Seventeen, BTS, IZ*ONE, TXT and others. The company is known for their products which are of the highest quality. The effort they put into their creations will satisfy even the most demanding fans. Especially taking into consideration that this is one of few sets of photocards featuring Ateez in existence. The members haven't released so far any these kind of goods neither for their Treasure Ep. 2 - Zero To One showcase nor for their The Expedition Tour. So that is one of few chances to own such a set.
In the package you will find 25 different ATEEZ photocards including 16 sheets with photos of individual members, 4 unit sheets with 2 members on each one, 4 full group and 1 logo sheet. On each photocard you will find either a name of a single member of Ateez (Yunho, Hongjoong, Seonghwa, Yeosang, Mingi, San, Wooyoung and Jongho) or the name of the group. The set comes with a small cover featuring the logo of the group, the name of the product written in both English and Korean and the logo of the company that made it.
The item is available from the sellers from South Korea and is shipped from there. It's new and is factory sealed. You can get it for only $9.99 which is a very fair price for such a high quality item. It definitely can be a very nice addition to a collection of any Ateez fan regardless if he's a collector of photocards or a collector of KPop merch in general.
Available From Ebay ▼
Check It Out
Or Amazon ▼
Check It Out